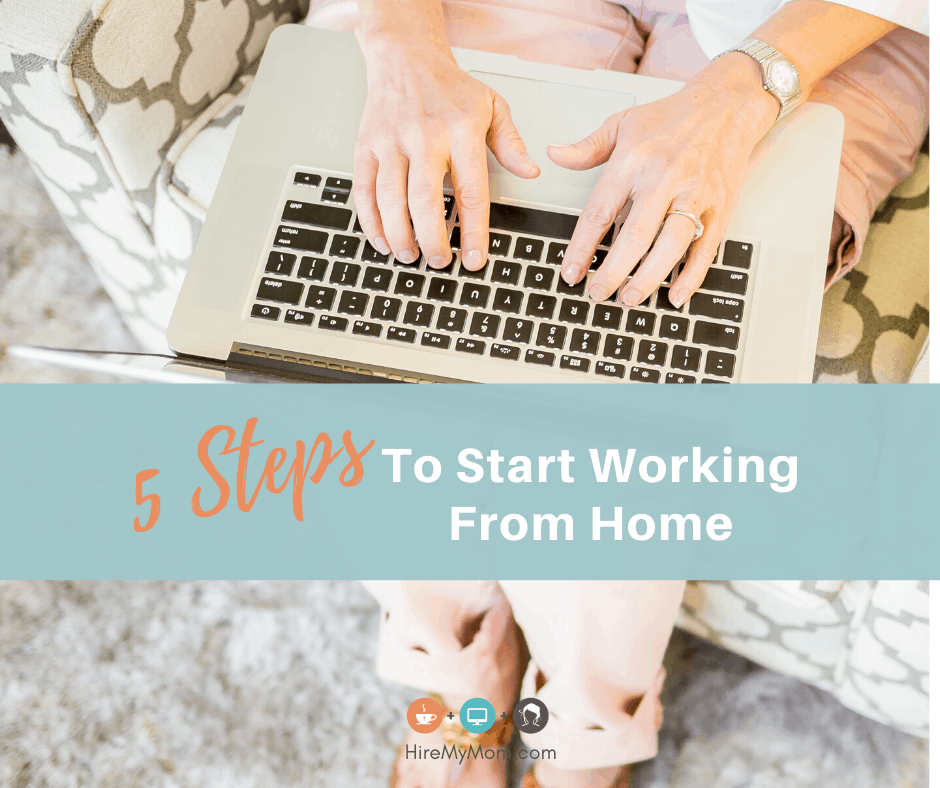 How To Start Working From Home – 5 Important Steps
As we enter 2020 there has been a shift in the way we work. 
About a decade ago working from home was considered a luxury but with the small to medium sized businesses booming and becoming the key drivers in our economy, remote employment is emerging as the new trend.
If you're thinking about transitioning over to a work from home job this article is for you!
In this article, we'll cover five steps to help kick-start your journey to remote employment.
STEP ONE: Do You Have the Right Stuff?

It takes a certain type of work ethic to be able to sustain and succeed in remote employment.

Here are some of the most important core competencies:

Time Management

Time management is an extremely important skill to have. You're doing everything remotely from communicating with your boss and coworkers, answering emails, and handling day-to-day tasks as they come in. This is where time management comes into play. Being able to quickly prioritize and plan out your day from the start will help ensure success as a remote worker.

Discipline and Focus

It's easy to get distracted when you work from home. With family at home, unexpected guests showing up at the door, and being tempted to complete a chore or two, things can quickly add up.

Stand your ground, have some rules of the home in place while you're working remotely, and set your business hours so that friends and family know when they can contact you or even put your phone on "do not disturb" when you have work to complete.
Strong Communication Skills

Because you're working remotely, strong communication is a vital skill to have. Whether you're sending out emails, conferencing in a phone call or jumping in on a Zoom meeting, communication is the key to success in the remote work world. It's important to communicate and acknowledge tasks, deadlines and project statuses to your team.
Ability to Work Independently

For the most part, you're all on your own. If you're someone who needs to be around others and socialize, remote work can sometimes feel isolating.

The good news is that there are ways to still socialize when you have a work from home job. You can join an online Facebook community (HireMyMom has an Online Community for example) or make time to attend networking or social meetings in your area.
Check out this blog for a more comprehensive piece on the core competencies.
STEP TWO: Finding Your New Work From Home Career Path

Transitioning to a work at home career can be life changing (in a good way), and it's important to make sure you're setting yourself up for success. There are so many different remote work professions to choose from. Here are some of the most popular:

Virtual Assistant
Copywriter / Content Developer / Blogger
Digital Marketing Specialist / Marketing / Advertising
Accountant / Bookkeeper
Customer Service / Client Support Specialist
It's important when deciding on what jobs to apply for to assess what you have in your "toolbox". Your toolbox contains your education, work experience, and any additional training you received that you could incorporate into the position you are applying for.

It never hurts to take a course or two to brush up your skills or learn some new ones. There are several online and in person options available. It's best to do a Google search to find out what programs are offered as well as a search on YouTube to find any free training.

If you're interested in becoming a Virtual Assistant we offer two great programs; our 31 Day VA Training Program and our 6-Month In-Depth VA Training Program.

For a more in-depth look at these professions and others including pay rates check out our article "10 Work From Home Jobs For Moms".
STEP THREE: Do You Have the Right Tools?

Working from home does require some necessary tools to get started. Here are some you may need:

Computer and Backup
It's important to have a good computer to work on plus a backup system in place should your system go down. And having a laptop is convenient for those working remotely since you can pick up and work from anywhere including the coffee shop, the pool or even on vacation.

Programs / Apps
Some key programs and apps you may use when you work remotely include G-Suite  / Google Docs, Zoom, Slack, Trello, Asana and other project management tools. There are also time tracking services like Harvest that are helpful for tracking hours.

Designated Workspace
It's important to have a designated area so you can tune in to your work and tune out any distractions. You should have a desk area, proper office chair, and good lighting.
STEP FOUR: Where to Find Legitimate Work from Home Jobs?
The best place to find work from home jobs is online. There are however some considerations as to which job sites you should avoid.

Some questions to ask yourself when deciding which sites to apply to:

Does the website take commission every time you are paid?
Do they carefully screen employers before allowing them to post a job? (See Spotting Work at Home Scams)

Are you competing with thousands of applicants all over the world or is it a smaller niche site?
Is the website easy to navigate and use?
Do they have customer testimonials and good reviews?

It's important to go with a website that features high quality job postings from reputable businesses. There may be a small cost to join the website but this is a good thing. It means there's a filter in place to provide quality employment opportunities and greatly reducing the candidate pool so you are not competing with hundreds or thousands of other job seekers.

(HireMyMom has a great selection of jobs to choose from. Give your career a kick start, learn more here).
STEP FIVE: Resume, Cover Letter, and Interview Skills

Having an updated resume and cover letters tailored to each individual job increases your chances of getting hired with a quality employer. It's also helpful to brush up on your interview skills so you can leave a lasting impression and land the job you want.
Need help? We have a collection of articles that offer tips on writing cover letters, advice on how to make your resume stand out, things to think about while preparing for a job interview and more. You can check them out here.
Are you ready to take that next step? Here are a few work from home success stories to inspire you: 
home business, Work From Home, Work from Home Success, Work from Home Tips