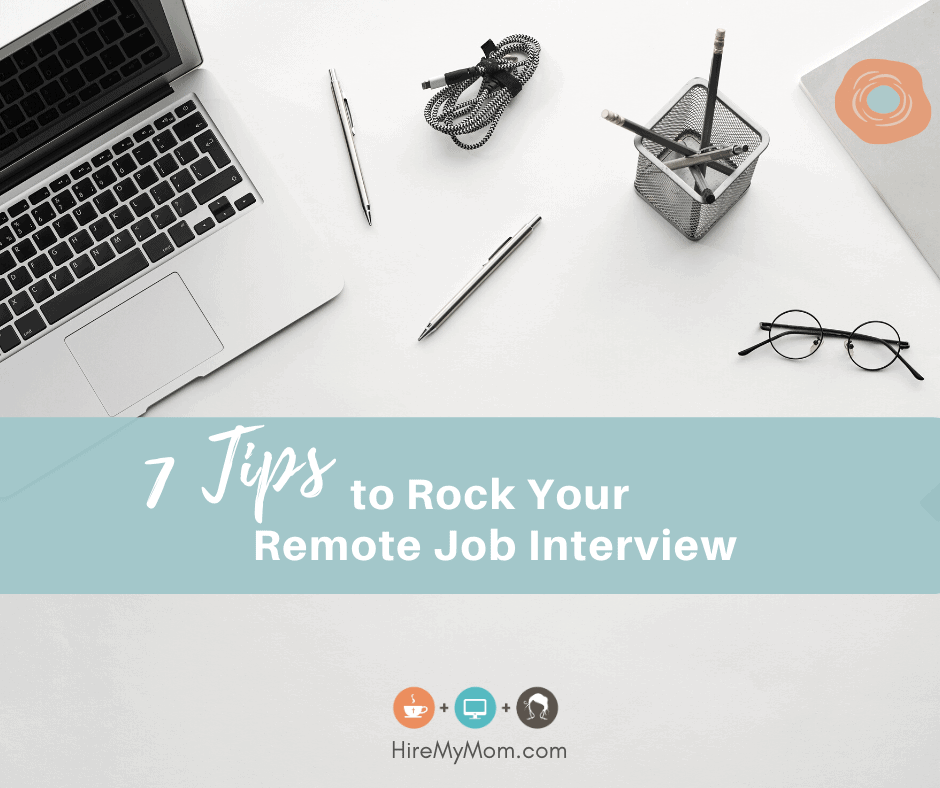 7 Tips to Rock Your Remote Job Interview
Whether you already work from home or you're seeking your first remote job, an online interview is likely part of that process. Believe it or not, many of the interview tips for a traditional office job still apply to work from home jobs.  Here is our advice for your interview success!
Dress Appropriately
Treat this interview as if you were meeting face to face in an office. Wear appropriate casual work attire. Not only will you look professional but dressing the part will help you feel more prepared and put you in the right mind set. Take those few extra minutes to prepare to look your best, as it will help your confidence and help you come across as a true professional!
Check Your Background
Make sure there is no clutter, distractions, people walking around behind you, dogs barking or children making loud noises. Plan your interview for a time when you have child care if needed so that you can focus and the interviewer does not have to wonder if that's the environment you'd be working in if he or she hired you. An employer is going to want someone completely focused on the job. If kids are there, it will lead them to believe you will not be completely focused on their job. Also check the lighting and make sure it's bright for a clear picture for a video interview.
Be Prepared and On Time
It should go without saying, but be on time. Being punctual is still important in the remote world. If your interview is at 2pm, then sign on at 1:55pm. Don't wait until the interview start time to download the app or go to the chosen platform to see how it works. Get to know the platform you will be interviewing on. If it's Zoom, take some time practice and get familiar with it.  Same with Skype, GoTo Meeting or whichever platform they are using.
Be prepared — you will impress the employer if you know something about the company you're interviewing to work for.  Take some time before the interview to visit their website, social media and blogs. Look for things you can talk about in the interview to let them know that you've done your research. In addition to learning about the company itself, know something about the industry.  You don't need to do an in depth dive, but having some knowledge is key, and allows you to answer questions with more clarity and understanding.
And just like a face-to-face interview, eye contact is important. Be sure to look at the person as if you were speaking directly in person.
Lastly, make sure you read the job description again before the interview. Have a good understanding of what the job entails, as well as the skills, experience and personality needed to succeed.
Ask Questions
In any interview, it's likely that the employer or hiring person will ask if you have any questions.  This is a prime time for you to show interest and gain more insight into the employer. Spend some time coming up with a few questions ahead of time, but here are a few to get you started:
What traits do you most value in someone in this role?
How will we communicate as a team?
How do you measure success for this position?
What are the day-to-day responsibilities for this job position (if not specified in the job posting)?
What are some of the qualities of successful people in this position or company?
What is the timeline for hiring for this position?
Have it Memorized
Make sure you know your resume inside and out! Interviewers will often have your resume in front of them during your interview, and they might pick out older job positions or positions that aren't super fresh in your mind.
Take some time to review your resume ahead of time, and be ready to discuss every piece on it.  For bonus points, do this with an eye for what's the most "stand out" and applicable about each resume item for the position you're interviewing for.
Sell Yourself Confidently
This is your time to shine and tell them why you are a great fit for this role. Share the traits, skills and experience that you feel make you a great fit for the job.  Along with that, it's important for a company to know that you really want this job!  Express that when you're talking.
Say Thank You
Common courtesy goes a long way! Before the interview, begin drafting a standard thank you email.  After the interview has been completed, fill it in with details about your conversation. There's no need to make this more than 3-4 sentences, but personalizing it can make a great impression.
Thank the interviewer for their time, mention a point of conversation from the interview, and continue to express your interest.  From there, be sure to follow up within a few days to a week – being proactive is key! Unless the interviewer gave you a specific time frame for a decision, there's no harm in checking in.
For additional help with your resume, cover letter or interview skills, check out our Job Seeker 101 Course and our One-on-One Consulting Services.
Interview Tips, Resume & Cover Letters, Work from Home Success, Work from Home Tips