Resume Writing Services
Make your resume STAND OUT and help you GET HIRED with our resume writing services! We will have your resume reflecting your most relevant and valuable skills, experiences and qualifications to help you stand out! This service includes a review of your resume with initial questions and edits, then your resume updated and enhanced to increase your chances of getting interviewed and hired!
---
Need a brand new resume? We can help with that too!
Purchase a brand new resume for $249
Need help with your Cover Letter?
Make your cover letter SIZZLE with expertly-written cover letters from our HR Specialists!  This service includes a thorough review of your cover letter with initial questions and edits emailed back to you. After you make the first round of revisions, we will review your revised cover letter and give any further feedback or revisions.
What about your Interview Skills?
We've got you covered there too!  Master your interview and land a job worth loving! If you don't interview well, even the best written resume and cover letter may not be enough. Allow our HR Specialist to give you some quick tips and guidance to help you SHINE in your interview. They provide guidance on how to answer questions, what to do before, during and after the interview. Your chances for getting hired can go up exponentially!
Let us help you MASTER your interview so you can land a job you LOVE! 
Purchase Interview Skills Training for $100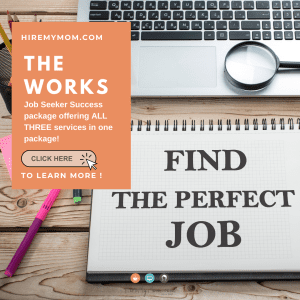 The Works!
We also have "The Works"
Job Seeker Success package offering for ALL THREE services — Resume, Cover Letter & Interview Skills Training —  for $349!
In addition, we are offering our….
🌟 JOB SEEKER ADVISOR SERVICE  🌟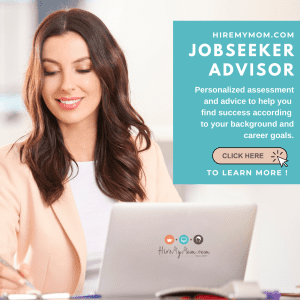 HireMyMom's Jobseeker Advisor Service is a personal advisory call with a HireMyMom Advisor. During this call, clients will be advised based on their needs to find success in the job seeking phase. Similar to a career advisor that provides guidance and direction to reach your end objective. A 30 minute call with a HireMyMom Advisor for Jobseekers.
One touchpoint during your 30 day window to check in and provide additional support. Click here to LEARN MORE and purchase for $79.
🌟 "Get the Job DONE!  HIRE A MOM!" 🌟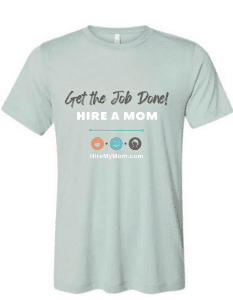 Get the discussion going with our "Get the Job Done : Hire a Mom" t-shirt
Get your shirt here!! 
Free shipping! 
+-+-+-+-+-+-+-+-+-+-+-+-+-+-+-+-+-+-+-+-+-+-+-+-
💵 Join HireMyMom's Affiliate Program! Refer & earn! 💵