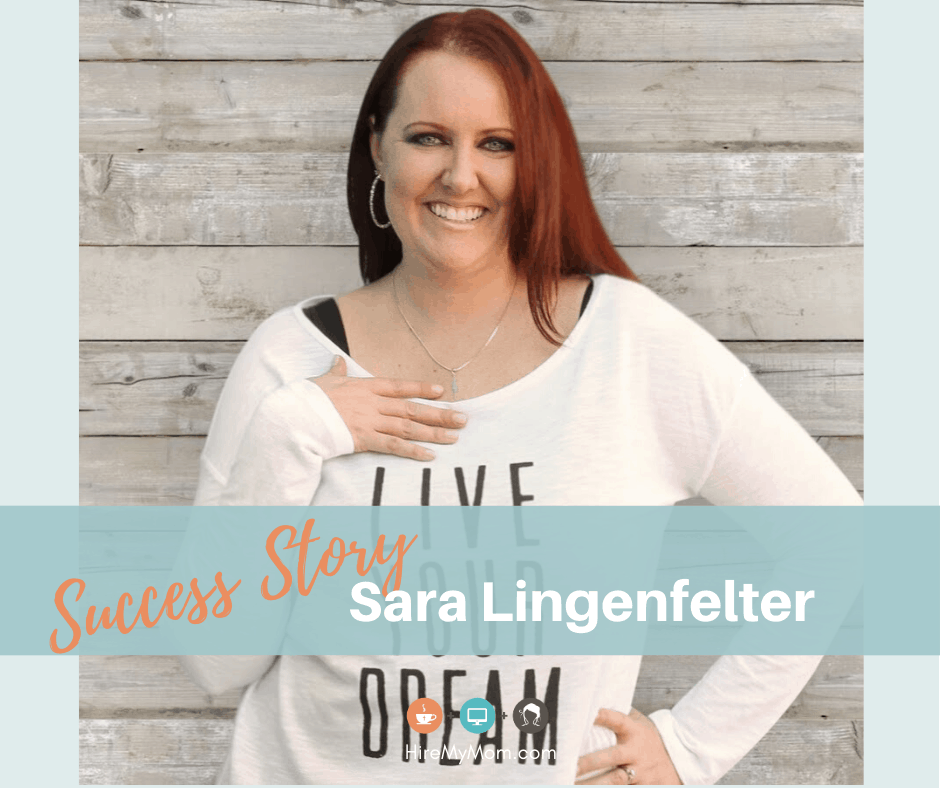 HireMyMom Success Story: Sara Lingenfelter
What's your success story with HireMyMom.com?
I had only been a member of HireMyMom for 2 months when I landed my first 2 clients! I was only trying to get 1 client, but both wanted to interview me and I thought why not? Besides, I didn't think they would both offer me the position. But they did, and since neither was a high amount of hours I said yes to both. I learned so fast my responsibilities with my first client grew. We worked together for about 3 years total! I also ended up doing some work for his wife too. It got to the point, I wanted to do business management and he didn't need that. To this day we are still friends. We even got to meet once at a conference we both happened to attend.
With the second client, after our phone interview, she offered me the job on the spot. She said she didn't usually do that but after our conversation, she felt I was the right person. She and I worked together about 2 years. Again it was when I was moving onto higher level work and so we parted on a good note. And she and I still talk as well. While working for her, she flew me to an event in Vegas and it was really cool getting to meet her work her event.
After those two, I landed numerous other clients through HireMyMom. Some were just project-based, and during this time I was still working my bookkeeping job from home.  As my network grew, and I submitted really great proposals I was fortunately working a lot. About a year after doing VA work, I realized I could make more money doing that and that it could be a real business. In January of 2013, I decided to quit my job and do VA work full-time. Things had gotten to a point where if I wanted to do more, grow my skills, invest in building a business, I needed to quit my job to focus on this business that I "accidentally" started and just two years prior didn't even know existed. I know many moms question if they can really make it as a VA. I'm very transparent when asked questions about how I got started, what I learned, and how much money I made. My first 11 months as a full-time VA, I billed out $47,000 which was $10,000 more than my salary as a bookkeeper.
I credit HireMyMom to giving me my start. Signing up was the BEST choice I made when trying to get started. Since starting I have worked with 75+ clients, I've really lost track of the exact number. I did eventually take a course to get certified in Online Business Management. The awesome thing about becoming a VA is there are so many possibilities. I ultimately did this work for my son, so he could stay home with me. HireMyMom is connecting clients and VA's in a way that truly impacts families in an amazing way!
What's your educational and experiential background?
My parents never went to college, and they always talked about how they regretted it. So I went to college at night after graduating high school. I had to work full-time to put myself through school, so that's the reason I went at night plus the tuition was cheaper for night classes. I went to Drury University and got a Bachelor of Science in Criminal Justice and Psychology. Then I always had office jobs from the age of 18 to 31. But my plan was to become a Probation and Parole office for the State of Missouri. To be clear, I had NO business background, no entrepreneurial experience, and no training when I started working as a VA.
What is your top tip (or tips) for landing a gig on HireMyMom.com?
I could give many, but I have this top tip and it's what worked for me! It is, to be honest about your experience. Many clients are looking for certain skills. But when I first started, I didn't have any experience with the online world. I had just dabbled in Google doc. I didn't know any software programs. These potentials clients I was sending proposals to wanted people with certain skills that are common for someone that had been working as a VA for a while.
Here's what I did and you can do too. I had gotten a job as a bookkeeper (prior to working online) but when I went to the job interview I thought I was interviewing to be a secretary. At the interview, I find out the owners of the business changed their mind. A friend referred me to them and told them I was smart. I had experience with money, payroll, and unions but that was it. And it just so happened they needed to replace their bookkeeper more than they did their receptionist. Long story short, they offered me the job. What does this have to do with being a VA? Well in a few months and with a bit of training, I was doing all aspects of bookkeeping for this HVAC company that did average sales of $3.5 million a year. In my proposals to potential clients I explained, that even though I didn't have experience with the programs they list, I know that if given the chance I was 100% confident I could learn that program or programs. And I gave them the short explanation of how I went from never doing bookkeeping to being able to fully perform all job functions needed and had that job for 10 years. I did payroll, used account/inventory software, created financials and much more.
What does this mean for you? Give an example of a time you learned something and performed it very well! If they understand you can learn, potential clients are often very willing to give you a chance, especially if they feel you are organized, pay attention to details and communicate well. You can't always teach someone those soft skills but you can teach them a software program or give them a chance to learn it.
What's your favorite thing about HireMyMom.com?
My top favorite thing is that potential clients realize most of the VA's applying are moms. I've heard negative talk in the past about a mom working from home also having her kids home with her. By having this site, most potential clients understand you have kids and it gets you over that hurdle that can be an issue with some. It makes the process easier and I love that.

What's one fun fact about you?
I went skydiving when I was 21 but yet I am scared of rides at theme parks. I've never been on a roller coaster or any other ride like that, I play it safe, too scared! LOL I have no idea the logic.
.
.
Success Stories, Testimonials, Work from Home Success, Work from Home Tips