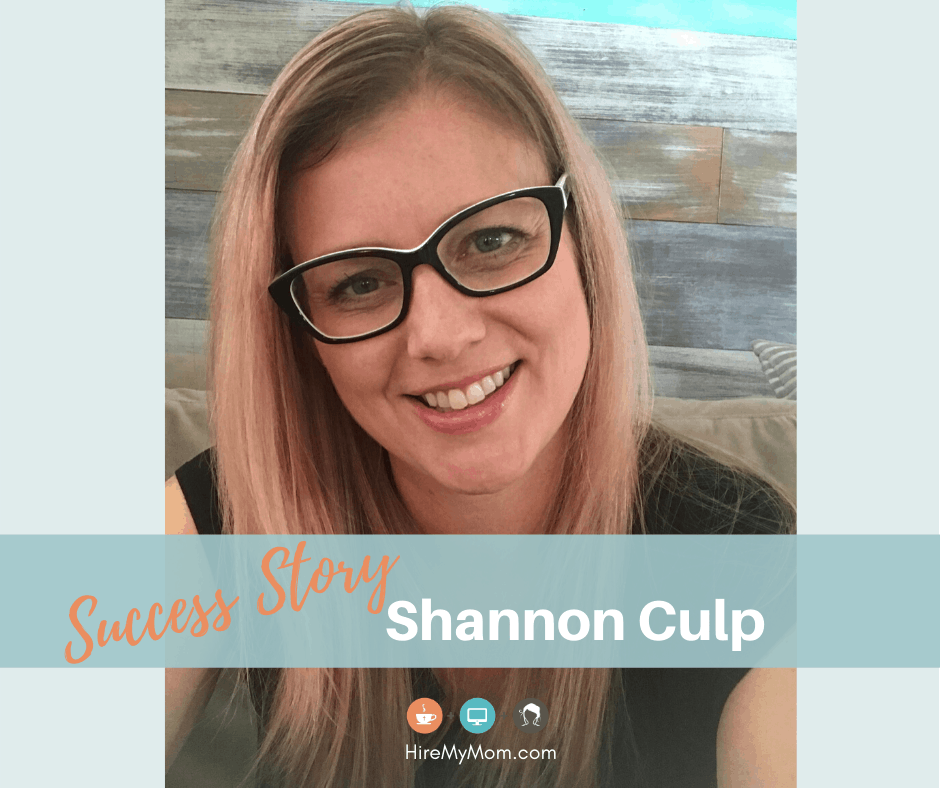 Hire My Mom Success Story: Shannon Culp
What's your success story with HireMyMom.com?
I cannot stop shouting HireMyMom.com from the rooftops! I've enjoyed introducing it to so many moms out there looking for exactly what I found through hiremymom…my DREAM JOB. It's hard for people to believe there's a site out there focused on helping moms. When in fact,  the companies who advertise jobs here have a strong understanding of what career moms like myself are looking for. I wanted to find inner peace and perfect work/life balance that allows me to put my family first and not lose sight of my career goals.
I joined the website and actually got two awesome jobs in the span of 6 months!
For me, my career aspirations included finding the "diamond in the rough" position I just knew was out there. I wanted something I could be passionate about and proud of. I found BestSelf.Co's posting for a Project Manager and instantly fell in love with this company and everything it stands for. Their post told me I could work 100% remotely, have fun at my job, and be a part of something truly amazing?!? Was this company for real? So, I checked out the website and learned all about Cathryn and Allen. They created an insanely successful business out of a need for organization and accountability. Not only was I going to focus 100% of my efforts towards landing this DREAM JOB with a company that was clearly cooler than I was, I found myself actually wanting to buy and try the products!
I got the job with BestSelf.Co. around the middle of September and less than a month later I joined my new team in Key West for my first (of hopefully many) bi-annual team retreats!
HireMyMom.com fatefully connected me with a company and a job I didn't even know existed! Never in my life have I truly gotten to tell people about what I do with such amazing passion and pride. I have so much gratitude and thanks towards HireMyMom.com. What a perfect season it is to reflect on that!
What's your educational and experiential background?
My education is in Business Management & Accounting, and up until very recently the majority of my work experience was in Property Management.
What is your top tip for landing a gig on HireMyMom.com?
Set your career search goals high and thoroughly read each career posting that intrigues you.
Take the time to learn what they are looking for and promote yourself in a unique way that will make you memorable over hundreds if not thousands of other applicants:
Tell a short, yet intriguing story about yourself.
Find a way to relate reading and/or education that you've completed in a way that will make you shine in that position.
Bottom line, in your cover letter, don't repeat your resume. Find a new and interesting way to tell your prospective employer about yourself.
Take care in every. single. application you submit. Don't phone this in. If you expect to land an amazing job – you have to put amazing effort towards achieving it.
Don't copy/paste for multiple positions. Research each company and reflect on that in your application.
Many of the jobs on HireMyMom are with aspiring startup companies who embrace the "work productively from home" mantra. If you want to be part of something amazing from the ground up, HireMyMom.com is an awesome place to find that!
.
Success Stories, Testimonials, Work from Home Success, Work from Home Tips