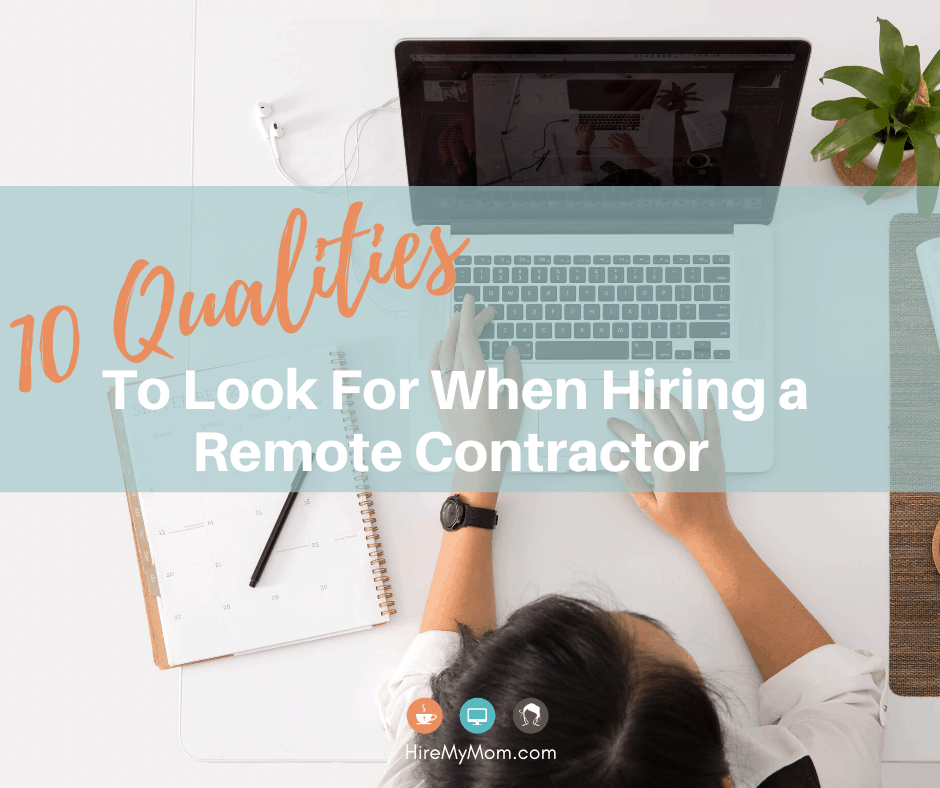 10 Qualities To Look For When Hiring a Remote Contractor or Team Member
The world has gone digital and as an Entrepreneur, you now have the ability to put your products and services in front of the right people across many digital channels.
This means, that your business could grow substantially overnight. If you're not prepared for that growth, you'll find yourself completely overwhelmed with the many day to day tasks required to operate and maintain your company.
Que the rise of remote contractors.
What is a remote contractor?

Just as the name describes, this person works from their own office space (often out of their home) and uses their own equipment and software.
Why consider hiring a remote contractor?
They can start immediately
Require very little training
Have little to no onboarding costs
Are more productive and
Can save you time
When deciding on "how" you want to expand your business, you should focus on filling the voids of your company. 
What does that mean?
Well, if you carefully assess all the tasks you're doing right now and break them down by priority, the ability to do them yourself, and whether you like doing them – you'll soon have a vision for your new hire.
Whether you're hiring a bookkeeper, marketer, content writer, or assistant, here are some common traits you should consider when hiring a remote worker.
10 Qualities To Look For When Hiring Remote Team Members
1.  Strong Communication Skills
Communication is key to any successful working relationship. It's especially important for a remote employee-employer relationship because most of your conversations will be taking place through text, phone, email, and/or video chat. You should also keep in mind, the time zone your remote worker lives in, their first language, and their response time when you communicate with them.
Because a remote employee can't just walk into your office to ask for help whenever a situation arises and vice versa, you have to be able to effectively communicate. Without this core competency, it's impossible to succeed with a remote employee. 
2. Independent and Self Motivated
The last thing you want to be doing is micromanaging your remote worker. He or she should be independent, self-motivated, and be able to complete most tasks assigned with very little direction (unless the task requires it).

Successful remote workers must be able to motivate themselves to stay focused with little distraction seeing each task from start to completion.
Because you can't be there in person to ensure your remote worker is staying on task, independence and self-motivation are must-have qualities when finding the best fit for your organization.
3. Flexibility and Availability
A huge benefit for a remote employee is the flexibility of the job. For remote employees who are parents, this means they can drop off and pick up the kids from school, attend soccer games, school plays and more.

Just as flexibility is a benefit to the remote worker, the remote worker should be flexible with you, the employer.

Your remote worker should be flexible with your schedule and also available when you need them. If they are not a designated remote worker, they should be able to attend necessary meetings and communicate with you in a reasonable time frame with proper notice.

If you run a business that has a lot of tight deadlines, consider a designated, full-time remote worker over a freelance part-time one.
4. Ability to Organize and Prioritize
Strong organizational skills are extremely important for a successful working relationship with a remote employee.

They should be able to take a list of tasks given, organize, and prioritize them with minimal direction and be able to carry out this task on a continuous basis.

If your business uses a Project Management software, your remote employee should be able to navigate through it with ease. If they have experience using the software, it's even better as there's less of a learning curve if at all.
5. Tech Savvy
Because the world has gone digital, your remote employee should be tech-savvy, especially since their work is done on a virtual level.

Your remote worker should be fluent in common software applications such as Microsoft Office and Google Docs.

Because your remote employee will be performing many of the day-to-day tasks on a shared software they should have a good understanding of how to use it. If training is needed, they should be able to learn the software from you personally, YouTube or other online training.

6. Excellent Time Management Skills

Effective time management is fundamental to the success of any business. When you hire someone with excellent time management skills, they will be able to complete more tasks for you in less time which translates to saving you money.

Remote workers with great time management skills will create and maintain daily to-do tasks, they have designated workspaces so they can perform their work with minimal distraction and will find ways to optimize their time on the tasks they are given – including learning new software applications.

7. Honest and Reliable
Remote work requires a level of trust between yourself and your remote employee. You will likely be giving them access to your software, email inbox, website, and more.

It's important to properly interview and screen your candidate before you hire him/her and depending on the nature of your business, a background check might be needed as well.

An honest and reliable remote worker will tell you when they don't understand something, they will be honest if they make a mistake so it can be corrected quickly with minimal negative impact to the company.

They operate themselves with the highest level of integrity which is reflected in the work they do for you.
8. Remote Experience
It's important to select a remote worker with experience. They should have a designated workspace, their own reliable technology to work on, the key software programs such as Microsoft Office as well as anti-virus protection to keep their computer (and your sensitive information) safe.
Remote workers with experience are also ideal because there is less transition and training required when it comes to onboarding them.
9. Administrative Experience
One of the most in-demand types of remote workers for small businesses are Virtual Assistants (also known as VA's).

You can incorporate virtual assistant duties into almost any role. Often there is an overlap in VA tasks whether you're hiring someone to help manage your social media, conduct bookkeeping or maintain your website.
Some common VA tasks include: 
answering emails,
entering invoices,
managing calendars / setting appointments,
research,
updating blogs,
customer service,
travel arrangements,
answering phone calls.
10. Positive Attitude
Sometimes it's not the talent but the attitude of a worker that helps you determine whether or not they would be a good fit.

A remote employee who has a positive outlook will provide you with higher work quality than one who is negative.
They will take any constructive feedback you provide in a positive light and not become defensive or offended. This, in turn, leads to a continuous improvement of work quality and flow.

As the small business community continues to grow, the demand for remote workers does too! At HireMyMom, we have a large selection of remote workers to choose from. The benefits of our workers are that they are often in similar time zones, speak fluent English, and are typically work-ready within 24-48 hours of you hiring them.
We hope you've found this article helpful. We have another great article that you might like called " 7 Reasons Why Moms Make The Best Remote Workers For Small Businesses". 
If you're ready to get started with a remote employee, you can post your job here. If you need to hire but are overwhelmed at the task, consider using our VIP Small Business Concierge program and allow one of our HR Specialists do all the work for you!