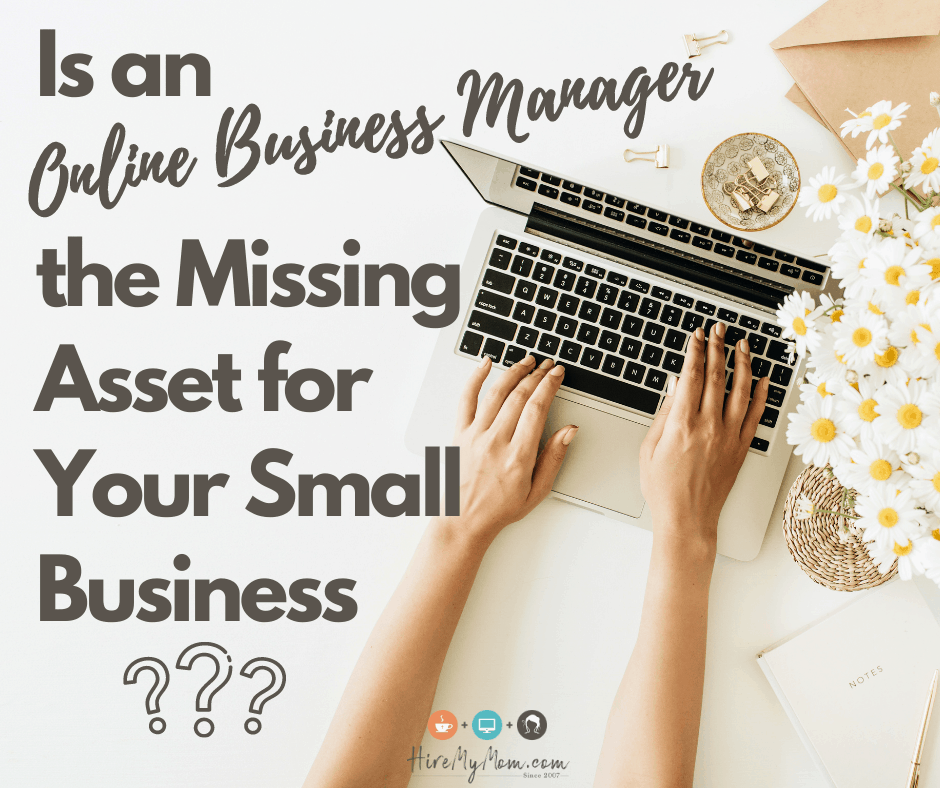 Is an Online Business Manager the Missing Asset for Your Small Business?
As your business grows, you may find yourself stretched in many directions. At first, a virtual assistant takes the steam off by lifting administrative tasks off your plate. Now your team has grown, your customers are increasing, and you have ideas for the future. But, there's only one of you, and all your time goes to managing the day-to-day operations of your growing venture.
Enter the Online Business Manager (OBM). Of the many roles that can help your business grow, an Online Business Manager may be the most consequential. Finding the right OBM frees you from worrying about the day-to-day and lets you move fully into the mode of the visionary executive. Adding this role to your staff frees you to focus on pursuing your vision. It can also create more time for your family, free up energy that's currently going toward running the business, and give you the mental space you need to grow your business in new ways. 
What is an Online Business Manager?
An Online Business Manager takes over the daily operations of a business. In this case, the word online refers to the location of the business manager, not the nature of the company.
Many businesses use an Online Business Manager, including those that operate online and those with more traditional operations. Online Business Managers have a skill set that can be used to help run any type of business. 
What Do Online Business Managers Do?
An Online Business Manager essentially serves as a Chief Operating Officer for your business, so you can focus on being the Chief Executive Officer. At the most basic level, Online Business Managers lead a team. They understand your objectives for the business and are focused on leading all elements of the team to understand that vision and bring it to life. They accomplish many management-related tasks, including:
Project management

ensures that all the trains run on time and the team stays focused on meeting deadlines for new and ongoing projects. Project management is critical as you introduce new products and new processes. 

Operations management

includes keeping an eye on ongoing operations, troubleshooting issues, and establishing processes for better workflow.

Metrics management

 including creating ways to give you a numbers-based look at your business and developing ways to use metrics to measure business outcomes and progress toward goals.

People management

 including answering questions from team members and helping to ensure career growth and job satisfaction for employees.

Client management

 Online Business Managers may work directly with select clients as account managers in some industries.
How are Online Business Managers Different from Virtual Assistants?
When contemplating the addition of an Online Business Manager, it can be challenging to differentiate between the OBM role and a Virtual Assistant or VA. Many VAs take on some of the tasks that an Online Business Manager might do, and some Online Business Managers start as VAs.
However, the roles are fundamentally different. VAs complete tasks based on directions. For example, you tell your VA that you need to take a trip to Oregon to see a potential customer for a meeting. Your VA organizes your travel and sends out meeting invitations, saving you an enormous amount of time and potential hassle.
By contrast, your Online Business Manager is a strategic partner. She sees the tasks that she must tackle to achieve your goals and dives in to lead a team to do it. For example, you tell your Online Business Manager that you'd like to grow your business in Oregon. Knowing that goal, she (or someone on her team) researches potential customers and presents opportunities to you.
Once you select the potential customers, she will help you prepare for the meeting. After the customer is landed, she will develop processes to help ensure the quality delivery of products and services. As she does that, you are free to move on and consider additional business strategies, find new customers, and explore new business lines.
Do You Need an Online Business Manager?
An Online Business Manager makes sense for many businesses, but not all. The role is usually a need that a company grows into instead of one that's added right away.
While the timing for adding this role can vary, the following indicators tell you it may be time for you to leap.
Many entrepreneurs launch a business to have more personal time and find a better work-life balance. But, the business grows quickly and takes up any free time. This scenario can lead to frustration. An Online Business Manager can help restore the joy you once got from your business.
Also, serial entrepreneurs running several businesses often need Online Business Managers sooner rather than later. An Online Business Manager can take your existing business and run it while you nurture new ideas. The same goes if you have multiple revenue lines and need someone to manage one or more of them so you can focus on other work.
Capacity Limits Impede Growth
If you find yourself turning away work because you are too busy servicing existing work to add more, an Online Business Manager can solve that problem for you. The increased revenue an Online Business Manager makes possible can easily dwarf the increased cost of bringing her aboard. 
If your business has matured, but you are still doing many of the same tasks you did when your business started, it's time to bring in an Online Business Manager. As the CEO of your own company, it can be challenging to look after your own growth. But, it's a hugely important consideration. If you stop growing because you are always doing the same tasks, you may lose interest in the business. An Online Business Manager can help free you from running the business and let you return to the areas where you have the most passion.
Many entrepreneurs are surprised to realize that managing a team brings frustration instead of joy. Even the best people will come to you with questions and concerns, and it can take time and energy to respond thoughtfully. Not responding thoroughly or thoughtfully can hurt team morale and reduce effectiveness, which can harm your business. An Online Business Manager can solve that problem for you by managing your team, answering questions, and helping promote career growth among your team members.   
All business ventures will hit a revenue plateau at some point. These plateaus are incredibly frustrating when you don't have the time to push past them or incubate an idea that could increase revenue. Bringing in an Online Business Manager to run the business can let you return to operating at a more strategic level by pushing barriers aside.
What is Typical Pay for an OBM?
People new to considering OBMs or COOs are always curious what the going rate is and with good reason. Wages will vary dependent on industry, experience, expected tasks and more but a reasonable range to start with is $25 to $45. 
Signs That Your Business is Not Yet Ready for an Online Business Manager
Just as there are sure signs that you need an Online Business Manager, there are also indicators that you aren't there yet. Most importantly, if your cash flow doesn't support the role, it's best to hold off until you can make the financial commitment. An Online Business Manager can help you move the needle from your current financial place to the next. But, you need a certain amount of financial stability before you can do that. 
The second meaningful sign that you aren't ready to add an Online Business Manager is that you aren't prepared to surrender control of some element of your business. If you know (or suspect) that you will micromanage an Online Business Manager, potentially creating more work for yourself in the process, don't hire one. 
Instead, work on giving up some level of control by working with a seasoned VA and grow to the place where you can give some level of control over to your Online Business Manager. The art of delegating is genuinely an art, and it takes some practice to do it effectively.
How to Find Your Online Business Manager
If you've read this and decided that it's time to bring an Online Business Manager on board, visit HireMyMom and consider HireMyMom's Concierge service.  We created the Concierge Service for busy entrepreneurs and small business owners, like you, who need to hire help but don't have the time or desire to go through the time-consuming process. If you are ready for an Online Business Manager, this is the right route for you. With our full-service Concierge Service, our HR Specialists will do it all for you from start to finish and present you with the top candidate(s) sourced from a wide array of qualified applicants who will be dedicated to helping your business succeed and grow.