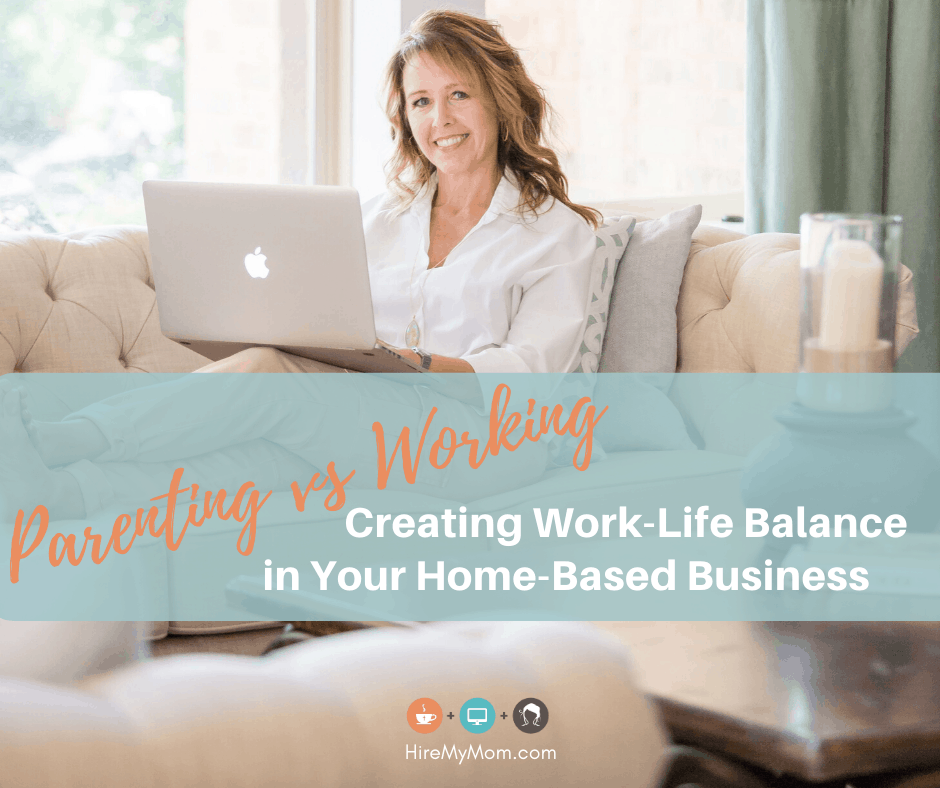 Parenting vs Working: How to Create Work-Life Balance in Your Home-Based Business
Guest Post by Justin Chapman
Becoming a Virtual Assistant is often a choice made by parents who never want to miss the big moments in their children's lives. One of the biggest struggles parents will face as a virtual professional is work-life balance. Often, as a Virtual Assistant or Virtual Professional, when you have a home office, you can easily get caught up working long hours because of your focus. As a professional, you want to get work done and saying to yourself "just another 10 minutes", can quickly turn into another two hours. Conversations with your spouse can quickly turn into conversations about your new client or the project you are working on. Following the steps below can help you create work-life balance in your home-based business.
Schedule Your Hours
Flexibility in your hours is an attractive piece of becoming an at-home professional, but sometimes in that, you have to make sacrifices. These sacrifices can be made in your personal or professional life. If you have a tight deadline, you may have to sacrifice watching your child's soccer game. If you can't miss your mother's birthday, then a couple of hours of work may have to be done early one morning. Knowing your schedule at least a week in advance will make you more productive.
Whether you are taking care of children, or visiting your parents, entrepreneurs will always have their business in the back of their minds. Having a schedule will create work-life balance. A schedule assists in reducing stress; knowing that you have eight uninterrupted hours tomorrow to get work done allows you to enjoy the night before with family or friends. Make sure you take advantage of a schedule, and put as much as you possibly can in it.
Design a Home Office
If you do not have a spare office with a door, you do not have to be a contractor to build one. Purchasing "hush panels" or office boards to section off even a small work area can make a massive difference. Many Virtual Assistants set up a computer in a multi-purpose room. It is important to have that room act as an office during your working hours, or to have your station sectioned off from the room.
Conversations about work need to happen in your office, even with your spouse. Don't allow work-talk to take over every conversation in the house. If you want advice from your spouse or a friend on a project you are working on, bring them into your office. Ask questions where you can take notes or show them what you have created already. Practicing this will build a sense of separation and create work-life balance.
Get Organized and Set Goals
This is one of the best tips to help you answer the question: how to create work-life balance in your home-based business. If you have ever taken any at-home post-secondary courses, such as CanScribe's Virtual Assistant Program, you know how important setting goals can be. When you have a project, you have one ultimate goal: complete the project.
Creating smaller goals will help you complete the project effectively. It can also help you schedule your time around your family. Make sure you know what goals you have and how long each task will take. Rather than just "doing work", you are working effiectively and not wasting time. Similar to knowing your schedule, you are able to reduce stress and enjoy time with your family and friends because you know what needs to be done, how long it will take, and when you are working on it.
Creating a work-life balance is important to success both as a family member, and as a professional. Scheduling your hours, building an office, and keeping organized can help become successful at both. Focus on your family while keeping attention on your work priorities. These tips help show you how to create work-life balance in your home-based business.
home business, Home Office, Lifestyle, Mompreneur, Work from Home Success, Work Life Balance