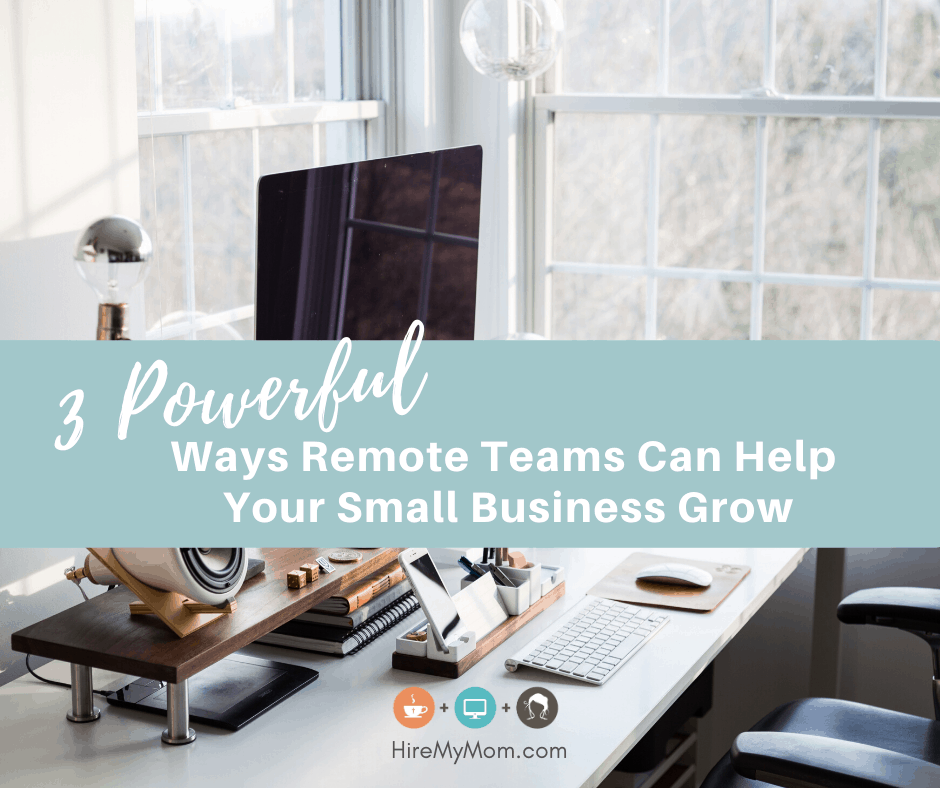 3 Powerful Ways Remote Teams Can Help Your Small Business Grow
If you are a small business owner, chances are you've faced the challenge of how and when to hire someone to join your team. Many small business owners start out by themselves or with only one or two others, but as the business grows so do the roles and needs. And with the recent mandatory shift to working remotely, more businesses are seeing the benefits of a remote team. But what many may not know is there are many other positives to this virtual work approach.
More for Your Money
You get a bigger bang for your buck when hiring remote workers. Job seekers looking for remote work value their freedom and flexibility over an office job and may be willing to work for less than a traditional employee. And many small businesses have found they can fill many roles with independent contractors which is more cost effective than hiring an employee with benefits. 
The average cost of health insurance for U.S. employees is close to $15,000 according to SHRM. When you consider those cost savings, hiring independent contractors for remote work sounds even more advantageous.
The IRS has set guidelines for determining if someone is an employee or an independent contractor. In general, if the business owner is paying for the result of the work, rather than the ability to control how the work is performed, then the position is likely suitable for a contractor rather than an employee.
More Specialized
Instead of hiring one person to do a variety of jobs, having a remote team allows you to hire multiple team members each with a unique set of skills. Many virtual professionals today work for more than one person and therefore get very good in a set of skills. No longer do you have to hire an "all-in-one" candidate to do customer service, administrative tasks and social media.
Instead, you could look for specialized talent like:
A Facebook ads specialists to create and manage ad campaigns to bring more sales and customers to your business.

A customer service person to respond to your customers needs and questions.

A content manager to create and manage content for social media, blogs and email campaigns.

A marketing person to create lead magnets and other marketing ideas to grow your business.

An email marketing specialist to create email campaigns for your customers or to improve the client onboarding processes.

A YouTube, Instagram or Pinterest specialist to increase brand visibility, drive traffic, grow your email list and increase your customer base.

A virtual assistant to manage your day to day tasks such as email, phone calls, and other routine tasks so you can focus on your business.

A project manager to oversee your projects and keep them running.
Better Retention 
With remote positions, you can attract and retain quality professionals. In a recent study, 95% of employers reported that working remotely has had a high impact on their employee retention rate.
For moms, working remotely provides the ability to have a better work / life balance. For instance, if a child is sick, mom can continue to work while monitoring their child. In the same way, she can take a break to go watch her child's school performance and make up the time if needed. Having the ability to work remotely is hugely valuable to moms which makes remote positions very attractive. 
Having the ability to hire the right person for the right job and pay a fair rate enables small businesses to grow faster than having to hire full time employees. When combined with all the additional benefits, establishing a virtual team becomes a real advantage for many small businesses.  If you're looking to grow your remote team, we'd be grateful to help!