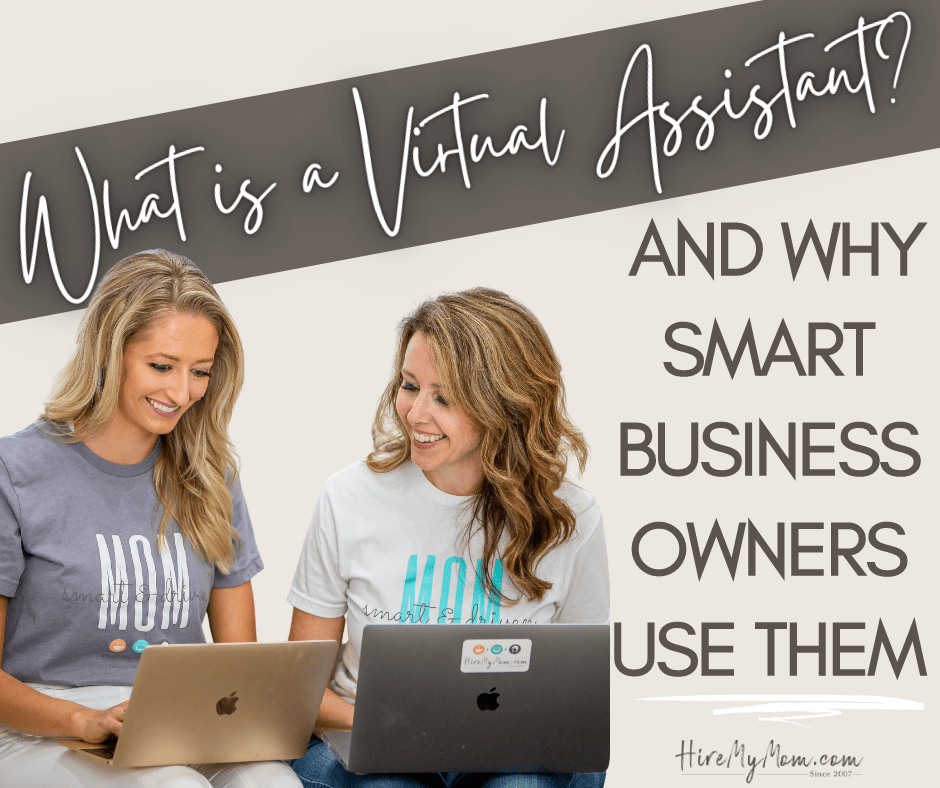 What is a Virtual Assistant? And Why Smart Business Owners Use Them
Imagine a world where you focus on growing your business, and all your administrative, technical, and customer service tasks are cared for by capable and dedicated hands. If this scenario sounds like an unachievable nirvana, you've likely never heard of a virtual assistant. Virtual assistants (VA) can save the day–and your sanity. Knowing how to find and use VAs can change your life as an entrepreneur and help you take your business to the next level.
Why Use a VA
As you start and grow your business, it's easy to fall into the trap of doing it all. You manage your calendar, pitch products, book travel, invoice clients, monitor your social media–all of it. But that's neither sustainable nor advisable. First of all, you can't be an expert in everything. Even if you are an expert in things as varied as social media, accounting, and marketing, managing it all is too much for one person who is focused on launching and growing a business. 
Recognizing that you need help and finding it is not a failure. Rather, it's a way to set yourself up for success. Recognizing the need to outsource tasks, such as those that are administrative, technical, or generally outside your wheelhouse, is a sign of growth and commitment to your business. By outsourcing tasks that distract you from the core work of growing your business, you are showing your commitment to success in the areas that matter by focusing on what's important and the things that make your business great.
More about VAs
VA's are a real game-changer for many entrepreneurs because they can save you so much time and hassle as you scale your business. Often, VA's have their own computers and other office resources. Some VA's work for more than one client on a part-time basis and others work for a single client.
And, they commonly participate in support networks to continue learning and growing. Many have extensive contacts within the VA world if you find you need additional or focused support. 
There are two main types of VA's. General VA's can help in a wide variety of areas and those with a specialty within an industry or specific tasks. 
General VAs
A general VA is often a jack-of-all-trades who can help you with various tasks across categories. Think of this person as your day-to-day go-to resource to get things done. 
If you think of a traditional office, the general VA is like an executive assistant. The person who functions as the nerve center of the office, keeping people and projects on track. They can offer on-demand support, just how and when you need it. For example, general virtual assistants often perform:
Administrative tasks, including:

Managing your email and calendar

Arranging travel 

Performing receptionist duties (including answers calls, which are easily transferred to any phone in the world)

Managing files (including creating a file management system)

Taking minutes in meetings

Planning  events 

Issuing invitations

Entering data 

Creating reports and slideshows for presentations

Running personal errands, such as online shopping for holiday and birthday gifts

Answering support tickets

Transcribing voicemails, podcasts, or video content

Building databases

Maintaining mailing lists

Booking appointments

Entering CRM updates

Creating and managing spreadsheets

Updating web site pages

Creating PDFs, forms, and templates

Conducting basic research

Recruiting other resources, as needed

Serving as a liaison between you and other team members
Technology services, including:

Training team members to use new and existing software

Managing software
Customer Service tasks, including

Responding to customer emails and calls

Sending routine messages, like birthday wishes and reminders

Identifying trends from customer emails and calls and bringing them to your attention
Marketing and Social Media activities, including

Setting up, managing, and updating social media accounts

Creating large email lists

Testing and sending email blasts

Setting up Autoresponders

Publishing blog posts, managing comments, and replying to comments
Basic Financial tasks, including:

Bookkeeping

Invoicing

Entering receipts

Managing accounts receivable
Speciality VAs
A specialized VA possesses specific skills and know-how in a distinct area or industry. A specialist VA is more of a resource for particular projects or elements of your business. If you think of a general VA as an executive assistant or office manager, the specialty VA is more like a department head–the person with deep knowledge about a specific function or area.
Some Specialty VAs often focus on an industry, like real estate. However, many have deep expertise in a specific area, such as:
Social media

Research

eCommerce

Marketing 

Accounting/bookkeeping

Content creation and editing (written, audio, and video) 

Graphics (Design and photography)

Project management services

Mobile app development
Specialized assistants can complete more complicated and in-depth tasks within the specialized area. For example, a general VA can post a Tweet or update Instagram. A specialist can help with more in-depth work, such as embedding SEO words into posts.
Sometimes a general VA and a specialist work together. For example, a specialized VA with a background in web development or graphic design can create new material that a general VA can update and tweak over time.
Can One VA Do it All?
No. As you can see from the lists above, one VA–even the best VA available–can't do all of these things. So, the trick is knowing what you need in a VA, writing the job description that covers your needs, and finding the person–or people–that you need.
VAs are so flexible. It's easy to staff up and down, based on your needs. 
How to Get Started
VA's can be remote employees or independent contractors who work from home. Both models work well depending on your needs. 
The first step is to determine the work you want the VA to complete. This thinking creates a scope of work and helps clarify what you'd like to have completed, outlines the timeframe, and estimates the number of hours needed to complete the project. 
Once you assess the scope of work, consider the type of VA you need, a contractor or an employee. If you have several needs, you may need a combination of resources to fill your needs.
For example, depending on your workload, you may want to bring a general VA on as an employee. You may also want to find a specialized VA to create your website and another specialized VA to build out your marketing plan. Because these are both shorter-term needs, a freelance resource may make more sense for those roles.
If you aren't sure who qualifies as an employee and who qualifies as a contractor, here's a handy rule of thumb: 
You pay independent contractors for the result of their work. You don't have control over how, when, or where they do the job.

You pay employees for the result of the work and the ability to control how the job is done.
Usually, independent contractors are in a different business than your own. For example, freelancers, like artists, editors, and writers, are often independent contractors. Independent contractors can also include outside companies doing work for you on an ongoing basis. The Internal Revenue Service (IRS) has set guidelines for determining if someone is an employee or an independent contractor. 
How to Find Your VA
With a good handle on what type of support you need, the next step is to create a job that highlights the skill set you need. Outline the tasks you want the VA to perform, detail the working conditions (onsite, virtual), and clarify your expectations for hours.
Expect to pay between $15 and $45 an hour, depending on the skills and experience you need to complete your tasks. 
Then, post your job on HireMyMom and relax while resumes for good candidates arrive in your inbox. Once you've narrowed the field, set up interviews, choose a candidate, check references and make a job offer. 
Why Use HireMy Mom
HireMyMom.com is a great place to find a VA that is right for all your needs for three reasons:
HireMyMom has exclusive partnerships with three top-rated VA training programs, creating a deep bench of talented professionals who visit the site looking for opportunities.

When you post your job, you'll quickly have access to a wide array of qualified candidates who will be dedicated to helping your business succeed and grow. The site attracts job seekers from across the country with various specialized skill sets and a desire to work hard for you.

 

HireMyMom's Concierge service

can streamline the process for you. The service was created for busy entrepreneurs and small business owners, like you, who need to hire help but don't have the time or desire to go through the time-consuming process. With our full-service Concierge service, our HR Specialists will do it all for you from start to finish and present you with the top candidate(s). 
Business Growth, Small Business, Virtual Team, Work from Home Success