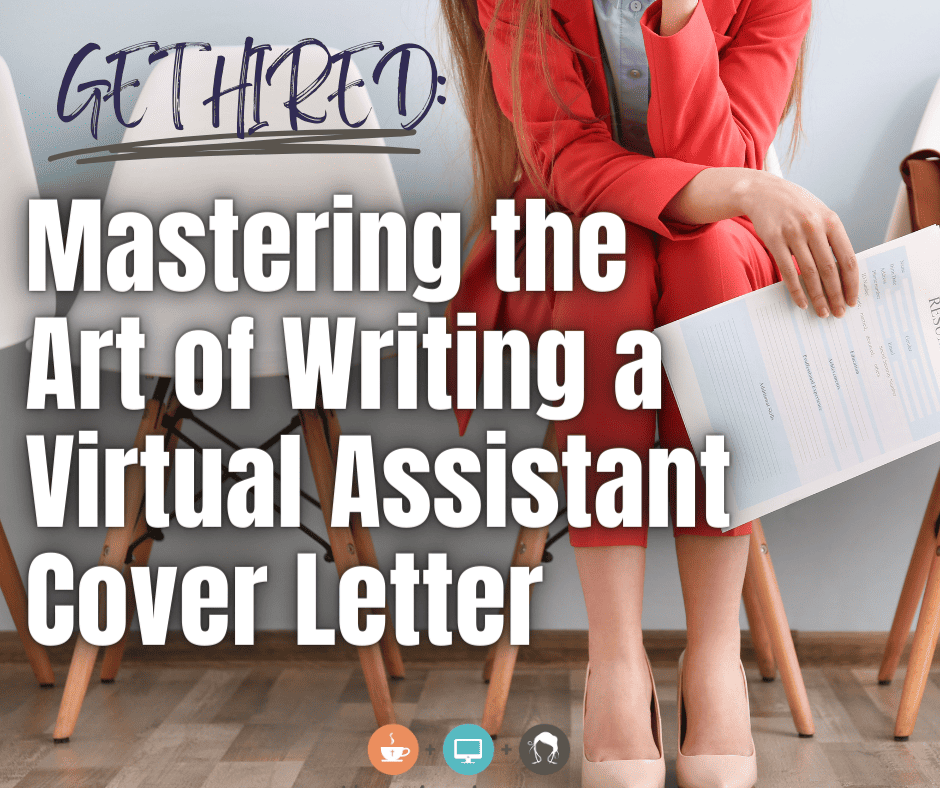 Get Hired: Mastering the Art of Writing a Virtual Assistant Cover Letter
If you're looking for a job as a Virtual Assistant, the cover letter you write can make or break your application. Crafting an effective cover letter that conveys your experience and skills while demonstrating your enthusiasm and commitment to the position is essential in standing out from other candidates. Explore the key components of a successful Virtual Assistant cover letter and provide tips on how to make yours stand out below:
Outline Your Skills and Experience
As a mom looking to enter the virtual assistant job market, you already have an abundance of skills that will be highly valued by potential employers. Here are a few key skills and experiences you should highlight in your cover letter:
Time Management:

As a mom, you've likely honed your ability to juggle multiple tasks and responsibilities. Employers will be impressed by your ability to efficiently manage your time and prioritize tasks.

Organizational Skills:

Being organized is crucial for any virtual assistant role. Make sure to highlight your skills in maintaining schedules, tracking important dates, and managing digital files.

Communication:

Clear and effective communication is essential when working remotely. Emphasize your excellent written and verbal communication skills, as well as your experience in collaborating with others.

Technical Savvy:

With technology at the forefront of the virtual assistant world, make sure to showcase your proficiency with various software programs and tools. Be specific in your cover letter about the types of software you've used in the past.

Flexibility:

Employers need someone who is adaptable and willing to take on new tasks as needed. Share examples of how you've been able to pivot and adjust to new situations in the past.
By highlighting these skills and experiences in your cover letter, you'll show potential employers that you have what it takes to succeed as a virtual assistant. Just remember, while you have lots of skills to share, keep it short so that hiring managers can easily read your cover letter quickly.
Use Keywords from the Job Posting
To truly stand out among other applicants, it's important to use keywords from the job posting in your virtual assistant cover letter. This means analyzing the job description and taking note of the key skills and responsibilities listed. Including these keywords shows that you have carefully read the job posting and understand the requirements of the position. Additionally, many employers use automated systems to sort through resumes and cover letters, and using the right keywords can increase your chances of being seen by a hiring manager.
For example, if the job posting emphasizes proficiency in Microsoft Office, make sure to mention your experience with Excel and Word in your cover letter. If the job requires scheduling and organization skills, mention specific tools or software you've used in the past to manage tasks and appointments. However, don't just throw in random keywords for the sake of it. Make sure they are relevant to your skills and experience, and use them in a natural, contextual way. Finding online cover letter templates can help show you how to do this.
Explain What You Can Do for the Company
Now that you've outlined your skills and experience and used relevant keywords from the job posting, it's time to explain what you can do for the company. This is the heart of your cover letter – you need to convince the employer that you're the perfect fit for the position.
Start by researching the company and understanding what they do. Then, explain how your skills and experience make you an ideal candidate to help them achieve their goals. For example, if the company is looking for a virtual assistant to help with social media management, you could say:
"I am confident that my skills in social media marketing, content creation, and scheduling would make me an asset to your team. With my experience working for a variety of clients in different industries, I am comfortable with creating engaging and effective content across multiple platforms. Additionally, I am skilled in using scheduling tools such as Hootsuite and Buffer to ensure that posts are published at optimal times for maximum reach. I am excited at the opportunity to help your company grow and reach new audiences through social media."
Notice how this paragraph not only highlights the applicant's skills and experience, but also connects them directly to the needs of the company. By explaining how they can help the company achieve its goals, the applicant is demonstrating their value as an employee and making a compelling case for why they should be hired. You can also take this a step further and include a tip or two on how you would change their current practices to make their company better.
Close with a Call to Action
After explaining what you can bring to the table and highlighting your skills and experience, it's important to end your cover letter with a call to action. This shows the employer that you're confident in your abilities and are excited about the possibility of working with them. A call to action is a statement that invites the reader to take a specific action. In this case, you want the employer to invite you for an interview or to contact you with any further questions they may have. Here are some examples of strong calls to action for a cover letter:
I look forward to hearing from you to discuss how my skills and experience can benefit your company. Thank you for your consideration.

If you're interested in learning more about my qualifications, I'd love to speak with you in more detail. Please feel free to contact me at [insert your contact information].

Thank you for considering my application. I believe that I could be an asset to your team and would love the opportunity to discuss this further in an interview. Please do not hesitate to contact me if you have any further questions.
Remember, a call to action is a chance for you to leave a lasting impression on the employer. Be confident, courteous, and professional, and you're sure to catch their attention.
Remember, the cover letter is your chance to make a great first impression and stand out from other applicants. So take the time to craft a well-written and personalized cover letter, and you may just land your dream virtual assistant position. Good luck!
If you need help writing a cover letter or would like a professional to review your current cover letter, check out our Cover Letter Services!