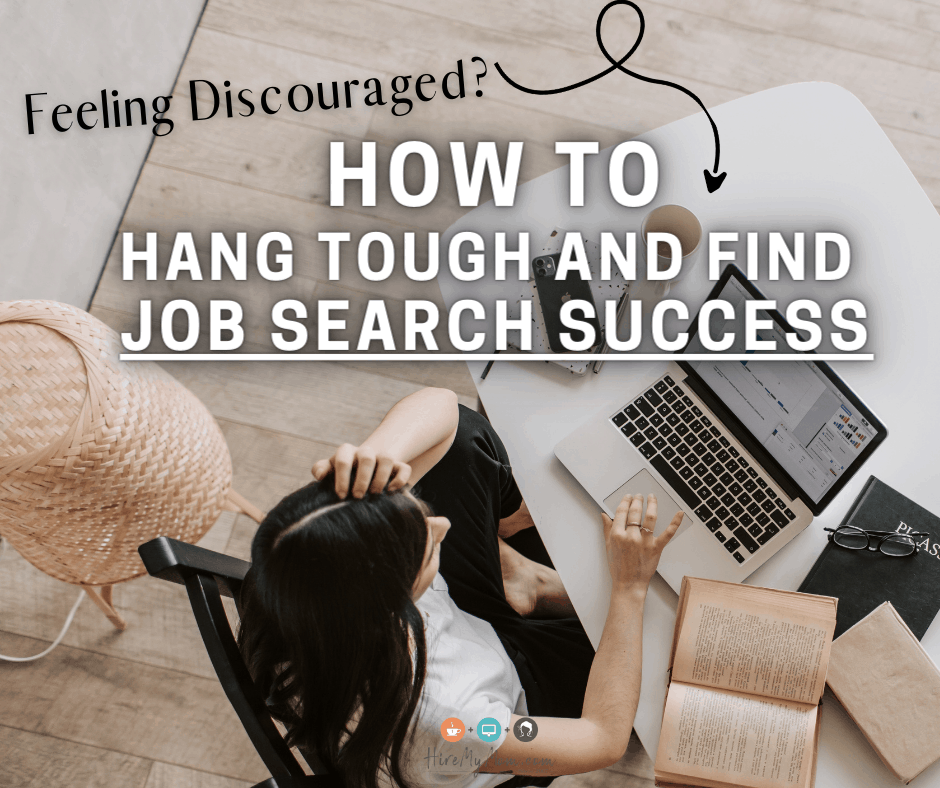 Feeling Discouraged? How to Hang Tough and Find Job Search Success
Looking for a new job is exciting and can be fun. But, it can also be stressful and challenging, especially if you don't get an offer for a job that genuinely interests you or if you've submitted several resumes with no luck. When this happens, it's easy to get discouraged and quit. But, roads with potholes can lead to lovely destinations if you keep traveling. Persistence is the key to success in a job search. 
If you view the bumps in the road as opportunities to sharpen your job hunt skills, it's easier to take the steps that can help you overcome the hurdles. Here are our best tips for working through the challenges and sticking out tough times during a job search.
Get Back to Basics
When you look for a job, your resume is an essential piece of the puzzle. And, let's just put it out there–resumes are tough to create and difficult to polish. It feels awkward to sell yourself on one page. And, revising it multiple times can make you feel a little crazed. But, if you aren't getting job nibbles, it's time to give your resume some love. Here's how:
Take a fresh look at your resume and make sure that it's easy-to-read, simple, error-free, and professional. 

Ask a trusted friend or a former coworker to review your resume for errors. 

Share it with someone from a different industry and ask if she can identify the work and skills you are highlighting. This is an excellent way to see if jargon or shop speak has made it into your resume and might be confusing people. 

Add a few flourishes to appeal to the small business owners who will review your resume. 
Based on your assessment of your resume and the feedback from your reviewers, make a few changes. As you revise:
Describe your contribution to success at previous jobs. Focus on the work you did and how it supported the organization overall. Think of the first bullet as a summary bullet. Here's a sample: Grew sales by overseeing the development and implementation of marketing communication plans that addressed customer hesitancy while managing a team of three direct reports.

After the summary bullet, provide concrete examples of your experience that quantify your professional accomplishments. For instance, including a bullet that says "coordinated 150 meetings in six months to facilitate sales" is more potent than "coordinated meetings." If you are having trouble putting numbers to accomplishments, talking it over with a friend or former coworker can help you develop those ideas.

Aim to add one-to-two bullet points for each year on the job. So, you may want to create six or more bullets to describe your accomplishments at a position you held for six years.

Remove experiences that are more than ten years old or not relevant to the job you are seeking. For example, if you are looking for a job as a virtual assistant, it's ok to drop the lifeguarding gig you had in high school. Your resume is a highlight reel of your capabilities, not a detailed accounting of every job you've ever held.
Tighten Up Your Approach
With your spruced-up resume in hand, it's time to narrow your job search. It may seem counterintuitive, but being picky about the jobs you go after can help increase your success rate for getting an interview. Casting too wide a net can lead to rejections while sending you into a frenzy of activity, applying for jobs, and following up with employers only to be disappointed. 
Remember, you want to find the right job for you, not just any job. Before you apply:
Carefully read the job description. Consider whether you are qualified for the bulk of the work and whether the position genuinely interests you. 

Tailor your resume for the specific job. Make the tweaks needed to fit the job description, but don't do a total rewrite. Be sure to review your revised resume carefully.

Write a customized cover letter. Clearly express your interest and qualifications in the letter.
Polish Your Interview Techniques
Your resume and cover letter open the door for an interview. The interview is your chance to seal the deal by putting your best foot forward and showcasing all the skills you bring to the table. You want to project a professional image and be prepared to ask and answer questions. Here are my best tips for success:
Get dressed as if you are going to an in-person meeting. Although your interview is likely to be conducted via Zoom, it's still important to dress as if you are going to an in-office interview. Wear professional clothes and make sure you are camera-ready.

Find a professional place to conduct the interview. You want to show that you are ready to work from home and have a set up to do so. Look for the best place around your house to set up your laptop and do the interview. A table or desk works well. Avoid your couch or bedroom, as it's easy to feel too comfortable in those locations. Once you find your location, conduct a practice Zoom call with a friend or family member to try out your setup. Spend a few minutes getting the camera angle and light just right so you look your best. On your practice Zoom, make sure your background is not distracting.

Practice answering interview questions directly and get right to the point. Employers often tell us that candidates struggle to answer questions with the right level of detail and tend to over answer questions. It's easy to ramble a little when you are nervous and want to make a good impression. Practice answering likely questions with a friend or family member so that you can nail the questions during the interview.
Consider Training 
Applying for jobs with small businesses is a different ballgame compared to looking for corporate gigs. It takes a different skill set. And, like acquiring any new skill, training can definitely help. 
Enrolling in the Job Seeker 101 course offered by HireMyMom will arm you with the knowledge and skills to help you land your dream job.
Through a series of video modules, the series covers how to conduct an effective job search that lands more interviews. It also covers ways to dramatically enhance your cover letter, resume, and interviewing skills. Hands-on materials and additional resources help you apply the tips to your job search. By completing the course, you'll gain the confidence you need to take the next step and land the job you're seeking.
Don't Get Discouraged
If you don't get a job offer after a strong interview, try not to take it personally. Any number of factors can influence the decision. After you hear the news, send a follow-up note to the person you spoke with to thank them for considering you. Share that you are interested in future positions. 
Hang in there!
Finding the right fit and the right circumstances can take a while. Stick with it. Hold your head high, and don't take it personally. A job search can be difficult, but the result is worth the struggle.
Getting Hired, Resume & Cover Letters, Work from Home Success