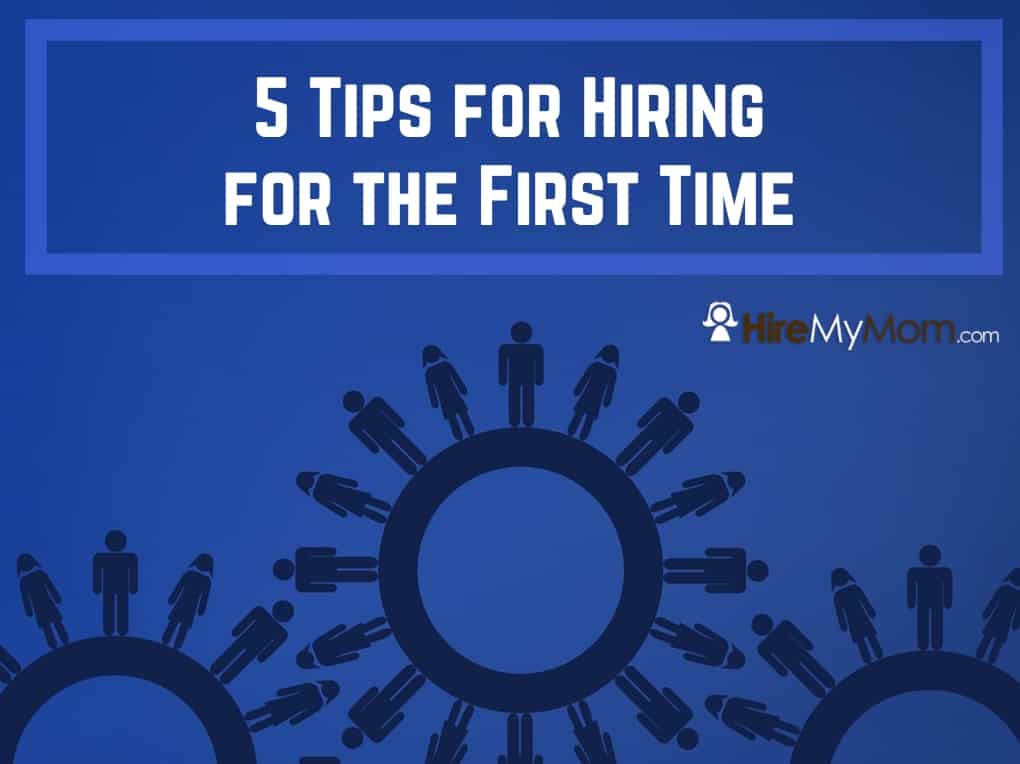 5 Tips for Hiring for the First Time
Hiring can often come with a lot of pressure – managing the job posting, interviewing, and hiring the right person can be a daunting experience.
Although many managers and employers are pros at this, what if you're hiring for the first time?  Read along for some best practices in hiring as a novice.  With the right preparation and mindset, you can be sure that you're on your way to hiring successful candidates. If you prefer to have someone do this for you, check out HireMyMom's Concierge Service.
Create the right post
Creating the right job posting is key in attracting the right candidates and fully understanding what you're seeking.  It's important to be thorough when creating the position, including necessary skill set, education, experience level, pay, and more.  If you forget key components or realize too late that you are seeking a certain type of person, you may have to go through several rounds of the hiring process.
Save yourself some time, effort, and expense by nailing the job description from the beginning.  This also includes using the right posting sites that avoid spam.  More reputable sites help to weed out spam hirees, as well as have your post seen by serious applicants.
Be prepared
When it comes time for the interviews, be sure that you're prepared.  This will also reduce time spent on interviews that weren't properly organized and stalled the hiring process.  Begin by asking the right questions, which would feature a good mix of past experience, knowledge of the job position and company, and personality fit questions.
Be prepared for conversations and negotiations around pay as well, and know which response is appropriate for your company.
Make sure you're thorough
By being prepared and organized, you'll be well on your way to being thorough in the hiring process.  It might be helpful to start by coming up with your own screening process, and create a checklist around this.
To begin, ensure that each applicant has contributed every material that was asked for.  If they have, look at every aspect of their cover letter and resume for keywords and matching qualities and experience that fit the job position.  You might have a kind of criteria that must be met, which allows you to adhere to your posting and make smart hiring decisions.
Be a great listener
It takes more than a checklist to make smart hiring decisions – you also have to be sure that you're hearing everything accurately.  Listen to what each applicant says – or doesn't say.
Do they know about your company and enough about the position?  Are they a great person but not a fit?  Listen closely to ensure that you're truly hearing what the prospect is saying correctly.  It can be easy to jive with a personality, when the skills or lacking.  On the other side, someone might be great on paper but not a personality fit to your brand.  Listen closely to what is being said!
Set expectations
Unmet expectations can be the cause of many problems, especially in hiring.  It's best to let your potential hire what's going on from the very beginning.  Is there a trial period for this position?  How are tasks evaluated?  Does this position require tracking time? Do you report daily?
Make sure job and communication expectations are set up early to avoid any issues. Also, be sure to let your new hire in on time frames and deadlines for starting up, since that's typically the most frantic part of any new job.
Hiring Tips, Small Business, Virtual Team, Work from Home Success, Work from Home Tips