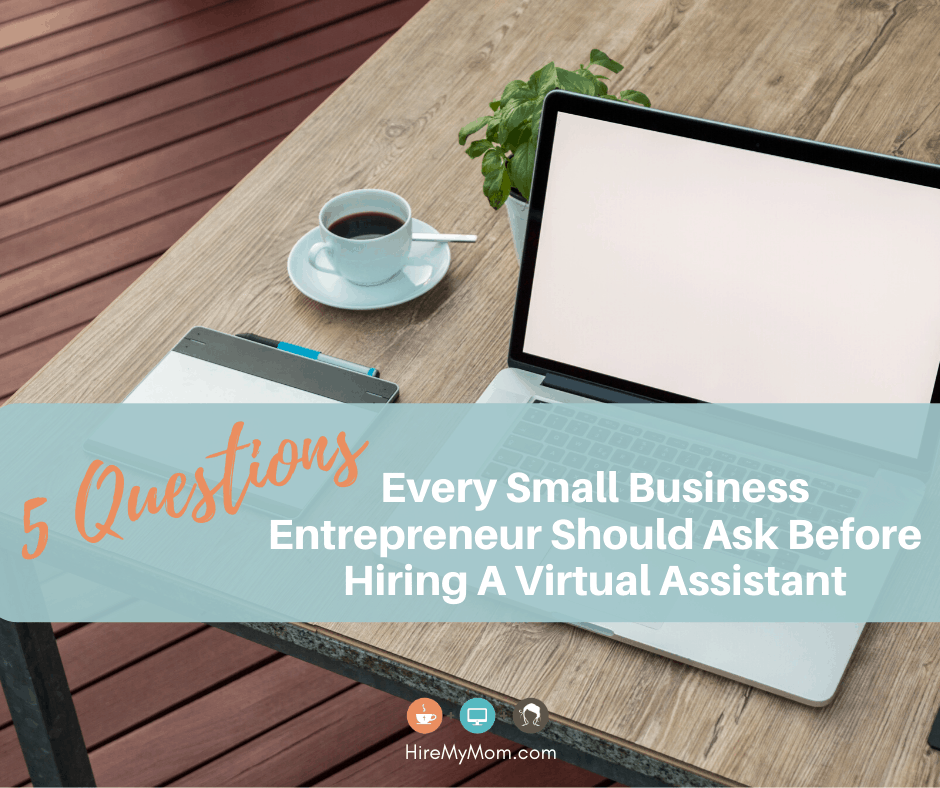 5 Questions Every Small Business Entrepreneur Should Ask Before Hiring A Virtual Assistant
As an entrepreneur, you may have reached that point in your small business where you are thinking you need some help. There just aren't enough hours in the day for you to check and respond to emails, field phone calls, create social media posts, create email blasts, manage your calendar, research topics, manage day to day operations, and on and on.
There are many advantages to having someone who can assist with tasks that feel overwhelming so you can focus on the more important, revenue generating activities of your business. And working with a virtual professional can help you focus on GROWING your business and help you leverage your time better.
Before you jump in feet first and start the scouting process to find a Virtual Assistant (VA), there are some things to carefully consider.
Here are 5 questions you should ask and answer before hiring a Virtual Assistant or a Virtual Professional.
1. Do You Know What You Need?
Take some time to decide what tasks would be most beneficial to have someone else do. Make a list of the job duties you don't like or don't have time for as well as any tools or programs needed to complete the tasks.  As you create your job post, this list will help you refine the duties to help you find the right person for the job.
Are the tasks suitable for one type of assistant or should you hire more than one person? It may be that you need a part-time administrative assistant as well as a part-time social media manager, bookkeeper, blogger or customer service specialist depending on the tasks and duties you need to have done. Many businesses start out small and hire someone for 5-10 hours per week until their business grows and they need more help in various areas.
2. Are You Looking for a Certain Personality?
You will be working closely with a virtual assistant, so it's important to find someone who gets you. Are you a Type A driven personality who works better with similar personality types? Are you more laid back and work better with someone who is too? Do you procrastinate too often and could use a no-nonsense person to help keep you on track? Do you run a faith-based business and want someone who shares your Christian values?
Knowing your personality type and what type of person you are looking for in a virtual assistant who will complement that is essential.  If this is important to you, you may consider having the applicants submit their scores to a personality assessment test.
3. How Will You Work With Your Virtual Assistant?
You will have the most success working with a VA when roles and communication are laid out clearly. There are a lot of project management resources out there like Slack, Asana and Trello to help with task tracking, communication, and project management. Or you may choose to keep it simple with daily or weekly check-ins by email or Zoom calls, sharing via Google Suite or DropBox folders. Decide up front how you will work best to ensure efficiency for you both in work and communication. But remember that communication is key and that no one will be able to read your mind or do a good job if they are not taught, show and directed early on especially.
4. What Skills Do You Need in a Virtual Assistant?
Having a list of tasks to delegate is a solid foundation when you are ready to hire a virtual assistant. Keep in mind, though, that hopefully this will be an individual who can grow with you and your business to form a great long-term working relationship. Think about what kind of skills you want a virtual assistant to have and what would bring you the most value as your business grows over the next two or three years.  If you are unsure, try searching the internet for Virtual Assistant (or whatever role you need) job duties to get an idea of what others are hiring these assistants to do and what skills may be needed.
5. Will They be Dealing with any Private or Sensitive Information?
If you need someone to help with parts of your business that include sensitive or private information to you or to your clients, you should consider not only checking references but also doing a background check or requesting a Trust Badge from a service such as SafetyPin Technologies. In today's remote economy, it is important to do the extra work up front to reduce the chances of someone having access to sensitive information or business assets that turns out to be less than trustworthy. It is wise to get to know the person before allowing them full access to your business. Start small and allow them to prove themselves. The extra work up front may save valuable time and headaches in the future.
And when you are ready to hire, HireMyMom can help you find a great Virtual Assistant or Professional.  We believe Moms make great virtual employees or contractors.
FACT: Over 5.4 million mothers put their careers on hold to stay home with children*. That adds up to a lot of talented women with experience, education, skills and the motivation to find flexible work that can be done from their home office. (*Source: U.S. Census Bureau)
What are the benefits of hiring remote employees or contractors from HireMyMom?
Save time.
Save money.
Save on office space and office equipment.
Save Your SANITY!
We do NOT take any commissions from You or our Job Seekers!
You will have more time to focus on your clients and improve your business.
Your project or job is posted to our entire pool of talented work from home candidates saving you valuable time.
You save money by not paying high salaries and benefits for traditional employees.
You interview, evaluate and decide which candidate is best suited for your business (or you may choose our Small Business Concierge program and allow us to do it all for you).
We provide the candidates. You provide the work. We get out of the way.
We've been around since 2007, and as moms and entrepreneurs ourselves, we are committed to helping small businesses, entrepreneurs and moms find mutual success!
FIND A TALENTED VIRTUAL ASSISTANT
What Types of Professionals Can You Hire?
Here are some of the more common job types posted with us:
virtual assistants / administrative assistants,
blogger / writers / editors,
social media marketers,
marketing / public relations / advertising,
legal & real estate assistants,
researchers,
graphic designers,
accounting / bookkeeping,
web designers,
customer service reps,
sales,
e-commerce specialists,
human resources, and more!
FIND YOUR NEXT VIRTUAL PROFESSIONAL NOW!
If you need help with hiring, try our Small Business VIP Concierge service and we can do all the hard work for you!
=
Business Growth, Hiring Tips, Small Business, Virtual Team, Work from Home Success