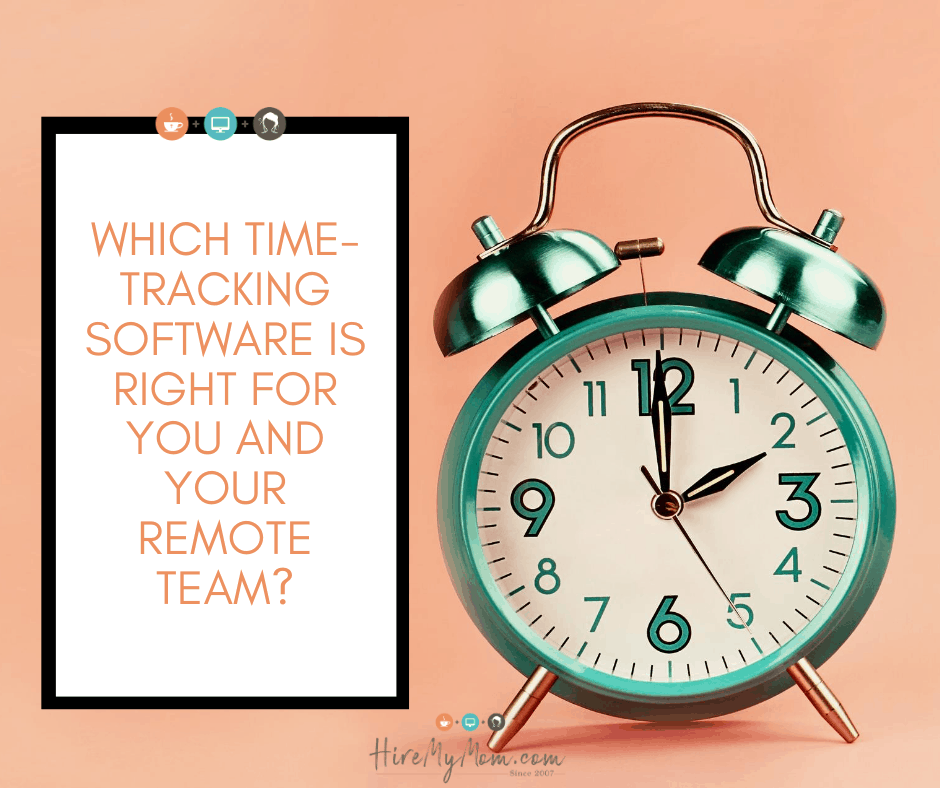 Which Time Tracking Software is Right for You and Your Remote Team?
Having an accurate time tracking system in place is crucial in order to successfully manage remote work. It's one of the best ways to monitor your team's progress, understand your productivity rates, and properly measure your KPI's (Key Performance Indicators).

The three main reasons for time tracking are to gauge client work, to manage your remote team, and to help improve productivity and profitability.
This article covers the benefits of having a time tracking system in place plus our top 5 recommendations for time tracking software.
Benefits of Time Tracking For Remote Teams
Accountability
With remote work, it's easy to become distracted. The freedom, though wonderful – can become a playground for bad habits to be developed (like going on your social media accounts when you should be working).
By using a time tracking software, you'll be able to monitor your team's time on and time off each task and catch any issues early on before they become much bigger ones. 
From the worker's perspective, time tracking is a great way to help you keep to your schedule, stay on track with tasks from start to completion, and it gives you the chance to celebrate the wins and milestones of your job performance. 
It also gives you the confidence so that if your work were to ever come into question, you have a track record to explain the situation to the management department.
Project Management

The many offers of time tracking software make it easy to manage any project from virtually anywhere (or any device). Time tracking software contains many features that help you keep track of projects. From quick reports to visual dashboards that provide you with real-time project views, it's easy to see everything in one place. 
It helps team leaders manage the projects within their team and provides the opportunity to make decisions about priorities, tasks, and project shifting at-a-glance.

Less Stress

Tight deadlines, misplaced files, uncertainty with team progress, and miscommunication can contribute to stress. Stress on the workers, the employer, and overall health of the company.

Time tracking software can do a pretty great job dealing with all of the above pain points. It helps you keep on track with due dates, can act as a hub for file tracking, provides team progress in a visual snapshot, and allows for stronger communication and clarity.
Cost-Efficient
There are many ways that a time tracking software can help the productivity and cost-efficiency of a company's operations. It can eliminate wasted time that takes place in an office environment where employee socialization can steal from productivity. It can help monitor project progress and once completed, can help determine the baseline of tasks and their costs to create a better pricing structure for future clients/projects. Finally, because time tracking is automated, this can free up time on your management teams end which you can use towards other aspects of running your business.
5 Time Tracking Software for Remote Teams
Review our picks for time tracking software and evaluate (include pricing): 
What it is: Time Doctor is a Software As A Service (also known as SaaS) platform which provides time tracking and productivity tools. It's owned by the team at Staff.com and was founded in 2012. It has the ability to easily integrate with the most commonly used CRM systems.
What it does: Time Doctor provides time tracking and employee monitoring, online timesheets and payroll, project budgeting and management, distraction alerts, allows for screenshots, website and app monitoring, client login access, and more.
What it costs: Time Doctor offers a FREE 14-Day Trial with no credit card required. Packages range on a per user basis between $7 – $20 per month.
What it is: Wrike is an online project management platform that provides a simple way to plan projects, streamline communication, and workflow. The company was founded in 2006 and has accomplished some noteworthy "street cred" including; 2020 TrustRadius Top Rated Award, 2019 and 2018 Customer's Choice Awards, and is also mentioned as one of the Top Places to Work between from 2015 – 2019 consecutively.
What it does: Wrike offers task management, Gantt Charts, workflow management, task prioritization, workload views, custom reports, real-time activity, shareable dashboards, document collaboration, file sharing, real-time activity, custom calendar, and integration with calendars, dropbox, Google Docs and more.
What it costs: Wrike offers a Free Trial and plans ranging from $0 to $10/month per user. 
What it is: Clockify is an attractive time tracking software because it's the only software that is entirely FREE. There are no user restrictions, it's simply free. But there must be a catch right? Clockify does charge to upgrade and allow for additional features. The additional features do make it hard to resist. Clockify was founded in 2009 and has over 2 million users, over 100 employees, and a substantial amount of glowing reviews.
What it does: Some features that Clockify offers include timesheets, time-off tracking, hourly rates, real-time tracking, time reports, multiple users, exports and share reports, and more.
What it costs: Clockify is FREE and their plans start at $0 per month and range up to $29.99/month with a combination of user and/or flat-fee pricing depending on the package you select.
What it is: Toggl is an app for time tracking. It allows you to track your activities on a daily basis across different platforms. It gives you detailed insights so you can identify the areas you need to improve on.
What it does: Toggl offers a way to easily organize your team through their 3-Stage Hierarchy, provide a continuous backup of data, offer no signup or termination fees, allows for easy integration with FreshBooks, Basecamp and more. It provides real-time synchronization between web apps, desktop apps, phone apps, and more. Because Toggl is open source, it allows accessibility users need to build different third party integrations into it.
What it costs: Just like it's competitors, Toggl provides a Free Trial with plans ranging from $10 to $20/month per user with Enterprise Packages for more complex situations.
What it is:

Harvest is a cloud-based time tracking software. It is built to handle small to large-scale businesses. It has invoicing and timesheet features. Harvest was founded in 2006 by Danny Wen and Shawn Liu who were looking for their own ways to solve some of their growing web design studio pain points. 

What it does: Harvest features time and expense tracking, invoicing, expense tracking, time-based reporting, and more.
What it costs: Harvest is free to try with no credit card required. The free trial includes 1 user and 2 projects. After the Free Trial, Harvest is $12 per user. 
We hope you've found this article helpful. You also might like our "How To Effectively and Successfully Manage Your Remote Team" here. 
This site contains affiliate links to courses and resources. We may receive a commission for purchases made through these links.
Helpful Tools, Hiring Tips, Productivity & Time Management, Small Business, Virtual Team