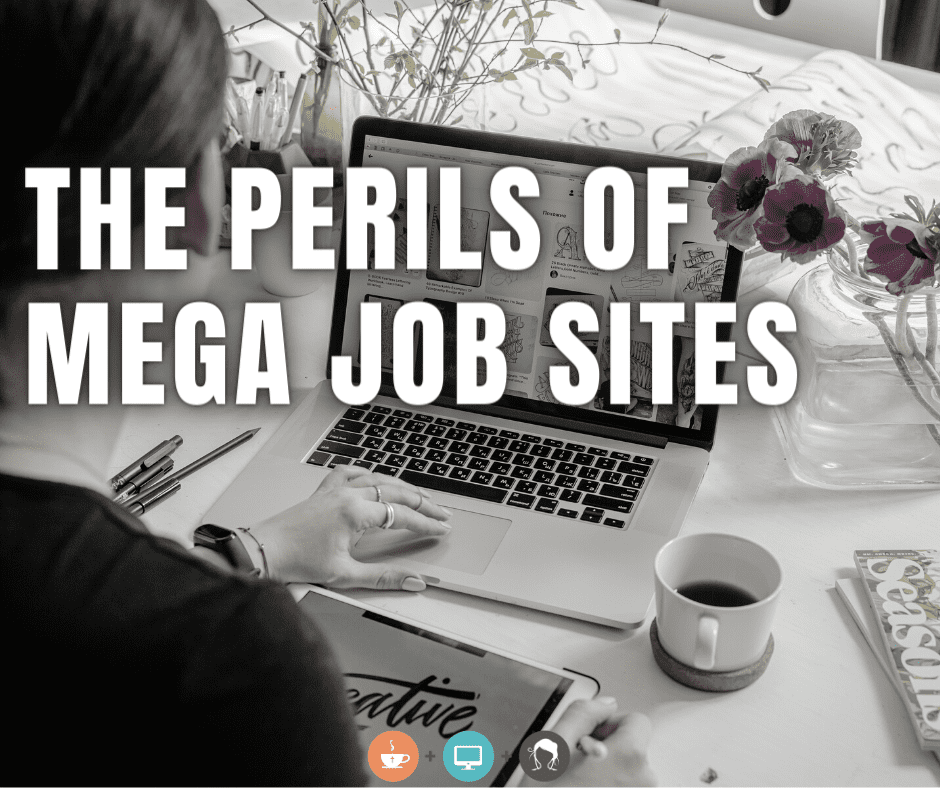 The Perils of Mega Job Sites
The modern job search can be daunting and disheartening. With so many different online job sites, it's hard to know which ones to trust and which ones will benefit you the most. Mega job sites, especially the free ones, can be a waste of time. They are often filled with irrelevant job postings sourced from outdated, unverified information. For businesses, they can be difficult to understand, hard to navigate, and nearly impossible to get a real person to help you. 
Free Sites Are Teeming with Scammers
It's no secret that free job sites can be full of scams. There are countless stories of people who have been conned out of their hard-earned money by an unscrupulous individual claiming to be an employer or recruiter. They may offer you an attractive job opportunity or a large sum of money for a small task, only to ask for personal or banking information. Even when the job or offer turns out to be legitimate, it can be difficult to assess the validity of the source. 
If you're looking for a safe place to search for job opportunities, then you should opt instead for a trusted resource. HireMyMom is a website dedicated to helping moms find legitimate work-from-home jobs and other flexible employment opportunities. We vet each and every listing, ensuring to the best of our ability that businesses are verified and trustworthy. On top of that, our database contains a wide variety of job postings so you can find the right fit for your skills and lifestyle.
You're Just a Number
When you use a mega site, you become just another number in the sea of applicants. No matter how great your experience and qualifications are, you may have a difficult time standing out to an employer if they get lost in the thousands of resumes. Furthermore, your chances of standing out can be even lower if you don't have an optimized resume or a well-written cover letter. It's easy to get lost in the shuffle, and there are very few resources available to help you craft the best job application materials possible. Unfortunately, it doesn't stop there. Not only do employers have to weed through thousands of resumes, but they also have to face scammers and fraudsters themselves. 
At HireMyMom, we provide a platform with job seekers who are serious about finding great remote opportunities and not just pressing a button to apply for every job they see. Because of our subscription model, we typically attract quality candidates who are serious about finding great remote opportunities. And small business owners love that because they don't have the time to sort through hundreds or thousands of resumes and on HireMyMom, they typically receive a very manageable number of applicants making the hiring process much less cumbersome. Plus, employers and job seekers alike can get in touch with a real live human any time they need help!
You're Competing with Hundreds, if Not Thousands
Even if you have the perfect resume and the best qualifications, there's still no guarantee that your application will be seen. With such a massive pool of applicants, employers can afford to be picky, and your resume may never make it to the top of the pile. Plus, employers often get overwhelmed and only take the first few people who applied to the listing when it went live, leaving several other applicants behind. The odds are even worse for freelancers. Most job postings on these sites only list opportunities for full-time employment, leaving freelancers out in the cold. Furthermore, with so much competition, it can be difficult to get noticed and your rate of pay may suffer as a result.
This isn't the case with Hire My Mom. By using this site, freelancers benefit from fewer applications and more personalized attention. Rather than competing with hundreds of other applicants, your application will stand out from the crowd and you'll get the chance to show off your skills and talents. Additionally, since we are a paid site, the job applicant pool is smaller giving our job seekers a better chance of getting hired.
It's time to find the job or employee of your dreams! Let us know how we can be of help.