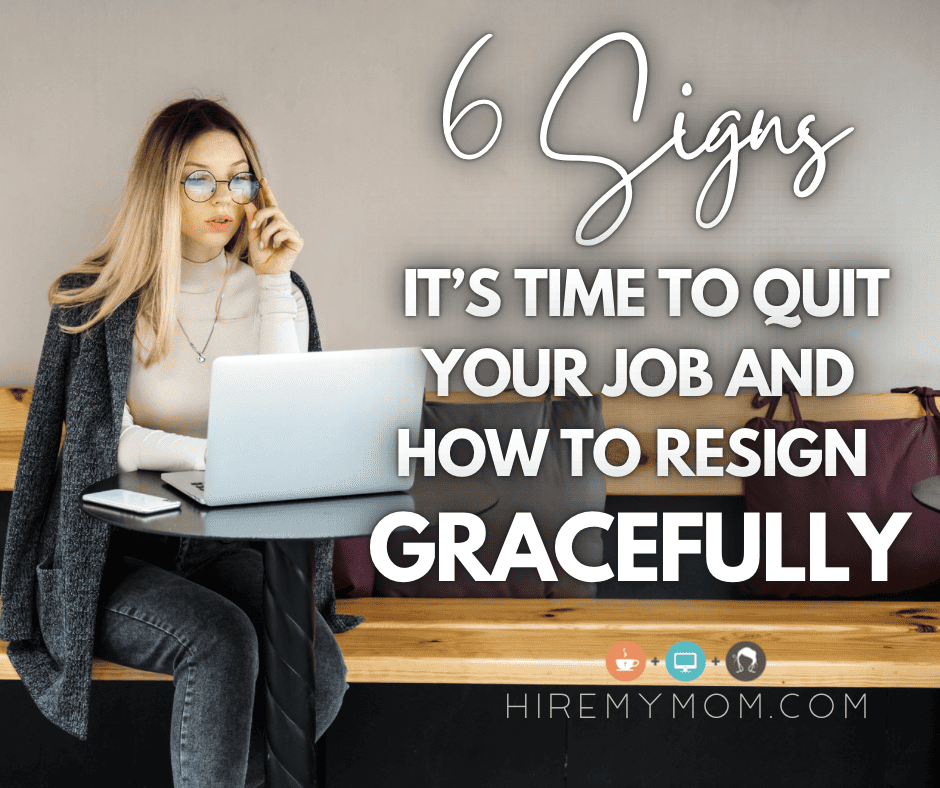 6 Signs It's Time to Quit Your Job and How to Resign Gracefully
There comes a time in every working professional's career when you'll want to quit your job. Whether you're unhappy at your current job or you feel like it's time to move on for a new challenge, you'll need to resign gracefully. 
While adversity can help you become more successful, here are six red flags to look out for in the workplace:
1. You aren't being treated fairly by your boss or coworkers 
If you feel like you're constantly being passed over for opportunities or are being asked to take on more work than your colleagues without getting recognition for it, it can make for an unpleasant work experience. If you have cause to believe you're being unfairly treated and regularly pressured to say 'yes' in the workplace, then it may be time to move on.  
2. Your job no longer challenges you
If you feel like you are no longer making an impact with your work, or that the work itself is no longer interesting or exciting, it may be time to consider quitting your job. If you've done everything you could to find new challenging projects and asked your manager about taking on new responsibilities with no success, consider your exit strategy.
3. You feel like your skills aren't recognized at work
You may start to realize that your skills aren't being put to good use at your current job, or you aren't being recognized for your hard work. If this is the case, then it may be time to look for new opportunities where you can develop résumé-worthy skills and grow as a professional.
4. You've lost passion and interest in your work
Are you no longer feeling inspired or excited by the projects at your job, or you aren't seeing any potential for career growth even after discussing the situation with your manager? If this is the case, it may be time to consider quitting and moving on to another company where you can find fulfillment.
5. You don't enjoy working with the people at the office, from your coworkers to your boss
Is your job negatively impacting your mental health or personal life despite setting professional boundaries? If you're still dreading going to work even after you've changed positions internally or taken on other projects, this is a sign to quit. 
6. You feel disconnected from your company's mission, goals, and values
If you don't feel like your company is making a positive impact in the world or there seems to be a disconnect between your belief system and what your company stands for, then it may be time to quit. When considering new companies to work for, do your due diligence to find one that aligns better with your values, work ethic, and career goals. 
If you've already been working on the side, consider turning your side-hustle into your full-time career or starting your own business. Working with a business coach or mentor could provide you with the direction and the support you need to make the plunge.
The good news is, when something doesn't work out, try seeing it as an opportunity to seize rather than a failure. Finding the right job can take time, so make sure you stay active to boost your morale while you job search.
Why should you write a resignation letter?
Writing a professional resignation letter is key to formally informing your company of your intentions to leave and smoothing out your leaving process. Doing this will also increase your chances of getting recommendation letters and positive reviews during reference checks future hiring managers may conduct. 
If you've already accepted a job offer while employed and now find yourself needing to inform your current employer that you're quitting, be sure to respect your contract's clause on giving advance notice. This could be as little as 2 weeks in advance but could also be a few months.
So before you change your LinkedIn profile to announce your new position, make sure your current employer has received your resignation letter either during a face-to-face meeting or by email (if you're working remotely).  
How to write a graceful resignation letter
When it comes to writing a resignation letter, be sure it's clear and concise and stick to one page or less. Here are three tips to write a professional resignation letter:
Use professional resignation letter formatting 
To ensure a professional formatting, follow these six steps: 
Include your

name and address

at the top of your letter

Left-align the

date

under your address (this date will officially start your resignation notice period)

List the company address in full

Address your letter to your manager by their formal title along with their last name (it's acceptable to use their first name if you're on a first-name basis)
Remember to write out the number of weeks' notice in full words rather than numbers, like this: "two weeks' notice".
Be clear about your intentions
Open your letter clearly by stating your intent to resign as well as the exact date you plan on ending your time at the company. This helps your manager better prepare for the weeks leading up to your end date as well as after you leave.
In the body of your letter, you can provide reasons behind your resignation. Although this is optional, it can be useful and appreciated, especially if you're on good terms with your boss.
End on a positive note
If you do decide to share your reasons for leaving, be sure to keep a positive attitude. If you're leaving because you're unhappy with the management or your coworkers, it's best to selectively omit this from your letter, even if these are legitimate reasons for leaving your job.
You should always stay professional and thank your manager for the opportunities you've had at the company. Express gratitude for the opportunities you've had in the past to grow and develop yourself during your time there.
Dominique Vatin is a Staff Writer and Resident Career Expert at Resume Genius, where she writes about everything from how to make a resume to acing your next interview. When she isn't helping job seekers find higher-paying, more fulfilling work opportunities, you can find her whipping up various cakes at home or planning her next hiking adventure.