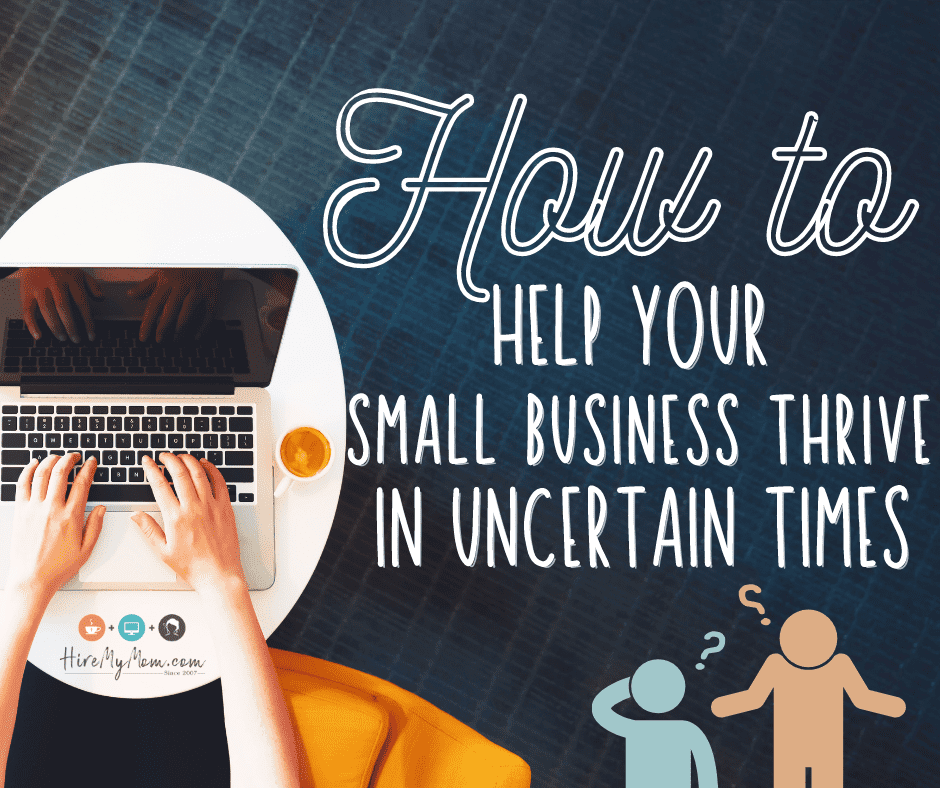 How to Help Your Small Business Thrive in Uncertain Times
With everything that's gone down in 2020, it may be time to look at your business with fresh eyes to assess your current state and determine where you are headed. One way to do this is to perform a SWOT analysis. SWOT stands for:
Strengths

Weaknesses

Opportunities

Threats
This analysis is quick and gives you a good sense of where you are at this point, where you are heading and how to make the most of every opportunity. Grab some paper and a pen (or sit down at your computer) and use this guide to get started. Here is a free worksheet to help you in this process.
Assess Your Strengths
Let's start with the positive. Make a list of the strengths your business shows right now. They may be the same as pre-COVID-19, or they may be wildly different. Either way, be generous with your strengths. Include things like a great staff, dedicated customers, and your killer website or social media presence. The objective here is to get a good handle on all the things you have in your corner. Listing strengths helps affirm all the things that are going well. Put yourself in the shoes of a customer or staff member and consider your business from that perspective, as well. 
Consider Your Weaknesses
Next, make a list of the flaws you see in the business right now. Like the strengths, you may see faults that resemble what you saw before or a different set of disadvantages. It's essential to create a complete and honest list but think big picture. Don't include small issues that happen on a one-off basis, like a customer complaint or a minor hiccup. Don't be overly critical. The goal here is to objectively consider areas of your business that could use some attention. A good list of weaknesses makes it easier to address any issues and solve for them going forward.
Identify Your Opportunities
Now, it's time to look at your opportunities. The world has changed in the last six months, which likely means new opportunities have opened. The point of considering opportunities is to see new possibilities–both short and long-term options. You may see a long list of options right away. If you are struggling, that's understandable. But, try to identify at least three opportunities on the horizon. Cast a wide net. Here are three ways to help frame your thinking:
Jot down the opportunities you have traditionally pursued if they are still viable. 

Consider what new avenues may be available for the future. You don't need a plan to pursue the opportunity to list it–it's ok just to see the prospect and note it. Planning to capitalize on the opportunity can come later.

Think of opportunities in many ways–perhaps you have a chance to hire a virtual staff member to bring in some expertise or reduce your workload or that of a team member.
Generating a list of possibilities will make you feel better about the future and start the wheels turning for new options in the future.
Outline Threats on the Horizon
Finally, write down the threats facing your business right now. I know–this can be scary. But, don't be afraid to list the risks. Identifying them and committing them to paper won't make them more likely to happen. Instead, looking at the list of risks can defang them a bit and make them feel more approachable. 
As you think about the threats, identify those you can control and those you can't. For example, you can't control what happens with the pandemic. But, you can make a staffing tweak that reduces the threat of staff turnover. List both in different categories to make them easier to assess.
Sample Worksheet
Here's a worksheet to help you conduct your SWOT analysis. As you can see, it's not fancy, but it serves as a good starting point for organizing your thoughts. You can also download one using the link above.
| | | | | |
| --- | --- | --- | --- | --- |
| | Products/Services |             Staff           |      Marketing         | General Environment |
| Strengths | | | | |
| Weaknesses | | | | |
| Opportunities | | | | |
| Threats (Use an * to denote threats outside of your control) | | | | |
Final Tips Before You Get Started
Here are my best tips for conducting a successful exercise:
Do your initial thinking, then set it aside for a week. I find creating this space helps make the reflection more in-depth and more insightful.

After a week passes, revisit your work and write down your initial edits. 

Do this again over a few days before you start making plans to address what you uncover. 
Once complete, file your completed analysis. Review it in six months to see how things have changed and how much progress you've made. 
This is the Perfect Time to Conduct a SWOT Analysis
With so many things going on, spending an hour conducting a SWOT analysis may seem like a low priority item. But, this is a great way to look at your business with fresh eyes and consider how the future may unfold. I always find this process valuable, and I look forward to hearing what you learn. Send us an email and share your experiences.