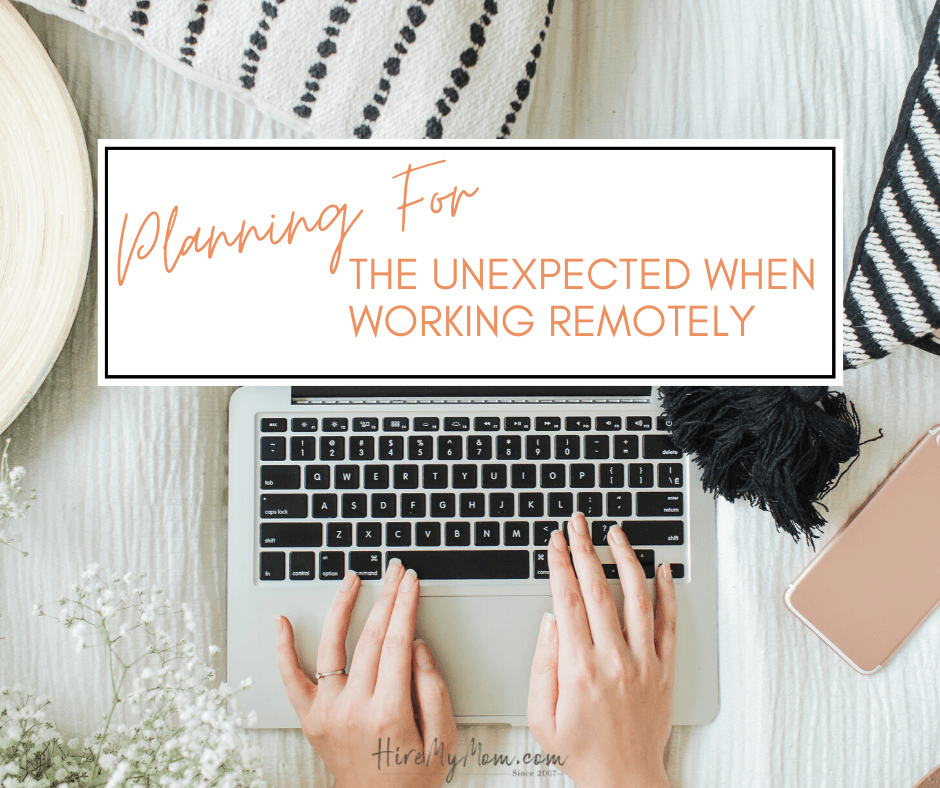 Planning for the Unexpected When Working Remotely
Recently, we shared a blog with our best tips for solving the toughest work-from-home challenges. It's full of advice for managing the change to remote work and making the set up work for you on a day-to-day basis. But, as anyone who has worked from home knows, the best plans can go awry with a moment's notice. While unexpected circumstances will pop up,  you can often handle them with out-of-the-box thinking, a healthy dose of creativity, and some grit. In many cases, it helps to pick up your work and move your office temporarily. Here's our best advice for (and favorite stories about) taking the office on the road. 
Do Some Pre-Planning
When you start working from home, consider the types of circumstances that might require you to work from an alternate location (i.e. power loss, crazy loud construction across the street, etc.). Make a mental list of other places you might go to work. Maybe a nearby coffee shop or library. Perhaps the house of a friend who also works from home. (Obviously, this gets trickier in the middle of a pandemic. So if you already have plans in place, it's a good time to give this topic fresh thought.) 
Likewise, if you have a vacation or other travel on the horizon, consider how you might manage work conflicts that pop up before you go. I learned this skill when I was traveling and found out that I'd need to conduct an important phone interview. I suspected the interview might overlap with my travels, so I started thinking about how to make it work before I left for the trip.
I needed to find a quiet place to take the call. After some thought, I realized that I could use the  closet of my hotel room as a personal conference space. While it was unconventional, that closet was the only quiet place I could find. Having done some pre-work to solve the problem made it easier to deal with in the moment.
Pack a "Go Bag"
Sometimes situations pop up with no warning and you need to leave your home office to deal with it effectively but you still need to work. In these cases, having a briefcase with the essentials packed and ready to go let's you take your office on the road in seconds. 
For example, an unexpectedly sick cat and a tight deadline meant that freelance textbook editor, Shannon Ford, had to use the waiting room of the emergency veterinarian as a makeshift office. Luckily, she had a briefcase with essentials, such as an extra power cord, a cell phone charger, pens and a notebook pre-packed, just in case. 
She loaded the cat in the carrier, stuffed her laptop into her bag, and whisked them both out to the car without missing a beat. After getting the cat checked in, she went to work editing as she waited. She even found that working in the waiting room helped her feel less anxious about her beloved cat. Having a pre-packed bag made it easy for her to get out the house quickly and pick up her work without issue. Knowing that she could pivot on a dime to meet an important deadline filled her with confidence about her decision to launch a business.
When the Show Must Go On, Trust Yourself
You never know when you might get a call to answer a quick (but important) question. When it happens outside your work day or normal location, remember that most of what you need is in your head. Don't be afraid to answer a question or help out even when you are without your tools of the trade.
Structural engineer, Tabitha Stine, was on vacation at a large theme park when she was called to check a calculation for the placement of an antenna that was being installed on top of a high rise building in Chicago. The helicopter was hovering over the building and she knew she needed to act quickly despite being away from her computer and notes on the project. 
She ducked into a near-by restaurant while her husband waited in a ride line with their kids. After taking a minute to switch into work mode, she did the math on the back of a napkin 1,000 miles away from the job site and called in the results. Trusting herself to do the work in new ways and a new place, was the key to making a huge contribution when it counted.
Share your story
I love these tips because we will all face our own situations while working from a home office. The stories inspire me because they show how creative we get when unexpected circumstances arise. Learning that we aren't alone and laughing about the craziness of the locations where work got completed helps me feel connected to others who work from home.
I'd love to hear about your best story about a temporary office location and how you found yourself there. Drop us a line and share your story. Also, check out the great answers to a similar thread posted in the HireMyMom FaceBook Community. And if you are looking for a remote job or a remote hire, we'd LOVE to help! 
Productivity & Time Management, Work from Home Success, Work from Home Tips