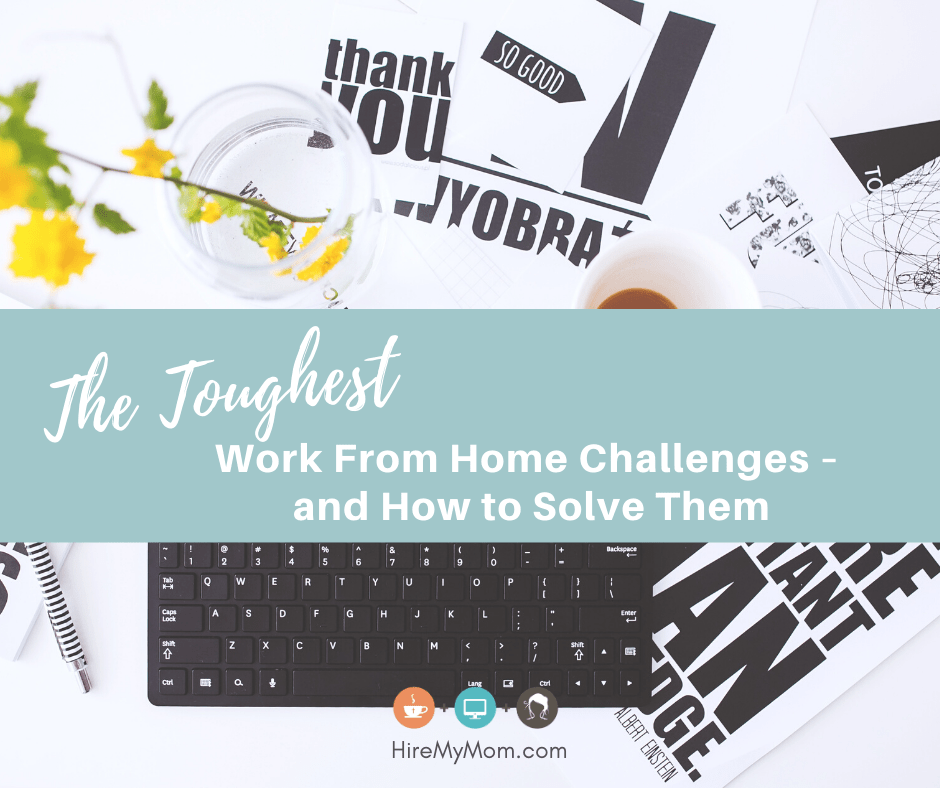 The Toughest Work From Home Challenges – and How to Solve Them
Working from home has many benefits, from more freedom and flexibility to a quick 10-step commute to your home office.  Although it's mainly a positive experience for most, there can be challenges involved, especially to those new to working remotely . . .  or maybe when we're in the middle of a pandemic!
Here are our tips on working through those challenges successfully.
Expectations
Working from home with kids or family around is not the same as the bliss of a quiet home or corporate office. Not surprisingly, your day is going to look different, and you'll have to be proactive about planning your schedule and tasks. It may be helpful to start with a list of what needs to get done (the night before preferably so you can plan accordingly) and hit the ground running in the morning. Circle or star the tasks that require focus and uninterrupted thinking. For me, that's writing, creating content and talking with clients so I like to do those first thing in the morning while everyone is either sleeping or busy with their own tasks. Other work tasks like email, social media or research do not require as much deep focus so I can plan those for the parts of my day when I know I'm more likely to be interrupted.
I've also found batching my work helps my productivity and allows me to get more accomplished. When you get zoned in on a certain tasks and aren't stopping and starting by checking email, taking phone calls and things like that, you can knock out a week or month's worth of blog posts, social media or other similar tasks.
Distractions
Whether working from home or a traditional office, distractions are part of every job.  When working from home those distractions include family members, postal deliveries, social media alerts, and things like podcasts that can be a little too tempting. If you struggle at all with independent work, it can be even more challenging.
Instead of eliminating these things entirely, give yourself breaks to do what you're tempted to do during work time, such as listen to your favorite podcast, play a quick game with your kids, put in a load of laundry or start dinner.
Your distractions can become a healthy part of your life, as long as you work to manage them while still getting things done.  Create a schedule that allows time for the extras or "distracting" parts of your day while still completing your work.
Kids and Family
While kids and family can be a huge bonus to the remote work life, they can also cause distraction and maybe even a bit of frustration when you've been together 24/7 for months during a pandemic.  Sometimes you'll need to have focused work time, meetings or conference calls that demand your attention and that's where having a plan is imperative.
When possible, set clear boundaries such as if the door is shut, it means no coming in. You may want to put a post-it note there if you are on an important call or recording a video interview as I've had to do. In my home, my family knows if my office door is shut and they need something, they can text me and I'll respond as soon as my call or interview is finished. It also helps that I do most of my calls on speaker phone so they can hear me talking and know not to come in. If you have small children, it may mean swapping focused time with your spouse or hiring a neighbor to help out so you can have some uninterrupted work time.
To help manage your home, create a list of what needs to be done. Consider age-appropriate chores and tasks for each family member. Have a family team meeting and discuss the tasks, chores and expectations. Knowing your family, you can decide if assigning tasks to each person is better or if allowing them to choose what works better for particular needs. Take advantage of meal prepping services if you need a break from meal planning and shopping.
For the never-ending snack needs for younger kids, consider "meal-prepping" some ready to go snacks each night — or weekly if they are non-perishable. Create a shelf in your pantry or in your fridge where they can grab a snack if you are busy.
For your kids play time needs, ask the moms of your kid's friends if they'd like to swap play times so the kids can play at their houses one afternoon and at yours another day.  Or you may find a high school or college kid that is home that can take the kids to the park or pool or even play games with them. When they are with you, you may need some fresh ideas and extra activities to keep them busy.
When the weather is beautiful, consider taking your work outside! Take the kids and go to a park while you work on those tasks that don't require intense focus.
Isolation
Whether you have family around you or are at home alone, we all need social interaction from others. Be proactive in engaging and interacting with others you work with and those you don't. Instead of simply waiting for schedule meetings, sometimes it is helpful to have that "virtual" face-to-face coffee break or an informal face-time chat with a friend or colleague.  They may also be feeling isolated and will appreciate you making the effort to visually connect with them.
Another way to fight the isolation blues is to work on your goals. Setting goals and actively working on yourself, your marriage, your parenting and your business will bring positivity to you as well as those who will appreciate your determination and accomplishments.
And don't forget about the importance of getting outside for some Vitamin D. There are real benefits to taking breaks, getting some sunshine and going for walks. Fresh air and sunshine can be helpful to clear the mind and help reset your mood. If you can't get outside, then any kind of physical activity can help you feel healthier and invigorated during your day.
So there you have it, knowing what to expect and being proactive to overcome these challenges makes all the difference. Each day is likely to be different and when you have a bad one, simply learn what you could have done differently and vow to do better tomorrow.
Are you looking for your dream work from home job or a rock star candidate to help grow your business? Whether you are seeking freelance work or to hire a great remote team member, HireMyMom aims to be your #1 choice! Let us know how we can be of help!
Hacks, Productivity & Time Management, Small Business, Work from Home Success, Work from Home Tips