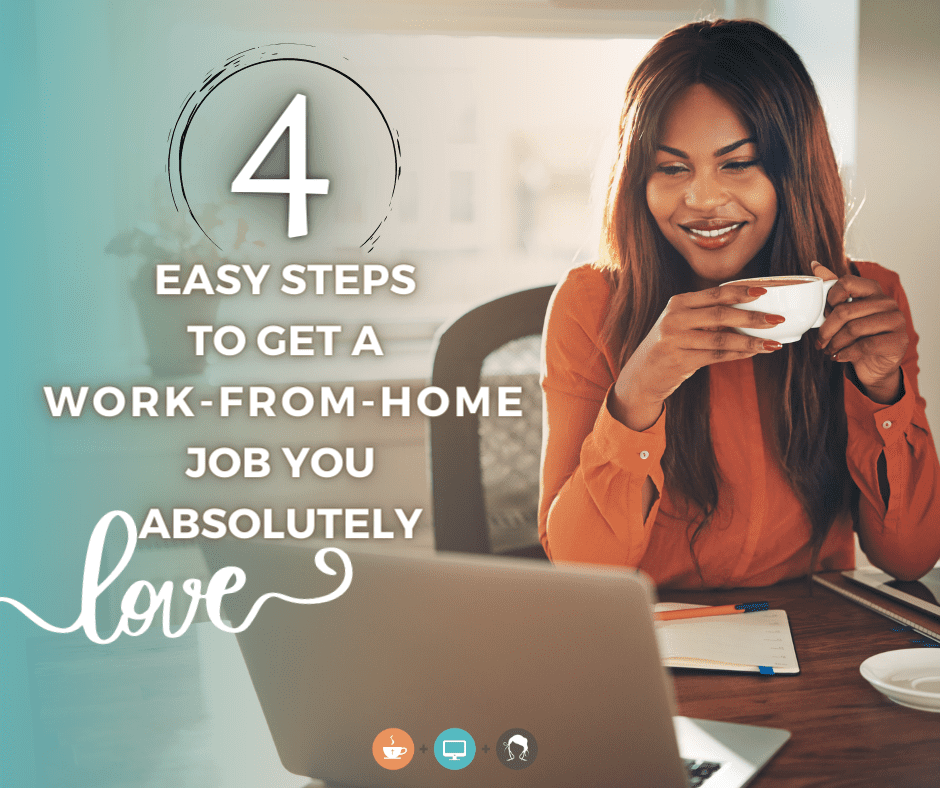 How to Get a Work-From-Home Job You Absolutely Love in Four Easy Steps
As we say goodbye to 2020 and hello to a new year full of opportunities, one of your goals may be to transition to a job that lets you work from home or offers more flexibility for you to work on your terms. If so, you are in the right place to find the resources you need to make this the year you transition to working from home or to life as a mompreneur. Let's make a plan!
Get Started
Think About What You Want
As you think about working from home and your career goals for 2021, consider:
What type of work do I want to do?

Am I looking to build on my existing skills and experiences or go in a new direction? Do I prefer being part of a virtual team or working solo? Is it time to start my own business? 

How do I want my workday to look?

Do I want to be on the phone for a good portion of the day, or do I prefer solo work? Do I have concrete blocks of hours to do focused work, or do I need something that I can work on in short bursts of time? Can I work full time, or is part-time a better fit?

How does my budget look?

Do I have a runway to start something new? Can I work on a project-by-project basis?  Do I need a job that offers a steady paycheck? How will my expenses change when I work from home? 
The questions above can be tough to answer. These resources can help:
Check out the

Top 10 Work From Homes Jobs for Moms

. This list can open you up to new possibilities you may not have considered in the past but could be an excellent fit for your skills, interests, and abilities. 

Read

success stories

of others who successfully made the transition to working from home.
Review

these tips

for finding at-home work without a lot of experience, if you're new to the workforce, or returning after a long absence.
Consider Additional Training
As you narrow down the type of job that interests you, take a look at the training and credentials needed to get a job in this field. Online training is available for many at-home jobs. Several free training classes are available in the resources section on HireMyMom. You can find training on starting a virtual assistant business, work as a bookkeeper, a social media manager, a content creator, and more. 
Start Your Own Virtual Assistant Business                                                                                                                                      
If you're ready to start your own business this year, consider becoming a virtual assistant (VA). As a VA, you take care of many tasks, including email response, appointment setting, travel planning, and calendar management. You can work as a general VA, who does a wide variety of tasks or become one with a specialty in a particular industry or need. 
VA work is catching on quickly. It's a great business model because it solves a problem so many people have — squeezing more tasks into a day. It's also an excellent lifestyle for moms who want to control their own time, skip the commute, and put family first while still keeping professional ambitions alive. 
At HireMyMom, we've partnered with four different training programs to help our members learn more about this business opportunity and acquire the skills needed to launch a VA business.
Find Job Opportunities
With a clear vision about your plans, it's time to start looking for your work-from-home job. Having a plan to find job opportunities will make you more successful. Start by taking the Online Job Seeker 101 class available through HireMyMom.com for proven strategies to help you find and land jobs. Then, set aside an hour each day to find jobs that interest you, tailor your resume and cover letter, and apply. To find jobs:
Sign up as a Mom Professional on

HireMyMom

 so you will have exclusive access to legit, work-from-home opportunities.

Research the types of employers that may need your skillset or offer the jobs you hope to land. 

Talk to friends, neighbors, and family members who may have leads.
Get Started!
Once you land your work-from-home job, it's time to manage the logistics of working from home. 
Designate a quiet place to work and set it up with the tools you'll need to work efficiently.

Identify your optimal work hours.

Talk with your spouse and kids (depending on their age), and ask for their support as you begin your new work journey.

Make a

plan for your kids

so you can find the time you need to work.

Consider ways to overcome the hurdles that are likely to pop up, such as internet outages, school holidays, and the general distractions that can come up when working at home.

Look at new options for managing

day-to-day chores and household responsibilities

that free up more work time for you.

Review my

favorite productivity tips

for moms who work at home.
Enjoy Your Success!                                                                                                                                                               
You've worked hard to get to this point, and I know that you will be successful in your pursuit of a job that lets you stay professionally engaged while working at home. I can't wait to hear your success stories—best wishes for a happy, healthy, and prosperous 2021.
Being Mom, Work From Home, Work from Home Success, Work from Home Tips