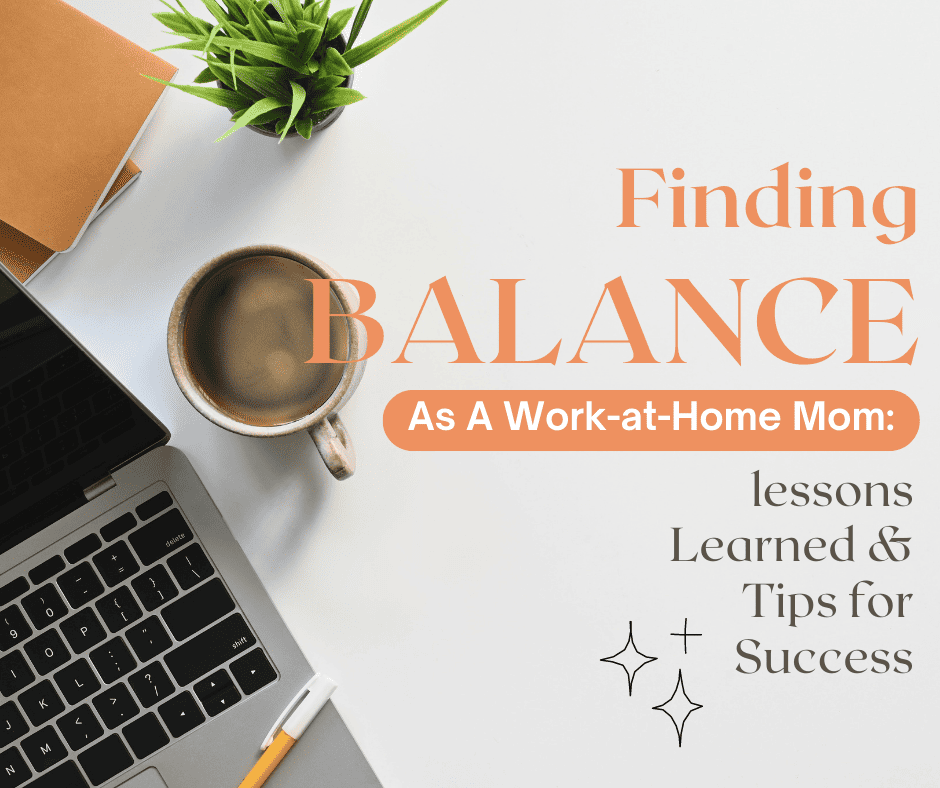 Finding Balance as a Work-at-Home Mom: Lessons Learned and Tips for Success
As a mom who left a career in higher education to start a business and work from home, finding balance has been a journey. It's not easy to juggle work and parenting, especially when you're trying to grow your business at the same time. However, I've learned a lot along the way and would like to share my experience with other work-at-home moms.
When I found out I was pregnant, I knew it was time to take my business seriously. I started by setting a realistic schedule that allowed me to work during my most productive hours while also being present for my family. I also made sure to take breaks throughout the day to rest and recharge.
Once my baby arrived, I had to adjust my schedule again. I quickly learned that nap time was my most valuable work time. I also had to learn to let go of some things and prioritize what was most important. I outsourced some tasks and delegated others to free up more time for my family.
One of the biggest challenges I faced was learning to say no. As a work-at-home mom, it's easy to say yes to everything, but that can quickly lead to burnout. I had to learn to set boundaries and only take on projects that aligned with my goals and values.
Overall, finding balance as a work-at-home mom takes time and patience. It's important to remember that it's okay to make mistakes and that every day is a new opportunity to do better. With the right mindset and systems in place, it's possible to grow a successful business while also being present for your family.
As my baby is growing, I've had to continue to adapt to new challenges. I found that having a designated workspace helped me stay focused on work during work hours and transition to mom duties when I was with my baby. I also learned the importance of self-care and making time for myself, even if it was just a few minutes here and there.
Another thing that helped me find balance was connecting with other work-at-home moms. Having a support system of people who understood the unique challenges of balancing work and parenting was invaluable. We were able to share tips, offer encouragement, and remind each other that we were all doing the best we could.
One thing that I wish I had known earlier in my journey was the importance of setting boundaries with clients. I found myself working crazy hours and responding to emails at all hours of the night, which led to burnout and resentment towards my business. Once I started setting clear expectations with clients about my work hours and response times, I felt more in control of my schedule and was able to provide better service to my clients during designated work hours.
In conclusion, finding balance as a work-at-home mom is possible with the right mindset, systems, and support. It's a journey with ups and downs, but with patience and persistence, you can grow a successful business while also being present for your family. Remember to take care of yourself, set boundaries, and connect with other work-at-home moms for support and encouragement.
Lisa Trinidad is an entrepreneur with a background in communications. She started a mommy blog, Busy Brilliant Mom, in 2016, offering tips for managing motherhood. Despite being a working mom, she left her corporate job in higher education to start Desk On The Run, a service that offers strategy and business management to small business owners. In 2022, she founded Latina Mom Meetup, which provides a space to meet and share resources with other moms in the area. Lisa resides in Brooklyn, NY and is a mother of three girls. Her journey is driven by a desire to establish a community among moms and meet them where they are in the journey through motherhood.