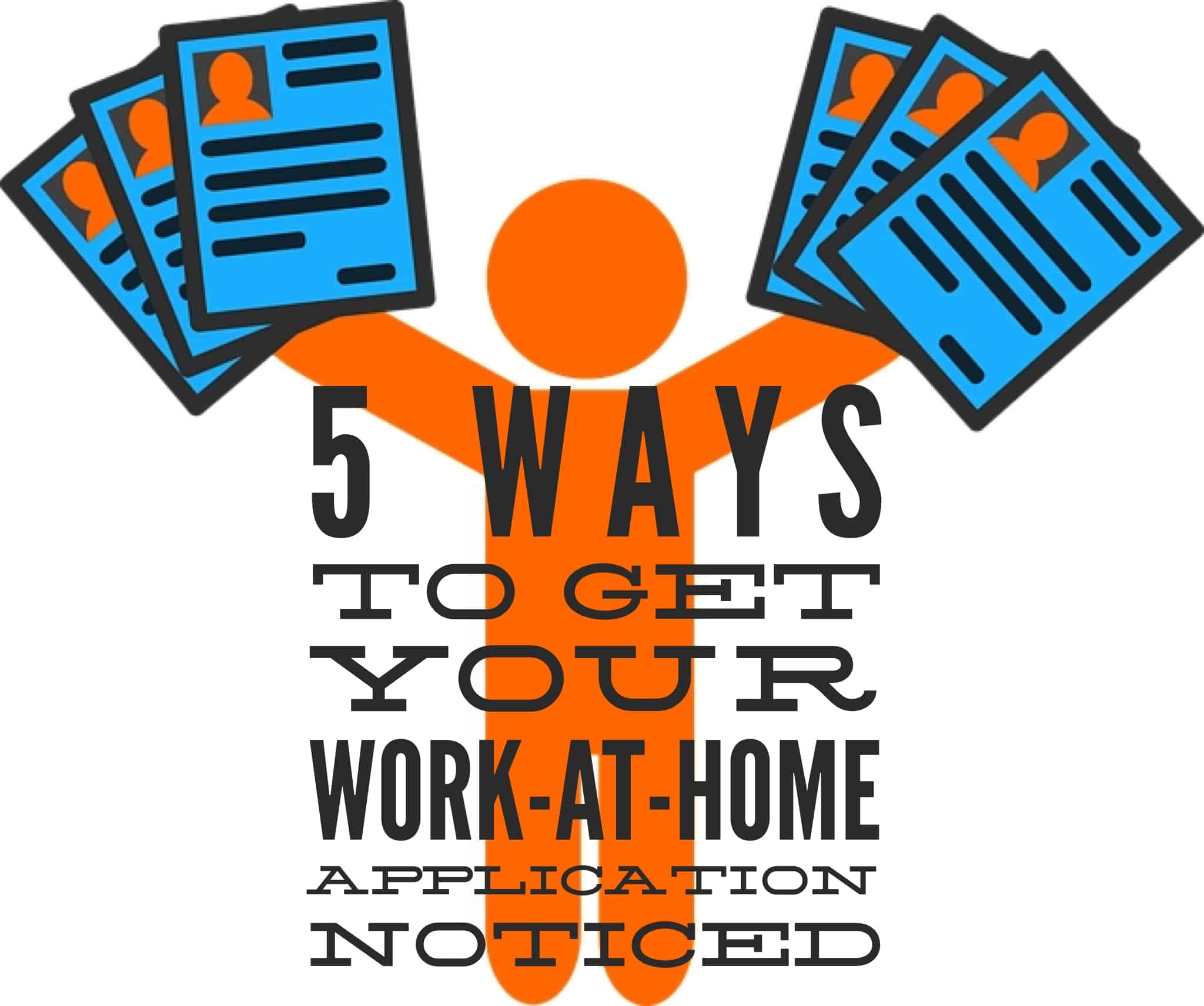 5 Ways to Get Your Work-at-Home Application Noticed
There's nothing more disheartening than sending out job application after job application and not getting a reply to a single one. This is especially true when you're trying to find a work-at-home job, feeling isolated but trying to stay on task job-hunting instead of binging the latest Netflix show. The struggle is real – but I've got a few tips to help your applications get noticed!
Read and follow the instructions in the job listing.
Remember how every teacher you've ever had told you again and again: read the instructions? Follow the instructions! Don't ignore the instructions! Well, that's the first rule in getting your application noticed too. Read the instructions, and follow them to the letter.
Some companies even throw a trick into the instructions – seriously. For example, the instructions may direct you to put a certain word into the subject line of your email. This proves that you read completely through the job listing and application instructions. Congratulations! You make it through the first round, and you'd be surprised to hear how many don't. Other companies might instruct you not to include any attachments with your initial email, specifying that any emails with attachments will be deleted unread. (A worthy precaution on today's Internet.) If you skip over that request and include your résumé as an attachment? You won't even be considered, no matter how qualified you are for the job.
Following directions is the easiest "in" you'll ever get with a company, so don't skip over this simple step.
Personalize each email introduction or cover letter.
My next tip is equally as straightforward: personalize every cover letter or email introduction that you send. Start with who to address your letter to – researching the company in question should turn up who's head of HR or hiring. If you can't find out the person's name, address your email to the Human Resources department or to the Hiring Manager.
Follow that personalization up with a letter that shows you've looked into the company and understand who they are and what they do. Focus on how your skills and experience can help you deliver on the company's promise to their clients. Try to give specific examples of what you've accomplished previously that back up your claims of how you can be an asset to them.
Whatever you do, don't write one letter and send it everywhere you're applying. Hiring managers see enough form letters that they'll most likely pick up on it and delete your application before reading any further. It is okay to write the overall structure of a letter once and use it as a template – I know there's nothing scarier than a blank page, especially when you need to sell yourself. Just make sure you're tweaking and customizing it for each application.
Tailor your résumé for each position.
Just as you must personalize each cover letter for each job application, you should also tailor your résumé for each application. As much as we'd love to believe every résumé is one-size-fits-all, they're just not. You might be able to get away with one résumé for each job type – say you're applying for writing jobs, teaching or tutoring jobs, and customer service jobs. Say you also have relevant experience for each. You could make three different résumés: one that prioritizes your skills and experience related to tutoring children in a certain subject, another that highlights your amazing customer service capabilities, and so on.
In fact, having a résumé for each job position you're pursuing is one of the more efficient ways to manage your time when job hunting. You do the bulk of the work up front when you write your résumés, and then simply tweak it when you find a position you'd love to land.
How should you tweak your résumé for each job application? Look at the job listing, and pay attention to the specific qualifications they're looking for. Note which ones they list first, or seem to put the most emphasis on. Then make sure your résumé uses similar language and puts your most desirable qualifications first.
Use keywords to stand out.
This tactic for getting your work-at-home application noticed is a little trickier, but it's a great skill to develop to improve your chances at jobs that attract tons of applicants. Essentially, you need to use the right keywords in your résumé to get your application in front of an actual person. That's right: sometimes you need résumé SEO to beat an applicant tracking system (ATS).
The problem is that some large companies receive applications in such high volume that it's impossible for them to examine each one. There simply aren't enough hours in the day. So, they use a set of keywords and an applicant tracking system to automatically weed out those résumés that don't feature the correct qualifications for the job. Of course, this means that you might have the best qualifications in the world, but you're never going to get your résumé read if you don't use the correct keywords.
A great way to choose the best keywords is by getting specific – use terminology that's unique to the industry and position, and make sure you both use common acronyms and spell out what that acronym stands for. For example: "Certified Coding Specialist (CCS)." The Muse has some other great tips to help beat the robots.
Be concise but memorable.
My last tip is this: follow the KISS rule, but also be memorable. KISS means "Keep It Simple, Sister," of course, and is a great mnemonic device that'll keep you from getting long-winded or muddled in your cover letter, introductory email, or résumé. But keeping it simple doesn't mean being bland, boring, and just like every other applicant in their giant pool of applications. Instead, infuse a bit of creativity into your application – use a unique subject line (while still following any instructions given about the subject line!). Write a sentence or two that's funny, or surprising while describing what you can do for the company – just make sure it's also appropriate and accurate! Don't promise anything you can't deliver.
With these tactics in your back pocket, you should be well on your way to breaking free from the crowd and getting a hiring manager interested in you. Good luck, and drop me a line about how these tips work out for you!
Author Bio: Angie Nelson began working from home in 2007 when she took her future into her own hands and found a way to escape the corporate cubicle farm. Today she shares her passion for making money from home on her blog The Work at Home Wife. Visit her site for a great list of places to find virtual assistant jobs.
Hiring Tips, Interview Tips, Resume & Cover Letters, Work from Home Success, Work from Home Tips