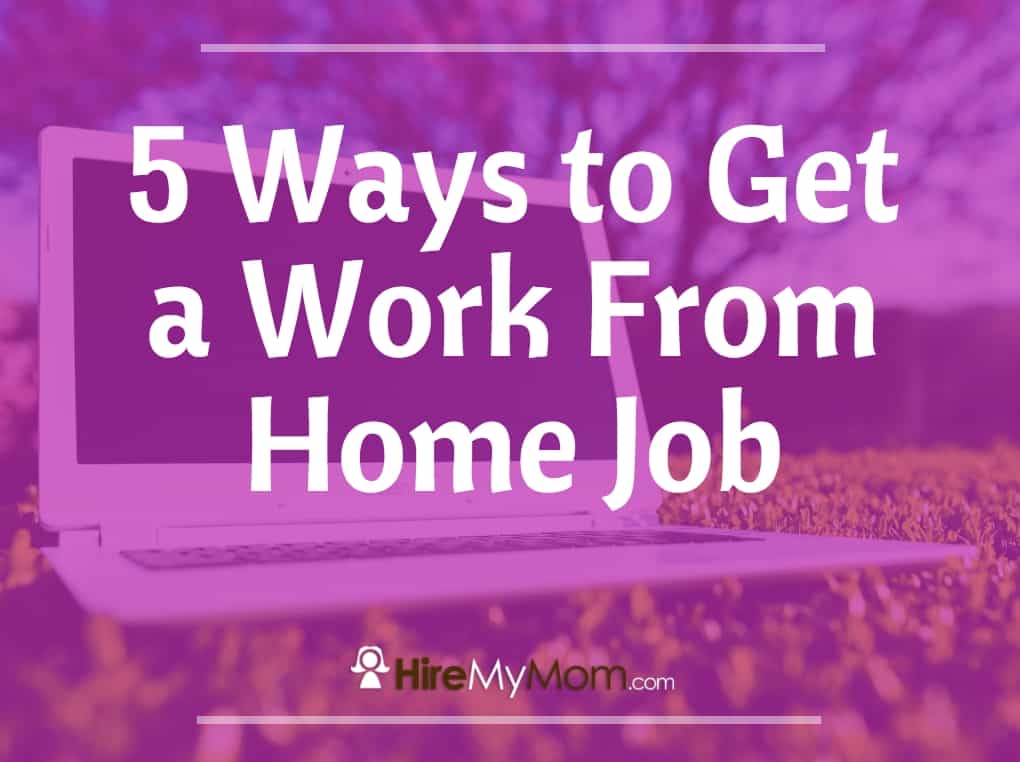 5 Ways to Get a Work From Home Job
Home based job positions are highly coveted in today's society.  Since we can almost always work from anywhere, the concept of a traditional office is changing.  Parents and families want more flexibility and time together, and work-life balance is becoming more of a prominent concept.
Even if you want to work from home, you may be curious about how to make that happen.  Most job postings are still for traditional office environment jobs, so it can be daunting to begin the search.  Read along for some of our best tips for landing a remote job position.
Use specific sites
There are specific websites just for the purpose of filling home based job positions.  Sites like HireMyMom.com are carefully crafted to filter only remote positions, making your search much quicker and less frustrating.  All jobs on HireMyMom.com are screened and involve flexible work schedules and environments.
Using specific virtual job sites also eliminates the probability of scam listings, which are prevalent in the work from home field.  Specific sites don't typically feature multi-level marketing jobs, and they cater more to the educated professional seeking a similar job to those in the traditional workforce.
Avoid scams
As we mentioned above, scams are everywhere when seeking a virtual career.  Many listings feature jobs that you have to buy into, which should never be the case with a home based job position.  They will also say they're virtual jobs, when they're truly just call center or sales positions.
While there's nothing wrong with these types of jobs, they aren't often what most people are seeking when trying to find home based work.  Avoid the scammy positions and look elsewhere for your new position!
Word of mouth
Listen closely! Friends, family members, and current co-workers might have the in when it comes to home based jobs.  Sometimes a business owner will need a Virtual Assistant or Admin.  Maybe your hair salon is looking for social media management, or maybe you can offer your editing services to a family member who's an author.
There are many ways to find freelance home based positions, which can transition to full-time work.  Listen to those around you, and see where you can offer your home based services in ways that can help others.
Look to the traditional
Don't fear the traditional job postings.  Sometimes, in a sea of "regular" jobs, you'll see that they're open to remote or virtual candidates.
When you search, try words such as: "remote," "virtual," "telecommute," "home-based," or "work from home."  You might be surprised to find that a lot of traditional office environments are open to ideal candidates who might not live in their cities.
Make it a transition
Sometimes a work from home career can come out of a traditional one.  You might find that you start in an office-based job position and have that conversation with your boss about transitioning to remote work.  Just because your current job is in an office, doesn't mean that your boss isn't potentially open to exploring the option of virtual work.  You don't know if you don't ask!
Maybe you can transition to 2-3 days per week at home, and eventually, full time. Show your boss that your productivity levels have increased, and be as effective as possible in your trial or transition time period.  Show that you have mostly eliminated sick days and overhead.  There are tons of benefits to working from home, and it's up to you to do the convincing to make this a viable option for you.
Hiring Tips, Interview Tips, Mompreneur, Resume & Cover Letters, Work From Home, Work from Home Tips