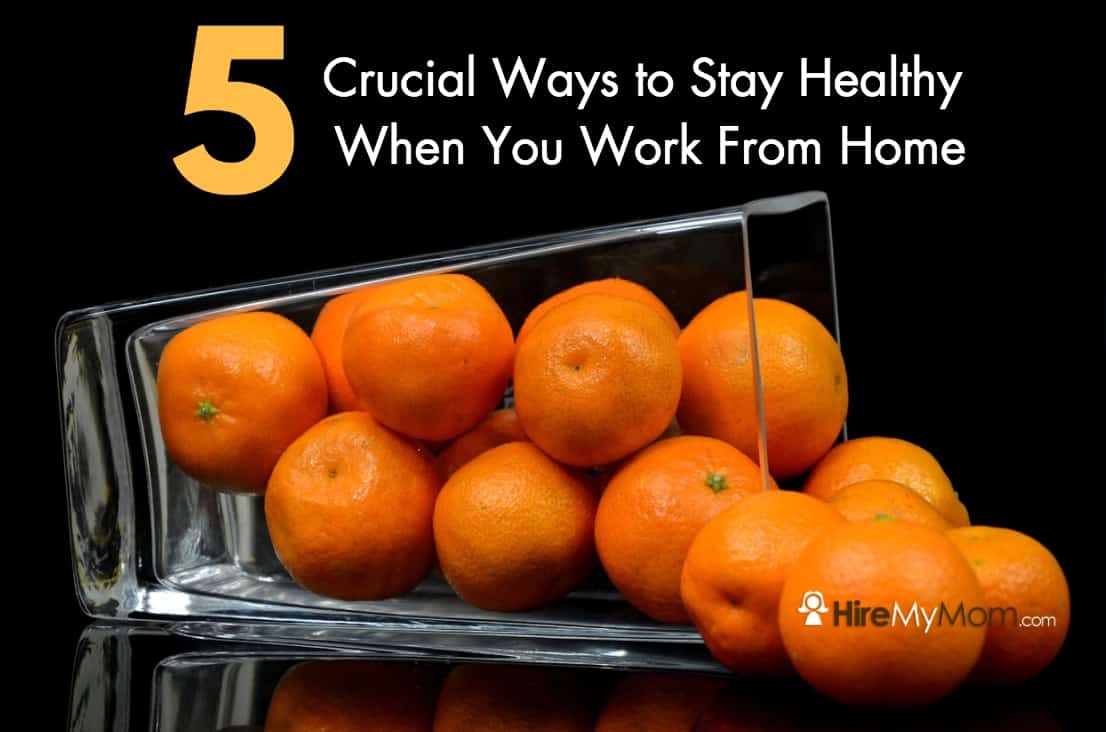 5 Crucial Ways to Stay Healthy When You Work From Home
Eat right
Health begins with healthy food! Make things easier on yourself by purchasing good, quality food and leaving the less ideal treats for special occasions or after work hours.  When you make "healthy eating only" your sole option during the workday, it becomes much easier to stick to a healthy eating plan.
Snacks are encouraged, but ensure that they're snacks that will keep you energized and productive, not napping by 3 PM.  It's incredibly helpful to make a weekly list that includes a meal plan, snacks to purchase, and meal ingredients.  This helps you to factor in the times when you'll be eating away from home, as well as stick to a budget and menu plan.
Professional help
Part of health is maintaining your body in alignment.  You can work on your posture, make time for stretching or yoga, but sometimes you will need outside help.  Since working from home typically features desk jobs, you can be prone to neck and back pain and tension.
If you're struggling with pain even after looking into ergonomically correct furniture, it can be helpful to consult a chiropractor, physical therapist, or your family doctor.  Ensure that you're doing everything you can to maintain your body's structure while you work from home!
Dedicate your time
It's important to factor exercise into your day, and when you work from home, you have more flexibility as to when this occurs.  If you prefer morning workouts, you have a bit more time to get that in.  If you'd rather wait until mid-afternoon, this typically wouldn't be an issue.  The important part is that you make time for it!
A dedicated exercise routine keeps you healthy, as well as helps you to make up for all the time you spend seated.
Focus on the mental
Mental health is just as important as your body's health!  While working from home is convenient, it can be isolating if you aren't careful.  Do your best to get out, talk to others, and stay social.  Additionally, participate in activities that keep your mind sharp as well as calm, such as puzzles or meditation.
Another part of mental health is keeping work separate from home, which is always a challenge in a home based career.  Shut down your work after a reasonable amount of time, and don't turn "work from home" into "work all the time."
Move when you can
Exercise may be a dedicated 30-60 minutes, but movement is also key!  This includes getting up and moving during the day as unstructured exercise.  Stretching is also good for all the sitting that the job entails, and it keeps your blood flowing and your mind sharp.
Set your alarm clock for every hour or so, and take that time to do 3-5 minutes of stretches, dancing, walking in place, or any other activity that keeps you fresh and active.
Staying healthy includes the mind and body, and factors in your mental and physical health at the same time.  When you work from home, you have benefits and challenges to staying healthy.  Take the steps above to ensure that you're being your best, healthiest self in your home based career.