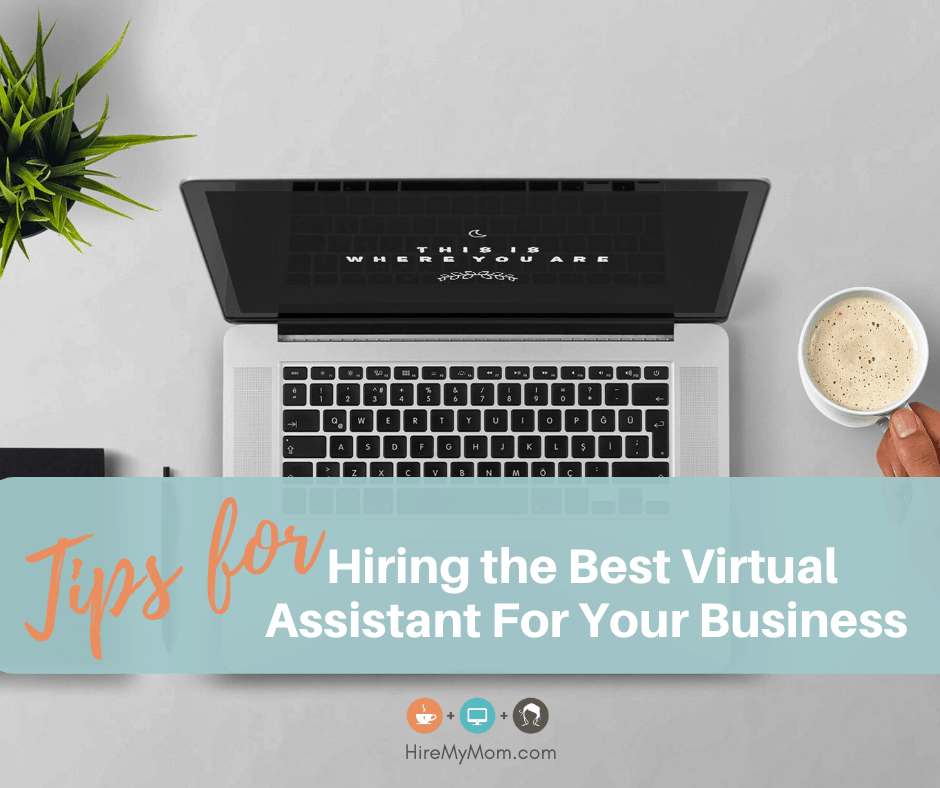 Tips for Hiring the Best Virtual Assistant For Your Business
If you are an entrepreneur or small business owner, there comes a time when you can no longer do it all yourself. At that point, you have to decide what to do. Do you (A) stop growing and give up or (B) do you find someone to take on some of your daily tasks? I think for most the answer is (B).
So how do you find and hire the best a work from home virtual assistant?
Where to Find the Best VAs
Tim Francis, owner of ProfitFactory.com has been using Virtual Assistants (VAs) for many years and has learned the tough lesson of why overseas VAs are not the best solution. He now recommends HireMyMom.com as the BEST choice for his company and his clients for the following reasons:
Similar or same time zone: I've got my VA doing both business and personal tasks for me. She's calling prospects to invite them to my live, in-person events. She's coordinating our venue, partners, and volunteers for the production of our live events. All of this is WAY easier if she's in the same (or similar) time zone as me.
Excellent English – both written and spoken: Most Moms from HireMyMom.com are from the corporate world, so they're usually quite good with spoken and written English. This makes working together WAY easier. My assistant catches spelling errors I make in blog posts, can suggest similar keywords when talking SEO, and can send basic emails on my behalf.
Reliable electricity and internet: You probably don't realize how vulnerable overseas VAs are in this regard. In my earliest days, I was trying to work with a VA from India. Suddenly she went "radio silent" – wasn't writing or responding to me. A week later she suddenly re-appeared online with a flurry of messages. Turns out there was political infighting in her region and a corrupt politician had the electricity to her region shut off. No power = no internet = no VA. Canadian and American VAs are far more stable in this regard.
Same culture: I also have tried working with VAs from the Philippines. Nicest people on the planet. In fact, TOO nice. They were so terrified of offending me; they'd totally shut down if I asked for feedback and/or suggestions. They'd rather be "yes-men" and women than take ANY risk of offending you. Not productive. North American Moms on the other hand will (usually) be both gentle and honest.
Punctual: A few years ago I hired a half-dozen contractors on Elance. All were from India or Pakistan, and literally 100% of them were late on 100% of projects. As in, everything took at least TWICE as long as they quoted. Two week projects turned into 4 weeks, then 6 weeks very quickly. In my experience, North American Moms, though, are generally quite solid in their commitments.
The Hidden Cost of Mistakes and Delays
When hiring a VA, it's easy to just hire the least expensive option offering $10/hour vs. $15-20/hour, right? WRONG.
If you are waiting or paying for costly mistakes then your costs just went up. It is better to hire and train someone qualified and eager to work and pay them an hourly rate that saves you headaches and problems.
So What's the Catch?
You may be wondering why these "qualified, talented, professional" Moms would be willing to work for $15-20/hour instead of the a corporate salary with benefits. For most of these Mom Professionals this is a good deal for them because:
they don't have to pay for costly child care ($6k-$16k per child per year) as many work during naps, hire a part time sitter or work while their children are in school,
they save a good chunk of time every day by not having to commute or dress in fancy business clothes every day,
they save money on gas and business attire since there is no commute or need for fancy business clothes,
and they value freedom and flexibility to work from home!
What's in it for the Mom Professionals?
In addition to saving time and money, the #1 benefit for moms is flexibility to be with their family! I speak from experience here as shortly after completing my Master's degree, I had my first child. All of my lofty career goals went out the window, and I begin freelancing and working from home when I realized working full-time outside the home was too unbearable for me. That was 20 years ago. Gulp! Here I am today helping other Mom Professionals do the same thing.
In addition to flexibility, these Mom Professionals want to:
Make some extra money to contribute to household income, save for vacations, college savings or just "fun money".
Avoid a big gap in their resume while they take time off from their full-time career to focus on their kids
Have meaningful, adult interaction as well as express and use their creativity and professional skills
As you can see, hiring a work from home Virtual Assistant is a win-win for Businesses and Mom Professionals. Business owners have more time to work on more pressing business needs, and Mom Professionals are able to work flexible schedules and have more time with their families. Go ahead and take that next step. You won't be disappointed.
If you need help with hiring, try our Small Business VIP Concierge service and we can do all the hard work for you from posting your job, to interviewing, to selecting the top candidate(s) for you!
If you are a Mom Professional, check out some of our current job postings.
.
Hiring Tips, Interview Tips, Small Business, Virtual Team, Work from Home Tips