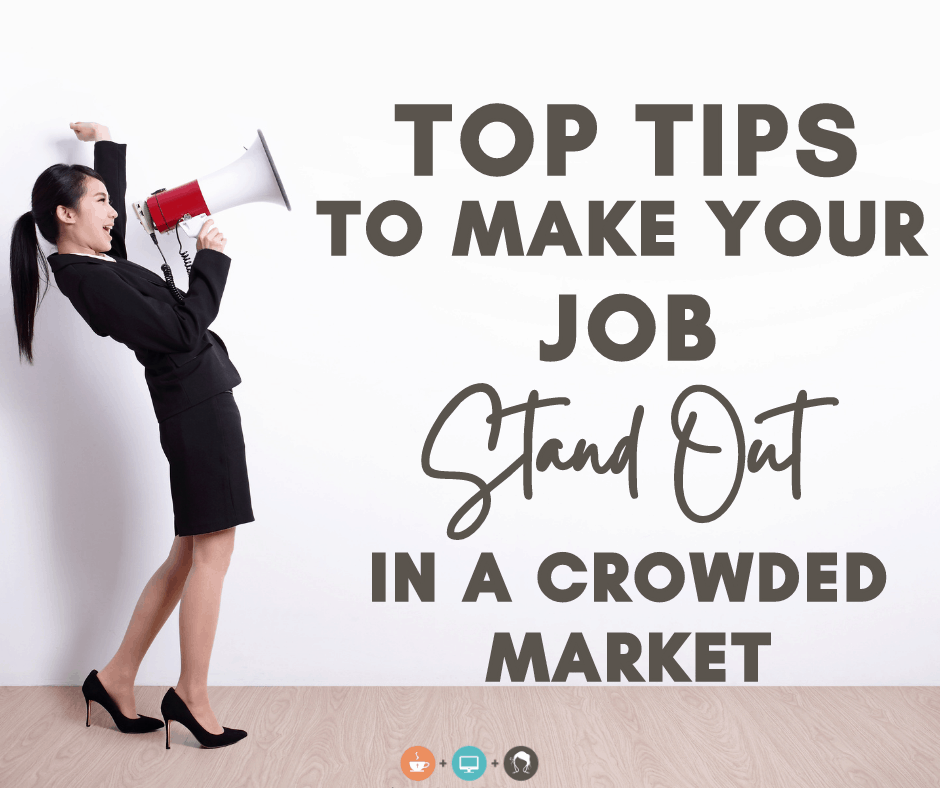 Top Tips to Make Your Job Stand Out in a Crowded Market
As the job market heats up, you may be looking for new team members but finding it difficult to attract applicants. In this market, it's essential that your job posting stands out for all the right reasons. Job seekers have more choices now than they have over the last few years, and with school and child care options still in flux in many places, job seekers are taking their time to find the right mix of pay, flexibility, opportunity, and work activities. 
But, that doesn't mean you can't find a great person to fill your open role. It simply means that you'll want to make sure that your job posting stands out from the crowd and attracts quality applicants. With the right strategy and a few tricks of the trade, you can craft a job post that attracts applicants and results in a solid hire for your team. The key is knowing what's most important to you, preparing a suitable job description and posting, and avoiding red flags that might make job seekers pass on your opportunity.
Know What You Need, Specifically
Once it's clear that you need to hire someone, think carefully about what you need from the contractor or employee. 
Start by considering the desired skill set. Consider what you want this person to do and the skills needed to do it. Focusing on skills vs. experience is an important distinction because you may not find an experienced applicant in a hot job market. However, you may find people with transferable skills who can quickly come up to speed.
Then, think about how willing you are to spend time training. If you are willing to teach the job to a person with the right skillset and advertise that willingness, you will likely increase your applicant pool. 
Finally, as you consider skills, ask yourself if all the desired skills are essential or if you could work with someone who possesses 80% of the needed skills and teach the rest. You may find a gem in the rough, and with a bit of investment, could have a solid, long-term employee.
Flexibility Factors
Next, consider the hours you need and the working conditions. Candidates are often looking for flexible hours. But, the idea of flexible hours can mean a lot of different things. For example, it could mean part-time hours or a shared job. For some applicants, it's the ability to work different hours on different days. And, in some cases, flexible hours can mean having a deadline and working toward it without set hours. Think about what you need and be clear in your posting about your flexibility. The more flexibility you have, the greater the number of candidates you will likely attract.
If you don't think there's much flexibility in your role, run your thinking by some others and see if you can't find some wiggle room that may make the job more attractive to candidates. This is especially true if you are replacing an employee who worked a particular schedule. For example, you may have had someone who worked from noon to five every weekday. You may naturally think you want the replacement employee to work from noon to five. However, many mothers with school-age children won't apply for that as the after-school hours tend to be very busy. But, maybe you could shift the hours from 10 to 3 each weekday. That's a much more attractive schedule to busy mothers who could be an excellent fit for the role. Also, by being open to different hour configurations, you are expanding the pool of likely candidates to different time zones, increasing the number of applicants for your post.
Determine What You Can Pay
Pay is tricky, but generally, higher pay attracts stronger candidates. Be realistic about the skills you are looking for and what the market is paying for those skills. You can talk with the pros at HireMyMom to help you find the proper pay range for your job. Focus on the value the employee brings to your company and how having that person on board might increase your revenue or productivity.
When thinking about pay, it's easy to focus on dollars and cents. While money is a huge part of the pay equation, it's not everything. Employees consider flexibility, hours, personal time, stress levels, and working conditions when thinking about pay satisfaction.
As an employer, your role is to create a competitive pay package that balances your need for profitability with the desire to attract and retain your staff. When you are looking for team members, it's essential to convey the total package you offer to attract applicants.
Consider a Signing Bonus
Another way to stand out from the crowd is to consider offering a signing bonus. Offering this one-time payment can help make your job stand out from the rest and encourage people to apply and give it a try. 
Even a modest signing bonus of $150 can move lookers to applicants because it shows that you are serious about moving quickly to fill the job and demonstrates a commitment to your team. You could even stipulate that the bonus will be paid out 30 (or 60) days after the hire to ensure it's a good fit for both parties. 
Create a Compelling Job Posting
With questions about skills, flexibility, and pay settled, it's time to write the actual job post. The key is to find the right level of detail–not too much, not too little. Aim to describe the job thoroughly, but not with so many details that job seekers are discouraged from applying. Focus on the big picture work; don't include every task this job could include at some point in the future. 
Likewise, don't go so light on details that job seekers aren't sure what the job entails or what your business does. A good check is to show the post to a trusted friend who doesn't know much about your business and ask her to explain to you what the job entails. This will give you a good sense of how job seekers may read your post.
As you draft your post, put your best foot forward and make a compelling argument that your opportunity is worth pursuing. Think of the post as a resume for the role and your business. When you finish the post, review it as you would a resume. Make sure it:
Highlights the results you want the new team member to produce and the critical skills needed to achieve desired results.

Describes the best features of the job and the company. 

Explains why the role is essential to the company.

Avoids a long list of every task that may be required at some point but aren't central to the job.
Reviewing your job post like you would a resume can help you gauge if the tone is right. For example, if you read a resume that says, "I'm an all-star and only want to work with all-stars," you'd likely put that resume in the trash bin. Yet, many job postings include that type of phrasing, and it turns off many job seekers. Instead, try something like: We strive to create a culture of success and support for our business and our team members. We think work should be fun and rewarding. 
Make Your Application Process Easy
The proper application strategy can increase your chances of attracting applicants. There are few key components to the application strategy:
Make sure your application directions are straightforward and easy to follow. 
Make it easy to apply. One way to do this is to simply request a resume and cover letter via email and skip the online application or additional forms at least for now. Quality job seekers have options and can be turned off by long job applications that require them to enter everything on their resume manually.  Once you've received some quality resumes, consider then having them complete additional forms. Once they know they've made the shortlist, they will be much more willing to spend the additional time completing additional steps. 
Skip the addition of attention-to-detail tests that are often time-consuming and stressful. For example, don't ask job seekers to find the 40th word on a particular page of your website and respond with certain fonts and colors. Save those types of tests for later in the process when you have quality applicants and are choosing between them. The same goes for video responses. Many times applicants won't take the time to apply if there are many steps or a lengthy process. However, if you narrow down your applicants to 5 or 10 then you can ask for those videos or other special requests once they know they've made it to the shortlist. 
Avoid Red Flags 
As you review resumes, you likely look for certain red flags-things that serve as automatic disqualifiers. Job seekers see red flags in job posts, too. Here are some red flags to avoid:
Listing too many skills in the requirements section. Including a laundry list of desired skills that includes everything the person may need to do to the job can be discouraging. Instead, focus on three to five essential skills that are critical for the job. During the interview process, you can probe for additional skills. Another strategy is to include a required and desired skill section in your job posting. Point out the areas where you are willing to train the right person.

Requiring strict scheduling. This is a tough needle to thread, because in some cases, schedules matter greatly, and it's best to be honest. But, if you can find flexibility, look for it and note in your posting that you are open to discussing a mutually agreeable schedule.

Offering pay that's low relative to the skills needed. Pay is tough. But, if you aren't getting any nibbles on your post, you may need to up your pay range. Pay rate is especially important for jobs that require specific skills, if you are looking for experienced applicants or if you have particular hours requirements that may require people to pay for child care or incur other expenses that must be weighed against the pay rate.

Describing the opportunity or your business in absolute terms can turn off a job seeker. For example, saying that "everyone at the company is a rockstar" or that "we never make mistakes" may cause a conscientious applicant to pause and consider how difficult it could be to achieve rock star status on a learning curve or to think about the stress she might feel striving for complete perfection as a new team member. It's more attractive to say that the company offers a supportive environment that values excellence. 

Letting typos or other errors stay in your post. While typos happen to everyone, seeing one in a job post is a red flag that perhaps you aren't that serious about the job or the work. This rule is especially important if you are advertising that attention to detail is a key skill needed for the job. Be sure to have a trusted co-worker or friend review your post. Then, review it again. 
Keep Trying!
Great employees are out there and they are looking for work. Try not to be discouraged as you seek new team members. Like all relationships, it can take some time to find the right fit. But, investing the time to find a new team member will pay off in the long term.