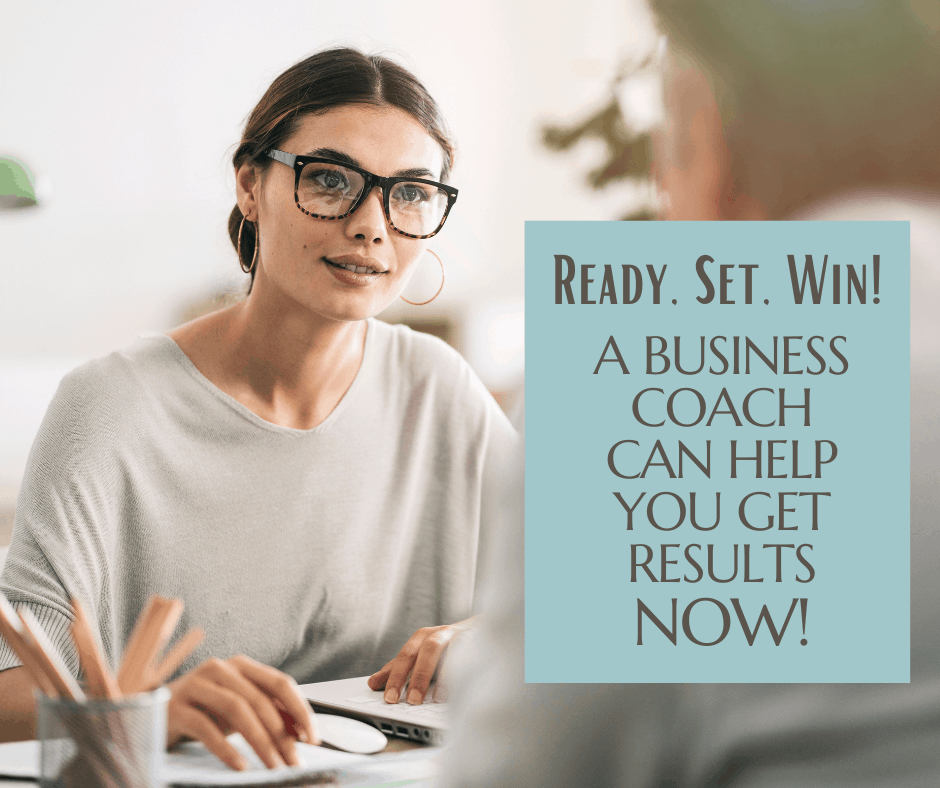 Ready, Set, Win! A Business Coach Can Help You Get Results Now
The word coach often conjures up an image of a teacher in polyester shorts, a whistle, and a high school gym. But, as an entrepreneur, there's a different kind of coaching that might make sense for you and your business–a business coach. The right coach can take your business and your leadership skills to the next level. For this blog, we've turned to two successful coaches to help explain who can benefit from coaching, the circumstances that best lend themselves to coaching relationships, and how to tell if coaching is right for you.
Types of Business Coaching
There are two different types of business coaching–business development coaching and personal development coaching.
Business development coaching provides a distinct focus on growing an aspect of your business or solving a specific problem, like customer service or e-commerce-related issues. It can include overall business planning activities, such as plotting growth, growing revenue, finding new customers, and fine-tuning operations. In essence, a business development coach serves as a  subject matter expert for your business.
Personal development coaching can help you grow as a leader by relieving the loneliness that often accompanies owning and running a business. With a personal development coach, you can increase your emotional resilience in business, learn to delegate, and explore the values you want to drive your work.
Coaches often specialize in one aspect or the other. You may find that both types of coaching make sense for your business at different times.
Why Get a Coach
A coach can provide the benefits of a business partner without the hassle of bringing in a partner. Your coach listens, suggests, and helps you process your thoughts. A solid coaching relationship offers you the space to be honest and confidential with someone who cares about your business but is not invested in it like an employee or your spouse. A coach can provide a fresh perspective on the issues you are facing.
"When you run a business, the support you have around you is not at the peer level," said Texas-based Patrick Pitman, CEO of E-business Coach, Inc. "There's no executive team to bounce ideas off. The owner is often the senior person in the organization. It can be lonely."
Pitman explained that many of his clients report stress relief after talking to him and gaining new insight. 
If you suspect you may benefit from a business coach, the first step is to identify the type of coaching you need. 
In general, a business development coach is a good bet if you have a well-defined problem that can be solved with a burst of outside expertise from a subject matter expert. Generally, these types of relationships last 8 to 12 weeks and result in a well-defined solution quickly.
A personal development coach is generally a longer-term engagement–usually lasting several months or a year. A personal development coach can help guide you as you clarify your values, consider possibilities, and ponder significant issues about your business's direction or leadership style. If you pursue this type of coaching, it's essential to carve out the time to commit to the process.
"Change can be slow. Give yourself the room," Pitman suggests.
Signs You Might Need a Coach
There's no one-size-fits-all threshold for when coaching makes sense. But, if you are experiencing the issues below, coaching may help you move forward.
You find yourself returning to the same problem over and over again

. For example, you may know that you have a great sales team, but your customer support network needs work. You make changes, but your customer service team still doesn't quite sing. A business development coach can help.

You face issues outside your area of expertise.

Entrepreneurs often start a business because they are passionate about the product or service they offer. However, over time, elements of the company outside of that core passion, such as staffing, accounting, inventory control, and marketing, can sap the joy that came from launching the business. A business development coach can support you through areas of work outside of your core knowledge and interest.

You are missing your revenue goals

. A business development coach can help you identify the issue, refine your business plan, identify areas where revenue may leak, and brainstorm new marketing or business plans with you.

You feel overwhelmed.

When you own and operate a business, the work and emotional demands can eat away at the fulfillment you once found in running the business. A personal development coach can help you find your way again.

You are ready for the next thing.

But you aren't sure what that is or how to proceed. A personal development coach can help by focusing your thinking and refining the next steps for your business journey if you face these issues.

You feel stuck

. Sometimes fresh perspective and insight from an outside source can help you put a finger on the issue and move forward.

You need an accountability partner.

A coach can provide the push to get things done by serving as a person who helps you stay on track with your goals and moves you forward as you tackle new or complex projects.
What to expect from a coach
Different business coaches offer different services and use different mediums to connect with clients. Business coaching is available by phone, via Zoom, and in-person. While most coaches provide individual services, some offer group sessions.
Christal Allen-Harrahill, the Las Vegas-based owner of Business and Life Coaching with Christal, said that some small business owners enjoy local group sessions as they provide a peer group that helps drive results and creates relationships with local people.
When you meet with a coach, the two of you can:
Address specific business problems.

Set goals and do overall business planning.

Discuss methods for over-the-shoulder consulting on a variety of issues.

Create strategic plans, including succession plans, if you suspect that you may want to step away from the business to focus on other endeavors.

Explore ways you can improve your connections with those around you through stronger relationships.

Clarify your values and mission as a business owner and entrepreneur.
What a Coach Can't Do
While the coach can help you feel equipped to do things, the coach won't do things for you. For example, a coach can guide your decision-making but won't make your decisions for you. A coach can help you set goals and plan to achieve them but won't join your team.
"I always tell clients that I'm not a fairy godmother," said Allen-Harrahill. "It's a two-way relationship. Ultimately, you need to take action. But, I can help you face mindset issues that might get in the way or work through issues with you."
Pitman agreed. 
"A coach can't make decisions for you. A coach is a facilitator of your own decision-making," he said.
How to Find a Coach
The coaches I talked with agree that your network is the best way to find a coach. Ask your business acquaintances who they have used and ask for a referral. If you are looking for a business development coach, your industry contacts can help you find people who specialize in your line of work. 
Once you have a few leads, preview the coach's work on social media. Check out his or her YouTube videos and read online newsletters.
For personal development coaching, a good personality fit is essential. Allen-Harrahill suggests meeting the coach before proceeding.
"Do a quick discovery call to see if there is synergy there," she suggested.
Budgeting for Coaching
The cost of coaching varies based on the type of coaching you are seeking. Ongoing coaching usually involves a monthly fee that can range from $300 to $500 a month or more depending on the specialty and expertise. If you opt for ongoing coaching, make sure you are committed to making the time to dedicate to it.
Coaching for specific business problems varies based on the complexity of the issue, the time to resolve it, and the industry. Other factors can also drive costs. For example, it's generally less expensive to work with a coach via Zoom or by phone. However, depending on the issue, it may make sense to bring a coach onsite, even if it costs more. When judging the price of coaching, consider the cost of not solving the problem in addition to the cost of the coach.
Take the leap
Getting a coach can change the trajectory of your business and your life as an entrepreneur. I encourage you to look into finding a great coach to help you reach the next level in your business.