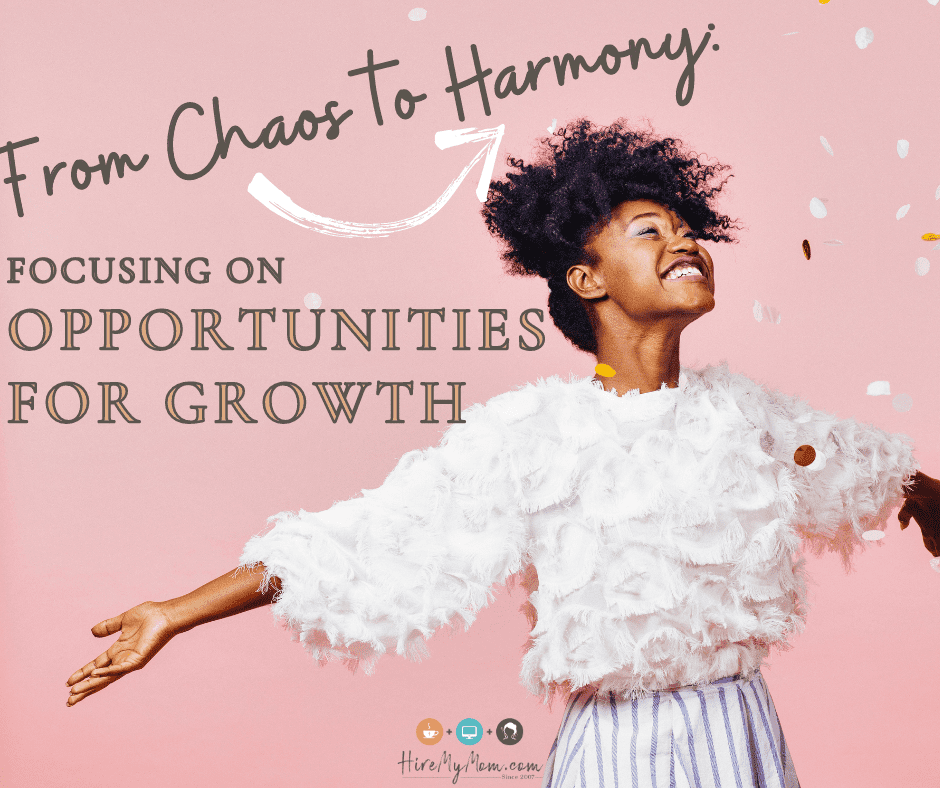 From Chaos to Harmony: Focusing on Opportunities for Growth
Whether your kids are at school as normal, attending on a hybrid schedule, or doing full remote learning, chances are this has been quite a school year.  A few weeks ago, we published tips to help parents thrive. With winter coming to a close and a load of collective experience under our belts, it's time to revisit the topic and add a few tips. 
Tips for Managing School
With school attendance taking many new forms this year, the regular cadence of school days and afternoon practices and clubs is on hold for many families. This change from expectations can lead to a head-whipping range of feelings that range happiness for the opportunity to enjoy a slower pace to the stress as you try to squeeze work, school, and family life into one bucket with no real separation. 
If you had a chance to create a back-to-school plan, look at it, and see how the reality compares to your expectations. Consider:
Is school unfolding as you expected? 

How's it going for you and your students? 

Are you still on the learning curve for the process, trying to master Zoom calls or turn-in procedures? 

What's your daily time commitment to keep the kids on track?
If the plan still looks good,  re-ground yourself in the process now that you have more information about how school works. Consider small tweaks like adding treats to inject some fun into your days. Perhaps offer your kids an incentive to stay engaged as they move into more of a routine or surprise your family with treats to celebrate progress and dedication under new circumstances.
If you find that your reality is significantly different than the expectations you had over the summer, it may be time to toss that plan and start over. Shake it up if you need to find a new way. Talk to a trusted teacher about your struggles and see if options are available. Consider if other schooling options might work better right now. Let go of normal expectations and accept that grades may be lower than usual. Praise the effort your kids are putting in and look for ways to celebrate small victories.
Tips for Managing Relationships
If all this time together strains your family relationships, a few check-ins can help put things back on track. Start with your spouse to get a sense of how you can help each other now that you both have a good understanding of how your time and work responsibilities are shaping up for the next few months. Revisit any agreements you might have in place for housework and child care duties and explore if they still make sense or need to be tweaked. Discuss paid work responsibilities for the next few months and consider if you need to change your respective work/life balance loads. Circumstances can change quickly, and getting out ahead of potential issues can help make them easier to address.
Next, check-in with your kids to get their perspectives.
Ask how they feel about the current school situations. You might be surprised by their answers.

For older kids, ask if there are things you can do to help them be more successful.

Ask if they are satisfied with how they have adapted to their school year or if they'd change anything.
If you have older kids, share how you are doing. If you are struggling, let them know that and ask for help in ways that will be meaningful for you. Above all, share your faith in their ability to thrive under any circumstances. 
Take Care of Yourself
Remember, these times are complicated, and we must acknowledge that it's ok to struggle. Finding ways to replenish your energy each day can help you keep moving and doing everything that keeps your family running. Make time to exercise, soak in the tub, or talk with a friend managing a similar load. 
Finally, remember the power of extending grace to your kids, your spouse, teachers, and yourself as we all continue to navigate new and unchartered territory. While we don't know how or when life will return to normal, let's be confident that it will.  Drop me a line sharing your tips for finding success and peace this fall.