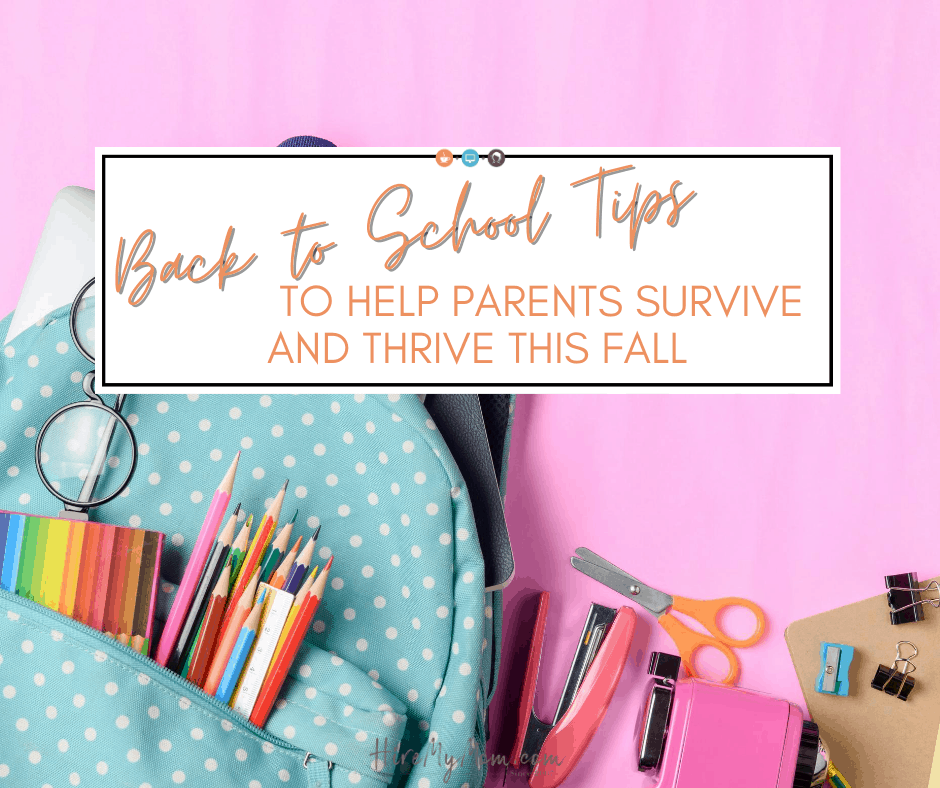 Back-to School Tips to Help Parents Survive and Thrive this Fall
As summer sizzles toward the end and the calendar turns to August, many parents start to think about the start of the school year. Starting school always brings new blessings and opportunities along with new routines and new challenges. With the ongoing pandemic, the start of this school year is different than years past–very different.
With many schools opening virtually or partially, home learning will be a key fixture of the fall term. And, with many offices still closed, more parents will work from home than in years past. This means parents and children all sharing the same work areas for the foreseeable future. While this autumn holds the potential for challenges, it also holds prospects for new blessings and discoveries about ourselves and our children. 
A plan to get through the day-to-day challenges can go a long way to making the situation more successful for you and your family.  After years of working at home, here are our best tips for thriving this fall–including a back-to-school to-do list that will help you prepare for the new learning environment.
Communicate Early & Often
This will be a fall like no other. So, the usual back-to-school chores need to be updated to reflect our current circumstances. Before we tackle the list, the first step is a series of frank discussions about how to best manage school and work as a family. These discussions are more valuable if they happen early and often, as communication is the key to success.
Plan it Out
The first conversation is adults only. Sit down with your spouse and discuss your likely workloads for the next few weeks. This can (and will) change each week, but having a sense of how much work each of you faces in the near-term is important. 
For example, if your spouse knows that you have a capstone project due in October, it's easier to make day-to-day plans that allow for success. Likewise, if one of you is less busy right now, it may make sense for that person to serve as the primary parent as school starts. If you are single, map out how your workload looks in the near term to give you a better sense of what's on the horizon. While it's impossible to predict everything that may come up, talking about likely scenarios will help you prepare for the weeks and months ahead.
Once you have a good handle on your work obligations, share them with your children. Depending on their age, some kids may not realize that mom and dad have work obligations that must be met. Spelling these out in an age appropriate way is important for setting expectations.
Consider School Expectations
Once you have a handle on your own work and that of your spouse, turn to school expectations. Knowing how the school schedule will work and the obligations of each student are important first steps. Many schools are sharing specific objectives for home-learning days. For example, some require a minimum number of contact hours each day or a certain amount of online assignments turned in each week. 
Set Family Goals
Armed with knowledge about what the school expects, add your own expectations for the fall, and ask your children what they'd like to achieve. As a family, discuss goals for the fall semester, including personal, school and family goals. For example:
Meet all school-issued objectives.

Start school work by 8 each morning.

Complete school work without being reminded.

Do chores in a timely manner.

Learn three new skills outside of class work.

Limit time on phones, video games and other devices to X hours per day/week. (See section below for more on this.)

Set aside designated family time each week.
Back-To-School To Do List
Your normal back-to-school to-do list likely includes buying school supplies, finding the right backpack and picking up a back-to-school wardrobe. While some of those tasks may be on hold, here are a few things that can help make the back to school transition easier and more productive under these extraordinary circumstances.
Set ground rules for school days.

When school was unexpectedly moved online last spring, it took families by surprise. This made it difficult to set ground rules. This fall, having rules in place will help make remote work easier and more productive for everyone. You don't want to spend a good portion of your work day negotiating screen time with your kids. Decide on your ground rules early and make sure that all family members understand them.
Establish a policy for use of electronic devices.

One area where many parents struggle is with the use of electronic devices. This is tricky on a number of levels. A lot of school work is completed online. But, as many parents found in the spring, a child who is sitting at his computer and looks engaged may be playing video games instead of completing online assignments. In addition, text messages and social media notifications can easily divert the attention of the most well-intentioned students. 

Before the first day of school, agree upon rules as to when/how electronic devices can be used. One option is to follow the same rules that your local school uses with respect to phone and technology use. Make sure you, your spouse, and your children are all on the same page for device use during the school day.
Share your expectations with your family.

Based on your family's goals, outline the expectations you have for your children to get their school work done in a timely manner. Be clear about the work you expect your child to do on his/her own and how and when to ask for help during the work day. Share the specifics of your schedule with your children (based on their age) so they understand when a parent is available for help. Consider a sign for your office door (or back of your computer) that lets your children know if you are available or not.
Outline a typical day.

Routines help make days go more smoothly by adding automaticity. To get into a daily routine more quickly, consider how you'd like a typical school day to look this fall. Maybe you like to rise early and start working during the quiet morning hours. If so, perhaps  you'd like your kids to serve themselves breakfast and read until a certain time. If your kids are older, they may have their own schedule preferences. There's no right or wrong day. The important thing is to have a shared sense of how the days look. Talking about how typical days might unfold can get you there sooner.
Divide the house work.

Acknowledge the extra work created by having more people in the house each day. Discuss a plan for kitchen clean up, laundry and cooking with an eye toward ways to share the work across the family. Sharing chores can be a wonderful learning opportunity for kids. Consider assigning tasks to lighten the load on everyone.
Establish feedback channels.

Regular family meetings about school work progress and expectations are an important tool for success. Share feedback with your kids and ask them to share feedback with you about how things are going. Prepare to be flexible as you learn what works and what doesn't. We are all learning as we go and some things are bound to work better than others. Keeping the lines of communication open makes it easier to focus on the positive and correct things that aren't working.
Take a Deep Breath.

This experience is a foundational life experience for you and your children. As we embark upon a school year like no other, let's remember we are all learning new things this year. It's an opportunity for you to get more involved with your child's education and to watch them learn new skills–like time management–in real time. But learning can be difficult, so extending  extra grace to our kids, our co-workers, our spouses, our teachers, our communities, and ourselves can help us thrive during these times.
Drop us a line to share your experiences, ideas, successes and struggles. And if you are seeking work from home options, be sure to check out some of our recent job posts. 
Being Mom, Mompreneur, Productivity & Time Management, Work from Home Success, Work Life Balance