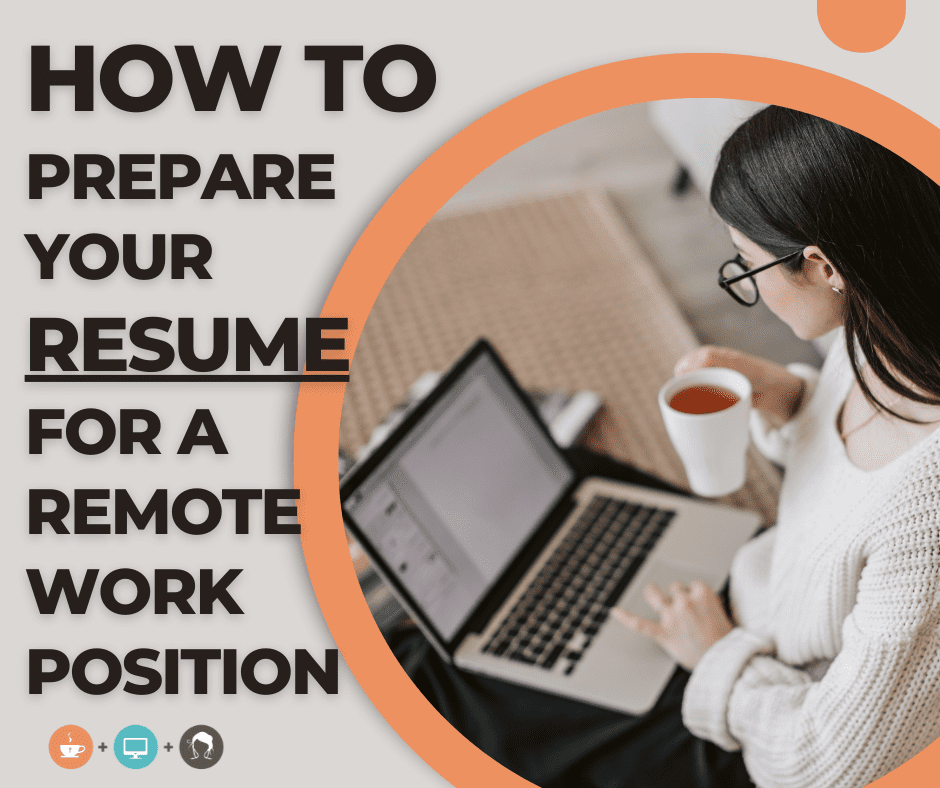 How to Prepare Your Resume for a Remote Work Position
Guest Contributor: Corissa Peterson
Working remotely has become common and acceptable in the last few years. According to Forbes, 97% of people working from home don't want to go back to work at the office, and an increasing number of companies offer either fully remote or hybrid positions. 
But if you're looking for a job that lets you work from home, you'll need to prepare a resume tailored for a remote position. Hiring managers want to know that you can handle the challenges inherent to remote work, so it's important to make sure your resume demonstrates your qualifications.
In this article, we'll show you how to customize your resume for an out-of-office job:
Tailor your resume introduction
An effective resume introduction can determine whether a hiring manager looks closer at your resume or simply skims it. If your resume summary impresses them, they're likely to give your resume a thorough look. If not, it will probably wind up in the "no" pile. 
Your resume introduction is your first chance to catch a hiring manager's attention in a positive way.
In this section of your resume, you need to make it clear that you can succeed in a remote position. Think about the job requirements and how your specific experiences and skills mesh with them.
Consider this example of a well-written resume introduction.
Award-winning graphic designer with six years of experience working remotely to create logos, product illustrations, ad graphics for print and digital assets, and web design. Work independently to develop graphics using Adobe Illustrator, Canva, and Affinity Designer, collaborating with others via Figma and Trello as needed
Remember that the hiring manager will see this short paragraph first, so you need to make every word count. 
If you need help crafting a strong resume introduction, consider using an online resume builder. Resume builders can help you write an industry-specific resume summary that pairs your experiences with the job requirements.
Demonstrate your remote work skills
For a remote job, employers want to know you can work effectively outside of the office. To show them that you're capable, you need to demonstrate your remote working skills. 
Make sure to showcase both hard and soft skill sets that are relevant to remote work. Hard skills are specific skills you've acquired through hands-on experience or training, like use of specific software. Soft skills like time management are also incredibly important for success as a remote employee. 
If you can demonstrate that you have both the hard and soft skills necessary to succeed in a remote position, hiring managers will take your resume more seriously, and you'll be more likely to get an interview.
Remote work hard skills
Employers will be more willing to consider you for a remote position if you already have the necessary hard skills. Often, this means familiarity with specific software, including project management tools and team collaboration platforms. 
Showing employers that you have these skills demonstrates your added value, and lets them know that they won't need to invest a lot of time training you in new tools. 
Here are some examples of hard remote skills to include in your remote work resume:
Asana

Trello

Scoro

WorkZone

HubSpot

Zoho Projects
By including these hard remote skills, you can show the hiring manager that you'll be ready to jump in and collaborate with their team and start making valuable contributions immediately.
Remote work soft skills
When it comes to hiring people for a remote position, it's important for employers to know that they're hiring someone they can trust. If you can show an employer that you're responsible, trustworthy, and can get work done without their supervision, then you'll increase your chances of landing the job. 
Some soft skills that show employers you're a capable remote worker include:
Self-Motivation

: You need to have the skill of self-motivation to work towards your employer's goals on your own. Show this on your resume by describing an accomplishment you pursued and completed on your own, like completing a programming course you took to develop your skills and elevate your professional performance.

Time Management

: Do you manage your time well? Employers want to ensure they don't have an employee who wastes time. Add this soft skill to your resume by relaying a time you managed a tight schedule calmly and successfully.

Communication

: Good communication skills will ensure that you can effectively navigate the channel of communication with your boss and colleagues while you're working remotely to make sure everyone is on the same page. To demonstrate your communication skills, include an example of how you solved a problem using strong communication.

Organization

: If you work remotely, you must be able to keep everything organized, from your home office setup to your work projects and schedule. To show off your organizational skills, think of a time when you brought order or structure to a messy system. For example, perhaps you introduced an office management tool or streamlined an outdated process.
When people think of including skills on their resume, they usually think of a list under a "Skills" section. And while it's fine to add your skills here, this section is better saved for industry-specific hard skills and maybe two or three relevant soft skills.
Finding ways to demonstrate your soft skills in your work experience section is a better way to include them on your resume, as this shows employers the context for your soft skills and how you've used them in the past to benefit your employers.
For instance, here's an example of how to demonstrate leadership in your work experience section:
"Led a team of 10 software engineers in creation of a new app, communicating with all team members and across departments to ensure clarity of goals. Project was completed on schedule and under budget and the app received an average star rating of 4.9 and raised revenue by 5%."
Highlight your remote work experience
Demonstrating your past remote experience significantly strengthens your application, because employers can see that you're already an accomplished remote worker. 
Here are some tips and examples to help you highlight your remote experience:
Make it explicit
When writing your resume, the most straightforward way to highlight your remote work experience is to explicitly mention it in your work experience section. There are a couple of ways to do this.
If you worked from home or out of a virtual office, write "Remote" instead of listing the location of a job under your title and company name. 
Here's an example: 
Customer Service Representative
Jane's Footwear, Jan 2020 – Present
Remote
Making this simple change will draw attention to your remote work and immediately let employers know that you're experienced.
Describe your remote experience in your bullet points
For example:
Worked remotely to answer an average of 100 customer calls each day, providing information about products and services, helping customers with complaints, processing returns, and taking orders.
Consider making a dedicated remote work section
If you have two or more remote work experiences, consider listing them in a separate section titled "Remote Work Experience." A section like this will draw attention to your extensive remote work experience, and show the employer that you have the capability to succeed at a remote job.
Here's an example:
Remote Work Experience
Real Estate Acquisition Sales Specialist
Jayden & Lewis Realty
June 2019 – Present
Manage sales leads and discover prospective buyers

Place calls to possible sellers to understand their needs and concerns

Use CRM Daily to stay up-to-date and on task 
Adding a distinct remote work section to your resume will ensure that hiring managers pick up on your experience and take that into consideration when vetting your application, giving you a better chance at winning an interview. 
Quantify your remote work successes
You need to include specific facts and figures to quantify your accomplishments in a remote work setting. Hiring managers don't just want to know that candidates have remote work experience, they want to know that the candidates were able to perform at or above expected levels. 
Anyone can say generic things about their remote work experience, but when you use numbers to back up your experience, you create a well-defined picture of your abilities. Being exact and including details shows the employer that you can excel in a remote position. 
Add your remote work experiences with precision, quantifying them with facts and numbers, like this:
Managed sales team remotely to improve company's customer service, increasing customer satisfaction by 50%.

Created a new company website, collaborating with writers and designers, resulting in a 90% rise in website traffic compared to the previous website.
Adding numbers to your experience helps put your achievements in context for employers and makes your resume more compelling. By making sure to quantify your remote work experience, you demonstrate the tangible benefits you can bring to future employers.
============
Corissa is a Career Advisor and Staff Writer at Resume Genius, where she loves equipping others with the tools they need to pursue their dreams. She graduated from the University of Colorado at Boulder with a degree in Philosophy and a certificate in Peace and Conflict Studies.