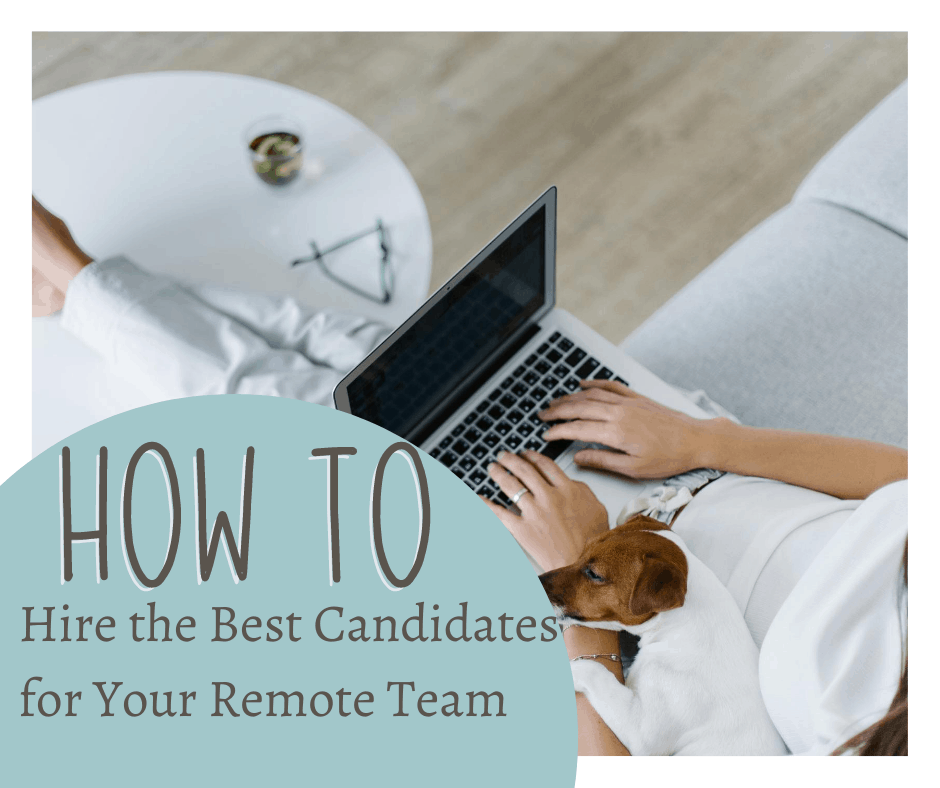 How to Hire the Best Candidates for Your Remote Team
There's nothing better than landing a great new team member-especially a remote team member. It's a sign that your business is growing and you are ready to support additional people to help you get to the next phase.
But, finding that person is often easier said than done. And the stakes are high. According to a recent article on business.com, a bad hire can cost your business up to 30 percent of that person's first year's pay. More, if you factor in the time and expense that went into finding, onboarding, and training that person. If the bad hire hurt team morale or caused you to lose a customer, the costs can quickly grow.
While those numbers can be scary, take heart–it is possible to find and hire the right person. But, like most things in life, it's easier to do it when you have a well-thought out plan and understand the common pitfalls that can lead to making a poor choice. 
Search Your Own Heart Before You Search for Candidates
A key ingredient in successfully finding the right candidate is understanding exactly what you want this person to do. This is easier to do before you start searching for a candidate and is best accomplished by writing a job description. To get started, consider:
The goals for the role.

A year after you've hired this person, how will you measure his/her success? For example, do you want to see sales increase by ten percent? Improve retention rates? Increase your social media presence? Maybe it's important that this person fits in well with an existing team or brings new ideas to your business. Whatever the goal is, think of it in terms of an evaluative measure that can be used to assess success.

The skills and background needed to successfully do the job

. Thinking about the objectives for the new role, consider the skills and background that will help a candidate succeed. 

If you have people already in this role, get their thoughts on the right background and compare them to your own ideas.

Look at similar roles both within and outside your business and see what skills and backgrounds others are asking for in the role. 

The things that matter to your team.

Do you have a team of night owls who are looking for a morning person to help balance them out or take customer calls earlier in the day? Maybe you have a team of project managers who would love to have someone with sharper design skills join the group. Thinking about the dynamics of your team and organization can make it easier to know more about who you are looking for when you start your search.

What "remote team member" means to you

. Do you want someone to work set hours or are you more of a core hours shop? If so, what are the core hours? Are you open to someone located in a different time zone? Do you prefer someone who can personally meet with you for an occasional lunch or team meeting? If you have preferences in this area, be sure to make note of them at this stage.

Know what you value in this position.

Are you looking for integrity, efficiency, intelligence? Maybe you want  someone who is proactive, a team player, organized, attentive to detail, and  handles correction well. Whatever the traits are that matter to you, identify and document them as part of this process.
Write a Job Description
Now that the ideas are churning in your mind, sit down and write a formal job description. You may want to include:
A functional and descriptive job title.

An overview of the job's responsibilities.

Goals for the role.

The skills and background required to succeed.

Any specific hardware or software skills.

Information about why the job matters to your company.

Pertinent details about how you expect the remote work relationship to work. 
Share Your Thoughts
Once you have a draft, share it with others who know about the job or will be working with this person. Discuss the job until you get to the heart of what you want. Be specific. 
Continue to revise the job description until it really fits your needs and you have agreement that it captures what you're looking to achieve by adding this role.
Create a Plan to Find the Right Person
When you are looking for a remote team member, you have the important advantage of not being limited by geography. You can find and hire a team member who's located anywhere with good internet access. 
Using a platform like HireMyMom.com is a great way to source qualified candidates who are specifically looking for remote work. You can save time and money by turning to a site dedicated to connecting driven mom professionals with small businesses. 
If the prospect of a nationwide search daunts you, consider our concierge service to help reduce the amount of leg work you need to do. HireMyMom's Concierge service was created for busy entrepreneurs and small business owners, like you, who need to hire help but don't have the time or desire to go through the time-consuming process. With our full service Concierge service, our HR Specialists will do it all for you start to finish and present you with the top candidate(s). 
Prepare to Interview Candidates
With candidates identified, it's time to develop initial interview questions before the first interview. What are some questions that would help you spot those who do and don't have those skills or qualities?
In the Book, "Who" by Geoff Smart and Randy Street, they outline a thorough process for hiring "A" players. The process may be overkill for some smaller remote roles but the basics of the process provide a solid foundation for selecting the right candidate. 
The interview questions Smart and Street recommend are easy and conversational. They recommend an initial phone interview asking the following questions:
What are your career goals?

What are you really good at professionally?

What are you not good at or interested in doing professionally?

Who were your last five bosses and how would they rate your performance on a 1-10 scale when we talk to them?
Each of those questions should be followed up with "tell me more", "how" and/or "what" to dig deeper to gain more insight about the candidate and their performance, work ethic and skill level. 
Once you've discovered who passed your first interview, Smart and Street recommend the "Who Interview" which "is designed to give you more confidence in your selection because it uncovers the patterns of somebody's career history and is a chronological walkthrough of a person's career." They recommend walking through their past five jobs and asking:
What were you hired to do? How was your success measured in that role?

What accomplishments are you most proud of? Be listening for correlations relating to the expectations of your job. 

What were some low points during that job? Or what part of the job did you not like? In what way were peers stronger than you?

Who were the people you worked with? Ask specifically for the boss' name. Ask what that person

will

say were their biggest strengths and areas for improvement. That lets them know you will be calling and they are more likely to give you an accurate response. 

Why did you leave that job? Dig deeper into their response with more questions to more fully understand. 
The Reference Checks
The last step of the selection process is to check the candidates references. This will be an opportunity to see what others think of them. You may want to ask them some of the same questions from above to see how similar their responses are. 
Taking the time to get a more full and complete picture of someone's work history, personality, strengths and weaknesses will help you determine who is the best match for your role. Knowing what you want and what your goals are will help guide you in the interview process. The rest will be determined by the answers you receive!
Avoid Common Pitfalls
With all the work you've done so far, you are likely sailing toward the right pick for your opening. Still, beware of these common pitfalls:
Short changing the thought process to determine exactly what you are looking for or needing from this role. 

Limiting the job description so that it includes only skills needed or tasks to be accomplished. It does not include the goals and outcomes for the role.

Conducting  interviews that are too are short and do not give you an accurate representation of the candidate. 
Enjoy the Process!
Hiring the right candidate with the right skills for the right job can dramatically impact your company's productivity, outcomes and goals. Your biggest asset is usually those you place on your team. They can help you succeed or they can hold you back. Embrace the opportunity and the process to find the right fit.
MailChimp code
Business Growth, Hiring Tips, Interview Tips, Small Business, Virtual Team