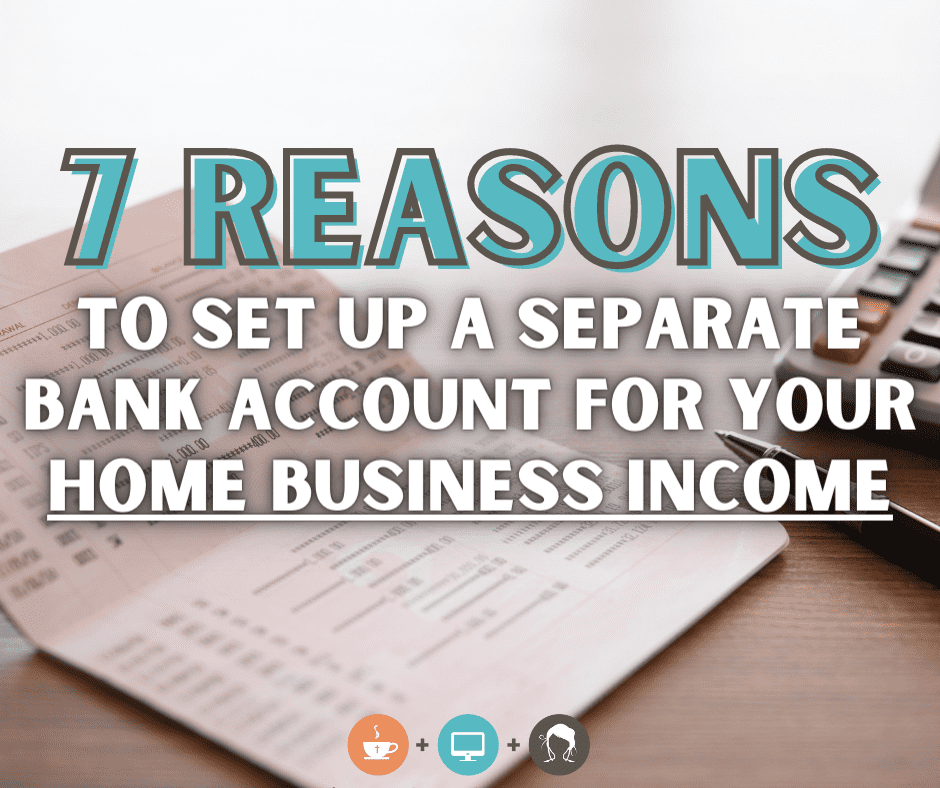 7 Reasons to Set Up a Separate Bank Account for Your Home Business Income
Guest Contributor: Cristina Par
When you start a business from home, your priority will typically be to get it up and running so that you can serve those first customers successfully and start bringing in some money.
Unless you're particularly well prepared, you probably choose to make use of your personal bank account to take payment for your products or services during this early phase. But eventually, opening a separate business account is a necessity.
To understand why, we'll talk you through the main benefits that come with having a home business with its own, unique bank account.
Admin is easier
Arguably the top reason for having a bank account that you use for all of your business finances is that this makes it less of a pain to handle everyday administrative tasks, whether that's calculating expenses, analyzing earnings or filling out your tax return.
If, on the other hand, all of your business transactions are mixed in with personal transactions, it's a nightmare to unpick everything and keep track of figures. So from an organizational perspective, setting up a separate account is a no-brainer.
Customers will trust you
Home businesses can struggle to win over prospects for all sorts of reasons, and a lack of trust is likely to prevent people from making purchases in the first place, let alone returning in the future.
One red flag is if payments are made to a bank account that's in your own name, rather than that of your company.
Choosing the likes of a SoFi online bank account will let you overcome this concern, and reassure customers that you're a reputable operator, even if you're very new on the scene.
Loan approval is more likely
When applying for a business loan, lots of factors are weighed up by lenders to decide if they should back your commercial endeavors.
Having a bank account for your up and coming company shows them that you mean business, and may even be an eligibility requirement, depending on the bank in question.
The same is true of applying for a business credit card; providers will be pleased to see a business account on your records, and will give you access to better deals as a result.
Credit score is calculated separately
Businesses and individuals have their own, distinct credit score. So if your own credit history is patchy and your score is low, this might stifle your ability to grow your business through loans.
With a business bank account, you'll be starting afresh, and so you can build good credit here, improving the rates that you're offered on loans and credit cards.
A separate payment card will be issued to make paying for business expenses a breeze
A business bank account is like a standard account in the sense that customers are entitled to use a payment card to carry out transactions, whether online, at bricks and mortar locations, or while paying independent contractors.
With this card you'll be able to make sure that all of the money you spend on business expenses is channeled in the right way, linking back into the earlier mention of administrative convenience.
Business debts won't be a burden on your personal finances
Just as your personal credit score doesn't need to hamper your business borrowing options, so too any debt that's attached to your business through your bank account and other financial activities won't be something you're liable for as an individual.
It's this safety net that allows entrepreneurs to justify taking risks and pursuing innovations, without the fear that they'll be financially ruined if things go south.
You'll avoid the unseen restrictions of personal bank accounts
Most people don't realize that their personal account is more tightly controlled than an equivalent business account, often for the simple reason that banks want to incentivize people who start their own companies to open new accounts with them.
For example, a personal account might have a cap on the number of transactions that can be carried out by the customer in a given period. Hit this, and you might be charged extra, or have your account activity limited. It could even be flagged as fraud, which puts more jobs on your plate.
A business bank account is designed with the needs of business users in mind, so annoyances like transaction limits will not get in the way of your day to day operations.
Wrapping up
Business bank accounts are there to serve you as you grow your home business, so it's better to embrace one sooner rather than putting it off for any longer. If you're serious about making your company work, you'll need solid foundations like this to achieve your goals, and the process of finding the right business bank account is easier than you'd think.
Cristina Par is a content specialist with a passion for writing articles that bridge the gap between brands and their audiences. She believes that high-quality content plus the right link-building strategies