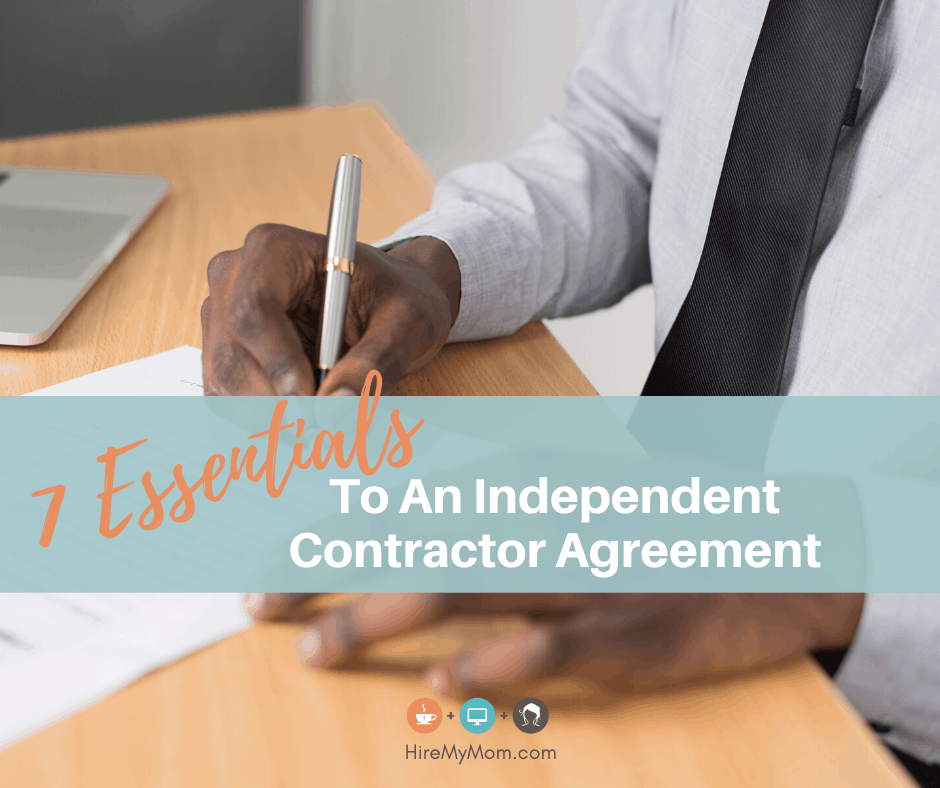 7 Essentials To An Independent Contractor Agreement
As a business owner, you often take on the roles of many people. You can find yourself working long hours and doing all of the work by yourself to keep your company afloat. When it gets so much that you can no longer keep up, it's time to hire!
You'll want to determine if the job you are hiring for is a contractor role or an employee role. You can learn the definitions on those here and get some additional advice here. 
If you are hiring freelancers or contractors an independent contractor's agreement will help you outline the details of the work to be performed, terms of the agreement, compensation, and any additional important details. 
In today's article, we will discuss the importance of a contractors' agreement and some key components you may want to include when creating one*.
Statement of Relationship

This is the opening of the contract that discloses the parties the agreement is between. The Company name is indicated and from that point on, referred to as "The Company". The Contractor's name and his/her company (if applicable) is also indicated and referred to as "The Contractor" from that point on.

This piece of the agreement is extremely important to get right especially when it comes to the contractor being able to prove his or her work status. It protects against employee misclassification.

The contractor-client (Company) relationship is a business relationship, not an employer-employee one.
Scope of Work

This part of the contract highlights the work the Contractor will be doing for your Company. If there was an SOW (Statement of Work) drawn up (which is recommended), it would be included here.

Note: A Statement of Work (SOW) is a document within the contract that describes the scope of work and/or project being performed as well as performance expectations.

Payment and Billing Terms

This is an important part of the contract. Rates agreed upon should clearly be disclosed here along with the terms of billing and form of payment.

The rate of pay should have been discussed and agreed to ahead of time along with any commission rates (if applicable). For payment, it should be discussed with the Contractor how you would like to be invoiced and the payment dates.


Party Responsibilities

This part of the agreement applies especially if there are multiple departments involved within your Company that your Contractor will be performing work for or collaborating with. This is a good opportunity to present the review and approval process, set the standards of communication and to also have your Contractor provide proof of insurance.


Deadlines and Timelines

The Contract term (length) should go in this section of the agreement. If you don't have one, it's good to at least set a contract review/renewal date.

If this contract is for a project, the timeline or approximate timeline should be specified. If the project is large enough, milestones can be outlined as well. Clear goals and targets should be outlined. The more details you can include the better. This will ensure clear expectations and communication between yourself and your Contractor.
Termination

Not all agreements work out. Sometimes they have to come to a close. All contracts need to have a termination clause.

The termination clause offers the right for both parties to cancel. Reasons to end the contract should be clearly stated. Some considerations include nonpayment, breach of contract, and business disruption.

When considering the termination timeline most contracts can end with 30 days written notice from either side.


Non-Disclosure/No Compete Clause

Unless your contractor is designated to only working with you at the time of the agreement, having them sign a Non-Disclosure or No Compete clause might be difficult.

If they have more than one client, chances are, at some point, they might be working with your competitors.

You can, however, cater to the non-disclosure specifically in reference to the information you share with them about your company. 
Other Considerations

It's always advisable to have a legal advisor review your contract before it officially falls into the hands of a Contractor. Once reviewed, it may be able to act as a template for future contract work as well.
For more information, see:
*HireMyMom.com (HBWM.com Inc.) does not provide tax or legal advice. The material contained herein is for informational purposes only and does not constitute tax or legal advice. Readers should consult with their own tax advisor or attorney with regard to their personal and business tax situation.

We have some amazing Contractors right here on HireMyMom. You can see what other business owners are saying about our services here.
Ready to start find a great candidate now? Click here to get started.
.
Hiring Tips, Small Business, Virtual Team, Work from Home Tips