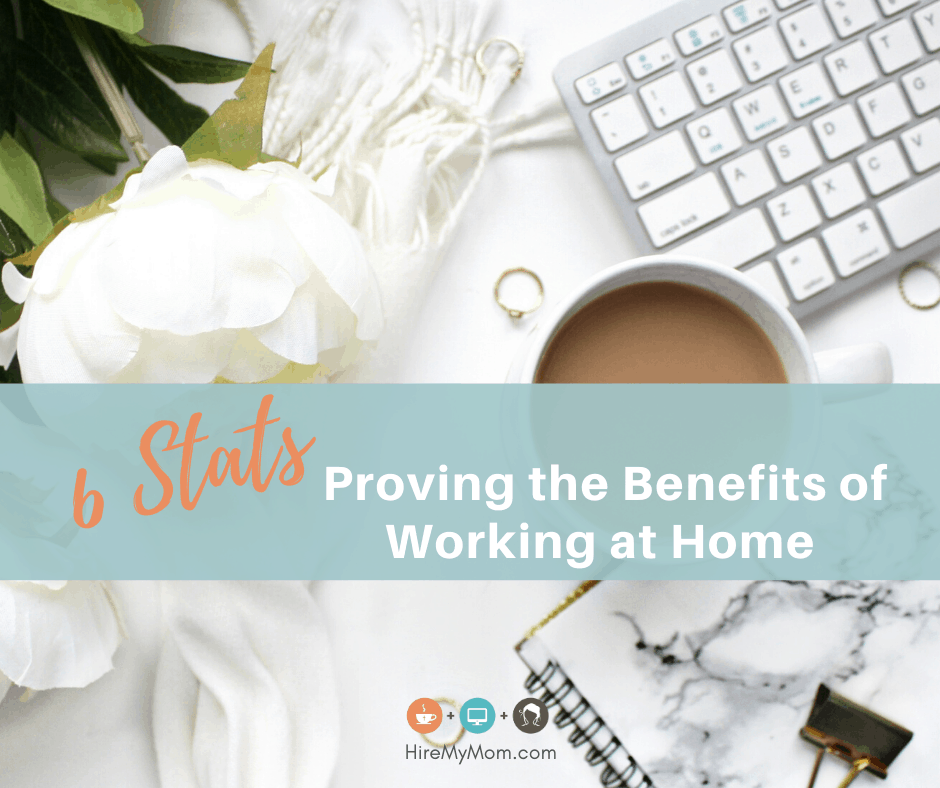 6 Statistics Proving the Benefits of Working at Home
Over the past decade, technology has really transformed the business world. Now, more and more businesses and individuals are discovering the benefits of working remotely from home.
With small businesses driving 44% of the total US economy, it's easy to see how allowing employees or contractors to work from home would be beneficial and cost saving. It is a great solution to growing companies who seek an alternative to hiring, training and finding space for on-site staff. 
We at HireMyMom, already know the amazing benefits of working from home but let's look at the benefits the Industry Experts have to share on remote work: 
1. Working at Home Saves Money

One of the biggest benefits of remote work is cost savings. According to Global Workplace Analytics (GWA), businesses can save up to $11,000 per employee each year by simply allowing them to work from home.
There is also less absence in the workplace when an employee can work from home. Again according to GWA, unscheduled absences cost employers $1800 per employee per year. The American Management Association realized a 63% reduction in unscheduled absences.
2. Working from Home Saves Time

Remote work can save a lot of time (and stress) because it eliminates the need to commute. According to the State of Telecommuting, part-time remote employees save around 11 days a year by not traveling to work. This means the employee is less stressed, less tired and can commit more time to performance rather than having their energy drained in rush hour traffic.
3. Working at Home Improves Productivity

It is true that distraction decreases productivity. There is nothing more annoying to an employer than seeing staff doing more chatting than working. But according to 2018 statistics, the majority of surveyed employees feel there are fewer distractions when working outside of the office.

Forbes.com relays that 77% of those who work from home get more done in fewer hours thanks to fewer distractions like meetings, conversations, and noisy coworkers.

When Highfive.com conducted a study, remote workers accomplished 30% more work in less time. 
4. Working from Home Helps Improve Employee Retention Rates
Keeping employees happy is the key to a successful and productive business. If employees are not happy, the quality of work often suffers significantly and could lead to employee loss.
A huge part of employee happiness comes from:
less travel time and commuting costs

less distraction from their co-workers

the ability to have a more flexible schedule and;

a comfortable work environment
According to Global Workplace Analytics, a poll of 1,500 technology professionals revealed that 37% would take a pay cut if they could work from home.
From an employer's perspective, 95% report that working from home has had a high impact on their employee retention rate.


5. Working at Home Improves Health

Remote work can improve employee health both physically and mentally. Monster.com reports that when Staples conducted a study in 2011, they found employees who worked from home experienced 25% less stress. They also reported being able to maintain a healthy work-life balance and experienced improved eating habits as well.
Working from home also means being less exposed to viruses and other airborne illnesses that can sometimes heavily impact the workplace environment. It's much easier to self-quarantine one person than an entire office. Less sick employees mean less disruption to productivity and in turn can lead to companies saving thousands of dollars each year. This is an especially timely topic given the outbreak of the Coronavirus. 
6. Working from Home Is Better For The Environment

According to the State of Telecommuting, the reduction in greenhouse gas emissions through telecommuters / remote workers is equivalent to 600,000 cars.

When employees eliminate the commute to work every day they help reduce the amount of pollution. By eliminating the commute, working from home drastically reduces the carbon emissions created from driving. In Entrepreneur.com's article "How Telecommuting Reduced Carbon Footprints at Dell, Aetna and Xerox" it's stated remote work, even if it's only done on a part-time basis, can still reduce over 54 million tons of greenhouse gas emissions each year.

At HireMyMom we help businesses hire talented, affordable, virtual team members and freelancers while at the same time, assist mom professionals in finding flexible, legitimate, home-based work to help create the perfect work-life balance.

If you're interested in using our services to find your next remote employee you can visit our registration page here.
Business Growth, Small Business, Work From Home, Work from Home Success