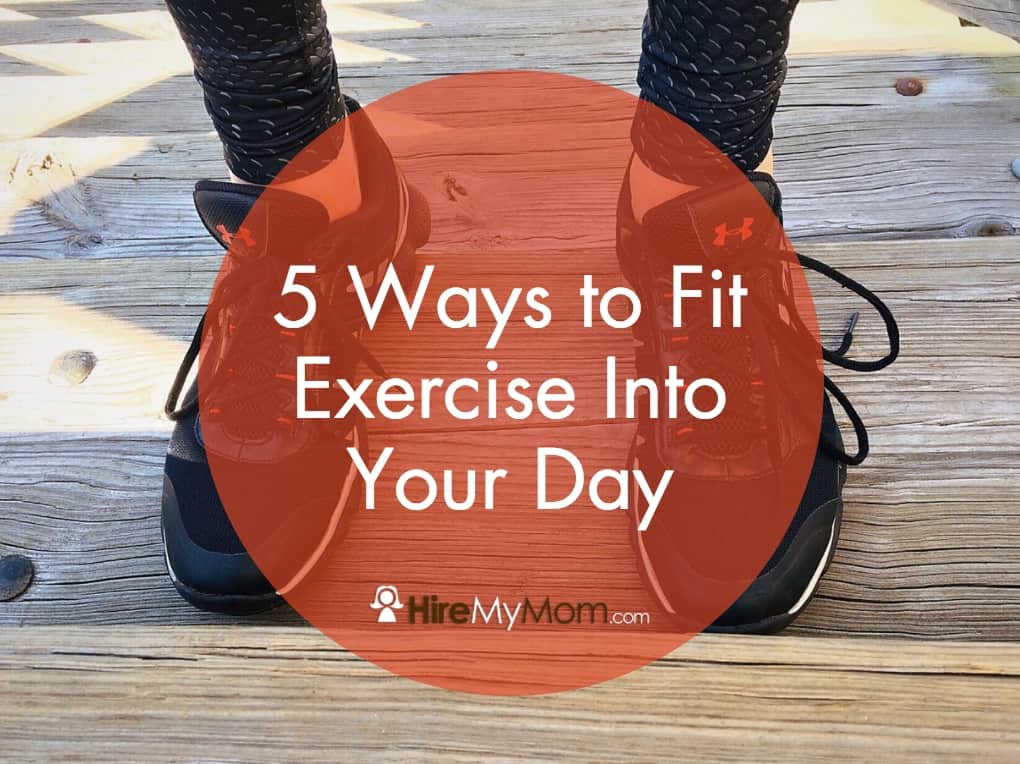 5 Ways to Fit Exercise Into Your Day
Fitting exercise into our already-busy lives can be quite the challenge! We want to stay fit and healthy, but work, family and friend obligations keep us pretty busy. There are only so many hours in the day, but taking the time for exercise is very important for a long, healthy life.
Read along for some best tips on fitting exercise into your busy day.
Use the morning
It's not for everyone, but working out in the morning can be a great use of your time. Your family is likely still asleep, and you'll be able to give dedicated time to your workout. Whether you workout or join a gym, working out in the morning is a great option. This is an especially effective option if you're a morning person. If not, it may take a few early mornings to get into the groove – but don't give up!
Lay out your exercise clothes the night before, lay out your water bottle, snacks, headphones, and anything else that you need to grab and go. Not having to think in the mornings makes it much easier, and seeing your items will make it more likely that you go and do your workout. The more that you complete your morning workouts, the more your body will get used to them. Don't be surprised if you're a little tired and slow moving at first! It just takes some time for your body to adapt to moving first thing in the morning.
Use your lunch break
You can use your lunch break (or any break during the day) to complete your workout. Go out for a walk, meet up with a friend, or hit up a group fitness class that takes place during the day. Breaking up your day with exercise can really boost your energy, mood, and fitness levels. A lot of us feel more awake midday, so it can be the perfect time to fit in some fitness.
Make it social
Exercise doesn't need to be painful or isolating! It can be really fun to involve your family and friends and make it a social event. Exercise also doesn't need to take place at a gym or involve a workout video. You can get in a few miles, squats, or dumbbell exercises during your kids' games or activities!
When you're waiting around at practices, instead of playing on your phone, do a quick workout. It will make the time pass without taking away from family and friend time outside of the practice. Fitting fitness into your life is a great way to make it a habit that sticks!
Multitask
Multitasking can be very helpful when it comes to your new exercise routine. If you find yourself ready to watch TV at the end of the day, you can combine both activities. Watch your favorite show on the treadmill, or do strength training exercises in your living room while your movie is playing. You can also listen to music during your workout. This can also be a great distraction that gets you into the workout zone, and you won't feel that you're missing out on anything. You get the best of both worlds – fitness and your other favorite activities.
Keep it realistic
Realize that fitness might not play a huge role in your life right now. It can be hard to workout with small children or a lot going on in your life. You might not have time for an hour, but can you spare 20 minutes? Most people have 20-30 minutes in their day to get healthy. Make it happen and stay in the groove. Once you feel better and see results, you'll more than likely want to keep at it. Results and positive feelings are great motivators to keep going!
Utilize the tips below to keep at your exercise regimen long enough to feel great, and you'll be well on your way to establishing a very healthy habit.
Being Mom, Health & Wellness, Work from Home Success, Work from Home Tips