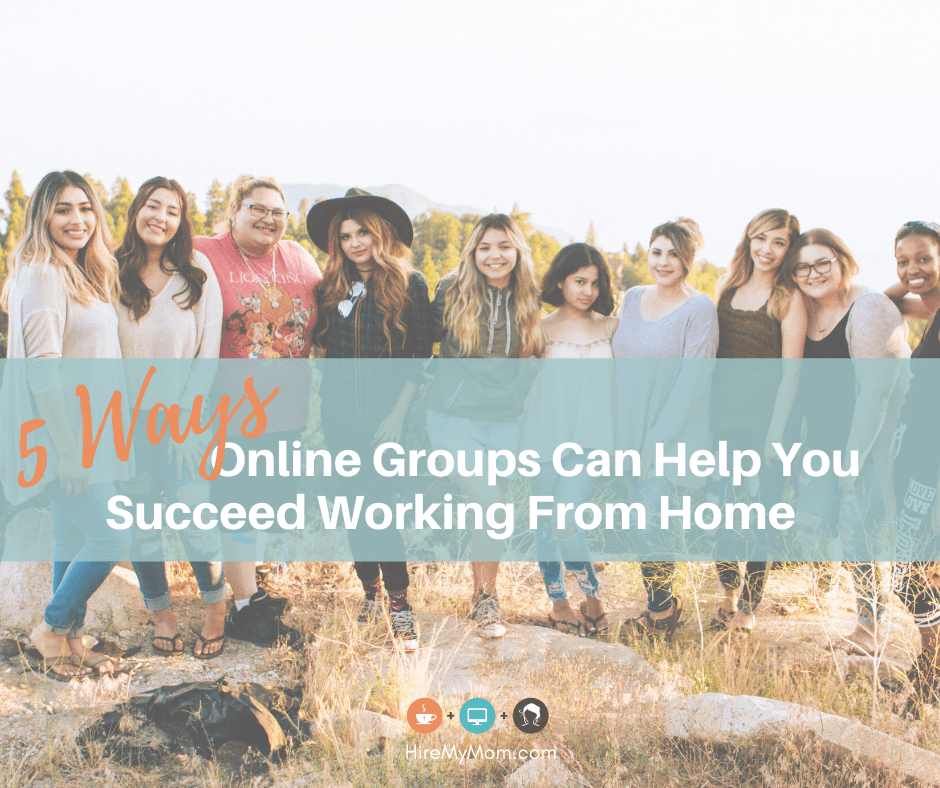 5 Ways Online Groups Can Help You Succeed Working From Home
Working from home offers many benefits but, at times there can be some small drawbacks as well.
Unlike an office environment, remote work at home often involves minimal daily interaction with others. There's also a lack of support, and it's up to you to create a good workflow, be disciplined enough to follow through with it and to be able to tap into the right resources when you're presented with a challenge.
This is where having a solid "tribe" or community comes into play.
Your community can be your most precious commodity. Having a place to turn to (especially one with like-minded people) can be the difference between liking work at home and loving it!
So, where can you find a work from home "tribe" to call your own?
For some, it could be in the form of a local networking group. Networking groups often meet in person on a weekly basis and may require a membership fee in order to join. They actively support each other's businesses by getting to know the products and services each member offers and by providing referrals to each other's companies. 
Because remote workers can perform their job anywhere and are considered more self-employed, restricting yourself to just local business interaction might not be the best choice.
This is where Facebook and other online communities can come in handy. Online support groups are often free to join and can be accessed virtually 24/7.
Here are 5 benefits to joining a Community Group that supports remote work from home individuals:
1. Job Leads

Depending on the group you decide to join, others may post their job leads or requests within the community. This allows you to have access to leads that may not be posted elsewhere on the internet. 
You can also share job leads and others can share the ones they have found with you. This creates a place to find quality job postings without turning to mega job sites that expect more for less (we share more about that in our article "Why Moms Looking To Work at Home Should Avoid Free Job Sites").
2. Tips & Pointers

Your community group can be a great place to learn and grow. Are you looking for the best ways to keep your home office organized? How about being able to manage your routine tasks more efficiently?

When you have access to a group of other workers who, just like you, face and overcome the same obstacles, they are more than eager to share their experiences, life lessons, and wisdom.

What better way to learn how to grow and sustain your remote business than through the minds of others who can offer their insight and expertise.
3. Valuable Resources

When it comes to living and working in a digital world, there are many benefits however, the drawback can be all of that "digital noise" we get flooded with on a day to day basis. When you're subjected to hundreds of posts, photos and ads daily, it's easy to feel overwhelmed and confused. 
You can also lose precious time having to sort and navigate through the "junk" to get to the information you want and not get distracted.
If you choose to be a part of a community support group, you'll find many helpful articles, information on upcoming events that might benefit you and more.
4. Inspiration

Let's face it, we all need some inspiration from time to time. When we are inspired, we feel motivated, creative, and action-oriented.

When we are motivated we tend to do a better job and have a more positive mindset when it comes to getting the job done.
Your community support group is like your own personal cheerleading squad that can help you push through the day with a better outcome compared to doing it all alone.
5. Friendships

Remote work can feel very isolating so it's important to build friendships and stay connected. 
Some of the best friendships start with common ground. Interacting with other remote workers (and Moms) just like you can make you feel like you're not alone in this journey of self-employment.

Because an online group is primarily virtual, you can access your friendships more frequently as it fits into your schedule. You can break up your workday over a coffee and Skype chat with a fellow stay at home Mom worker as an example.

There you have it, 5 benefits you can experience firsthand from joining an online community group. 
Our Hire My Mom Facebook Support Group is full of amazing women (like you) who are passionate about their careers, their families and their HireMyMom tribe. Interested in joining? You can find a link to our group here. We would love to see you join us!
Being Mom, Virtual Team, Work from Home Success, Work from Home Tips, Work Life Balance