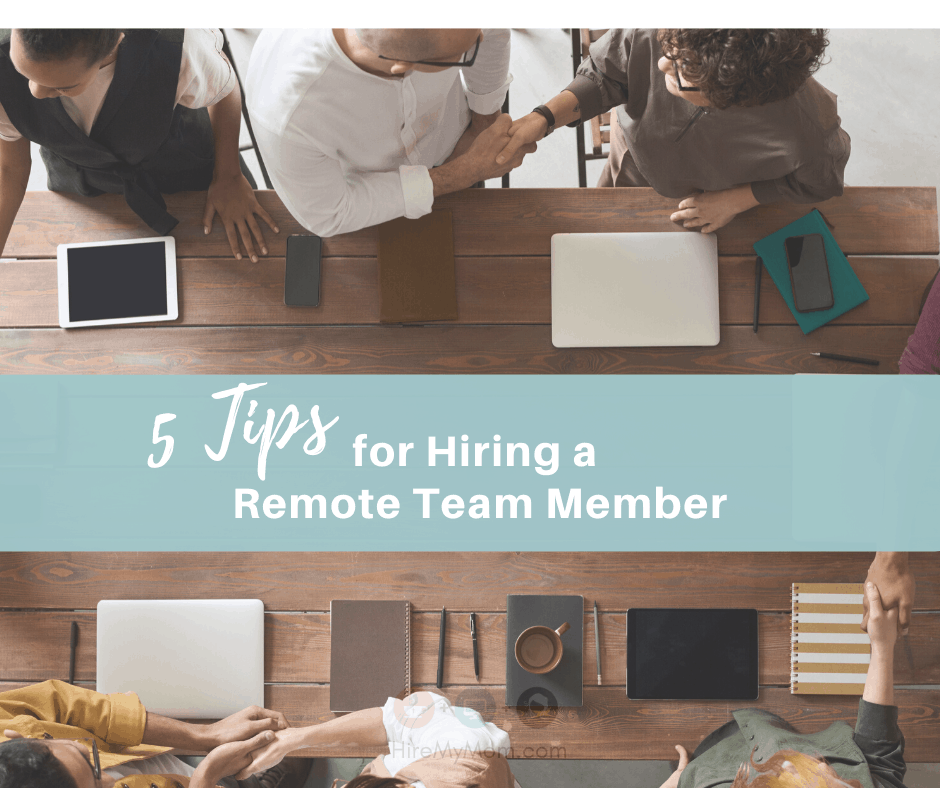 5 Tips for Hiring a Remote Team Member
Entrepreneurs often find themselves wearing too many hats. And at some point, it becomes obvious that hiring a contractor or team member make sense for growth, sustainability and sanity.  
Remote work has revolutionized the way small to medium businesses conduct themselves. It's become an attractive and affordable option for many reasons and  COVID-19 just helped raise awareness of how feasible and advantageous it is. Once you've decided to hire your first or next remote team member, you'll need some guidance on the process.
Here are 5 tips to get you started with your new hire:
Crafting Your Job Description

The first step is to get the job title right. You want to make sure you attract relevant candidates to your posting — and your job title is your headline. Think about what roles and responsibilities you'd like your new hire to take on and match the job description to them.
Your job description should define the overall goals of the role. 
What is the main goal of this role? This should not be just the most important tasks of the job, but also the outcomes you desire for this role.  For instance, is your goal an increase in sales? Is it building followers on social media and attracting new clients? Or are you looking for the highest levels of customer service? Knowing your goals will help drive your job description and the qualities and skills you are seeking in a candidate.
If you are seeking an assistant to take over some of your day-to-day duties, it's sometimes helpful to keep track of your typical day. Pay attention to the tasks you like doing and the ones you don't and write them down. Do the same for tasks you struggle with. It's a lot easier to put those into your job description so you can attract the right candidate who is qualified and experienced with the areas of your business you need the most help with.
Where to Find Your New Hire
There are many places you can post your job to:
Social media like Facebook and LinkedIn
General job sites like Indeed or Monster
Niche or boutique job sites like WeHireHeroes.com (Vets) and HireMyMom.com 


With the social media and general job sites, you are likely  to get upwards of a thousand or more applicants in a 24 hour period. That's one reason many have switched to the more niche sites where they can attract high quality candidates without spending days sifting through resumes. Boutique sites filter out the best of the best leaving you with quality candidates who are serious about working for you to choose from. We cover other advantages in this blog.

(Note: At HireMyMom our professionals are independent and not employed by HireMyMom. We do not charge any commissions to the job seeker or employer.)


Screening Your Candidates
Once you've received applicants for your job posting, it's time to start reviewing who you want to interview.  Here are some keys to moving through this step:

Cover Letter – ask for specifics in the cover letter title to filter out those who are not paying attention to detail.
(Traits: attention to detail, invested time, not cut and pasted).
Portfolios – you can ask for samples of their work to evaluate the quality and efficiency (depending on the job).
(Traits: Depending on the portfolio you can ask for web design examples, market research samples, or ask them to submit a short video answering a couple of questions).
Resume – make sure the resume you're presented with is professional and speaks to the traits and skills you are seeking.
(Traits: Attention to detail, articulation, grammar and spelling, time invested).
Skill Tests – there are some really great online skill tests available that you can ask your candidates to complete to help you determine their personality traits and competencies. One to consider is 123Test.com. 


Conducting Interviews

When it comes to the interview process, a couple of the most common platforms for video interviews are Zoom and Skype.
It's important to ask the right questions during the interview process. We've put together a really great interview cheat sheet featuring our Top 10 Interview Questions To Ask that you can download here.
The last step in the interview process is to screen for references. You can ask your candidates for 3 references but there are other ways you can screen them too. 
If they have a LinkedIn profile you can preview it to see if they have any referrals or endorsements. You can also preview any shared social media profiles so get a better understanding of their work (if applicable) and personality traits.
Creating Your Job Offer
Once you're ready to take that big step you can prepare your job offer.

Job offers will vary depending on whether you are bringing your candidate onto your payroll or hiring them as an Independent Contractor.

The common job offers will include the following:

The job classification – part-time, full time, contract-based, etc.
Hourly or salary rate.

How and when candidate will be paid.

Expected work hours if certain hours are required.

For employees: benefits, vacation allowance, and any other job perks disclosed in the job description.
Conditions of employment – include contract term (if applicable) and probationary period.

Start date and training / onboarding period.
If you're in need of some guidance for independent contractors, check out our article 7 Essentials to an Independent Contractor Agreement.)
At HireMyMom, we feel blessed to have helped thousands of employers find talented remote team members for their businesses for over 13 years now.
We hope you have found this article useful. If you'd like more information about HireMyMom and the services we provide to employers you can visit our employer page here.