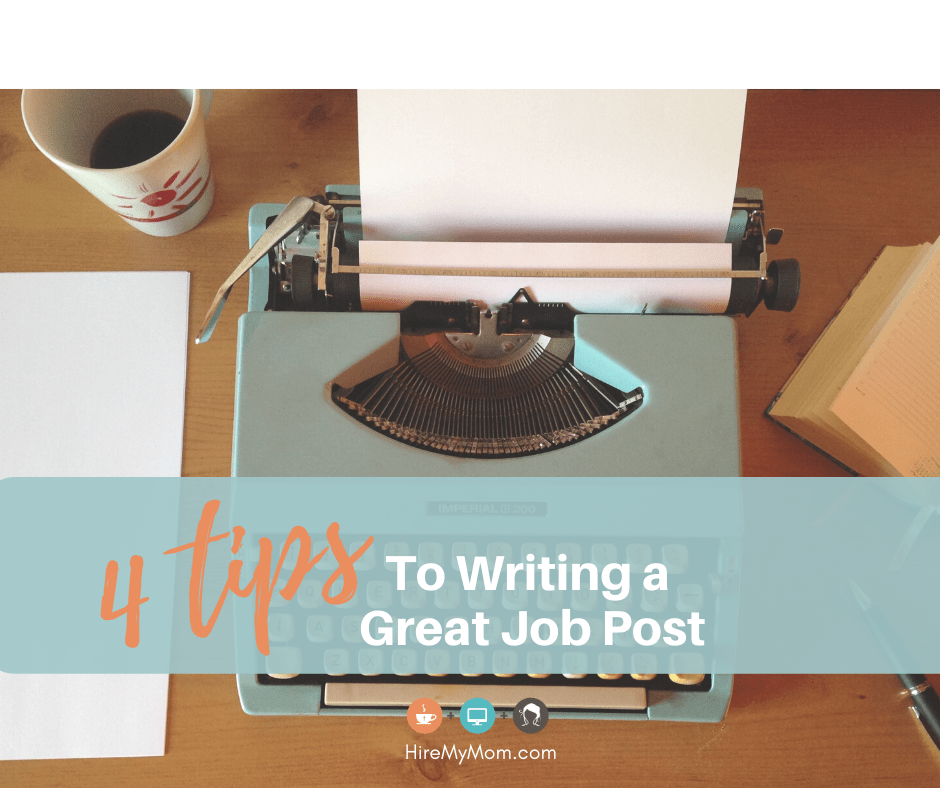 4 Tips to Writing a Great Job Post
As a business owner, we know that your time is valuable, and you do not want to spend unnecessary time on the hiring process. That's why we've created a strategy to help you attract and hire the best candidates for your needs.
The first thing you need is a great job post.  
A well-written job post will:
Include a brief overview of the job role and responsibilities including an explanation of the tasks the candidate will be doing.
Indicate any specific experience or skills you are looking for.
Give estimated hours needed per week and if applicable, the specific hours of the day the candidate is needed.
Include your company / team values. Give the candidates insight to what's important to you and your company to make sure they are a good fit for you and your business.
Here is an actual job post we've had on HireMyMom: "I'm looking for a VA I can grow my business with long-term. Hours will increase with growth. I need soeone good."
Not only does the job post have spelling errors but it does not include any real information about what the job entails or what skills the candidate needs.
Aim for clarity with your job postings.
If you want qualified, experienced, knowledgeable applicants, make sure you job posting is clear and thorough. It doesn't have to be long but make sure the applicants have a clear understanding of what you need.
If you need ideas to get your kick-started, try doing a search for "______ job description" and work from some of the duties and skills you find online. You can then refine it to reflect exactly what you are looking for.
If you would like us to craft the job post for you, contact us or if you would like help with the entire process, we do offer our personal "Small Business Concierge Service" which includes:
consultation to learn about the position,
writing a professional, descriptive and thorough job post,
posting the job on our website (once approved by client),
reviewing all applicant resumes and cover letters, including a check of LinkedIn to reality check the resume.
Scheduling interviews – Reach out to selected candidates, coordinate interview scheduling,
Interviews -prep & conduct interviews, record interview notes, save interview recordings, etc. ,
Select top candidate(s) to pass along to client, write candidate summaries, upload interview video file(s) to Dropbox, email client with resume, summary and link to video file.
Follow up with client, answer questions about candidates, etc.
Wrap-up – Send turndown email to candidates interviewed but not selected, etc. along with final notes.
Small Business, Virtual Team, Work From Home, Work from Home Tips