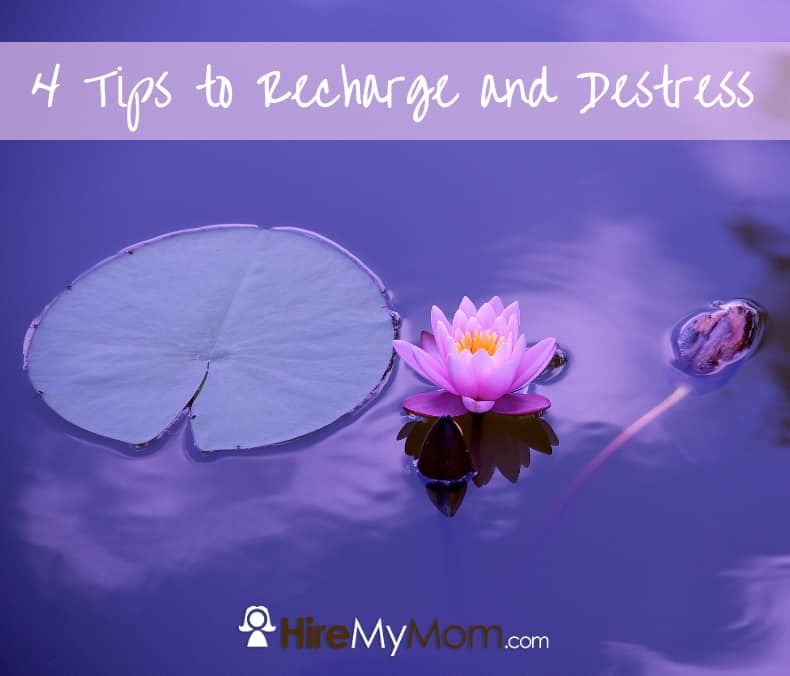 4 Tips to Recharge and Destress
In any job, there comes a time when you face burnout, long hours, or just find yourself in need of a break.  While working long hours is great for productivity, it's not the best for your mental outlook.  If you don't give yourself time to relax, destress, and unplug once in awhile, life can quickly become all about work.
Read along for some best practices for recharging after a stressful period of work or time of strenuous hours.
Unplug
Sometimes you just need to unplug for the entire night, weekend, or even a few days. Even if you can't unplug for a full day, it's important that you're unplugging every day to avoid burnout.  Do your best to avoid marathon work sessions that leave your eyes, body, and mind stressed.  The key to this step is to first listen to your body and signals of overstress, then be willing to take some time off.
While you unplug, it's important to frequently get some quiet time to yourself.  This can be challenging with family, kids and pets, and other obligations, but it's important to give your brain and body a break.
Schedule something special
Put something relaxing on the calendar! Whether your idea of something special is scheduling a massage or manicure, spending an afternoon shopping, or simply curling up in a quiet corner with a good book, be sure that nothing interrupts this appointment! Barring any true emergency, show up for yourself and give yourself that much needed chance to recharge your batteries.
Look at your schedule
It's time to take an honest look at your time and commitments.  Where can you cut back? This isn't always possible, but if you're truly stressing and need a break, there are often small things you can cut back on.
Is there a weekly commitment that doesn't bring you a lot of joy anymore? A small side freelance job that no longer serves you? Take stock of what's most important to you and prioritize accordingly.
Make it a daily habit
Recharging and reducing stress takes practice for most of us, as work can be time-consuming and a large part of our lives.  Self care starts with you, so it has to be put into practice by you as well.  Make it a daily habit to take a few moments for yourself, which might include things such as meditation, baths, yoga, hiking in nature, or meetups with friends.  It's not selfish to take personal time, as it's often the key to bigger breakthroughs and more stability in your life.  Coming back to everything with a fresh attitude is never a bad idea!
Taking the time to destress and come back more refreshed is not only great for you and your career, it's great for your family and friends.  When you're happier, healthier, and feeling more connected to what you truly need, you're able to bring your best self into your everyday life.
Health & Wellness, Work from Home Success, Work from Home Tips, Work Life Balance