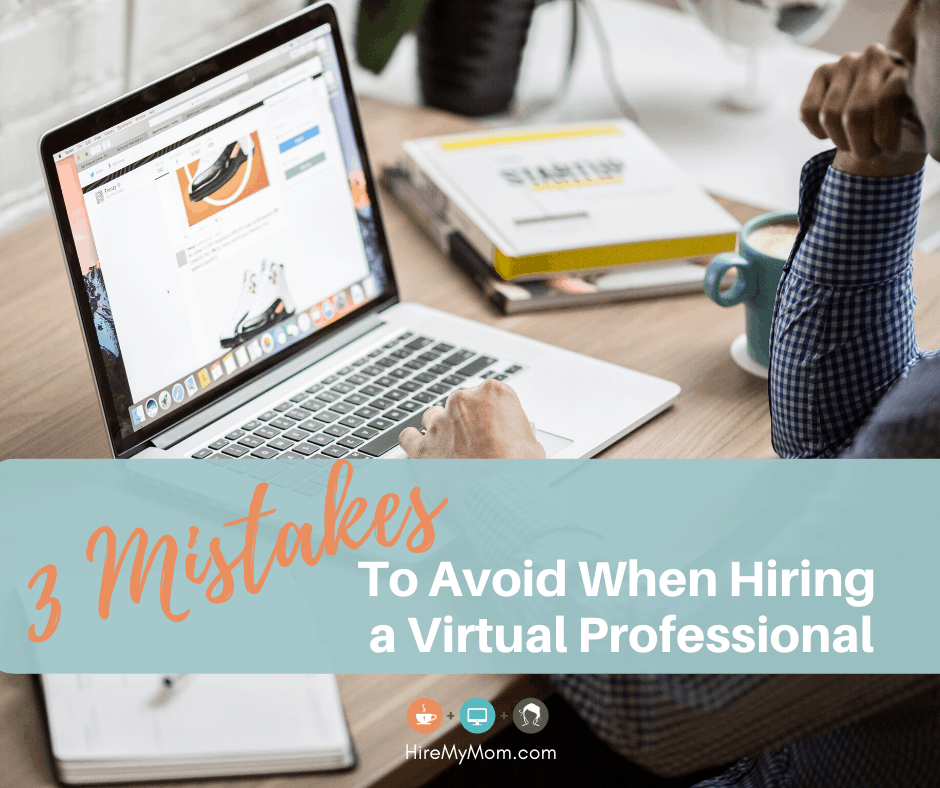 3 Mistakes to Avoid When Hiring a Virtual Professional
Hiring someone to work for you off-site means you don't have the luxury of meeting them or training them in person. And because of that, there are some things you should know to help make the working relationship more successful from the start.
Don't hire by the resume alone
Hiring someone is more than just their experience on a piece of paper. You'll want to interview over Zoom, Skype or similar tool that allows you to meet them face to face.
Ask how they manage working independently? What other jobs have they had working virtually for someone? What mistakes did they make? What did they learn? Ask them about their organization skills and how they organize their day? What motivates them? What distracts them? Also be sure to talk to their references to get a feel for how they viewed the quality of their work.
Always ask for references and check them! You'll want to know what type of employee (or contractor) they were. Were they reliable? Did they do a good job? What areas did they not do so good in? Are they trustworthy? Would they hire them again?
Request a background check through SafetyPin (Digital Trust Badge) especially if they will be dealing with private or sensitive information or have access to any private information.
Don't assume they'll know how you want it done
Before you hire virtual help, be clear about what you want done, how and when you want it done. The more clear you can be and the more meticulous your instructions, the better opportunity your new hire has of understanding and succeeding at this new role.
Create a Google Doc and add procedures and instructions that can be modified and added to the role develops. The more implicit your instructions, the better chance you have of someone doing things how you want them done.
Don't neglect to check in
For the first month or two, plan to check in regularly about progress and questions. You should be able to tell pretty quickly if the work is being done correctly. If not, determine what changes need to be made. Set parameters, guidelines and/or deadlines that need to be met.
Set up ways to monitor their progress going forward. You may want them to copy you on emails if they are responding on behalf of your business or send weekly reports of tasks completed so that you can check them initially to make sure the job is being done correctly and has been understood. If applicable, use collaboration tools such as Slack, Basecamp, Asana or Trello so that you can monitor, collaborate and train as needed.
Progress checks and regular communication are the main keys to success once you've hired your virtual professional. Follow these tips and your chances of success will skyrocket!
If you are looking for a virtual professional, be sure to check out the awesome talent on HireMyMom.com.
And don't forget we offer, our personal "Small Business Concierge Service" which includes:
consultation to learn about the position,
writing a professional, descriptive and thorough job post,
posting the job on our website (once approved by client),
reviewing all applicant resumes and cover letters, including a check of LinkedIn to reality check the resume.
Scheduling interviews – Reach out to selected candidates, coordinate interview scheduling,
Interviews -prep & conduct interviews, record interview notes, save interview recordings, etc. ,
Select top candidate(s) to pass along to client, write candidate summaries, upload interview video file(s) to Dropbox, email client with resume, summary and link to video file.
Follow up with client, answer questions about candidates, etc.
Wrap-up – Send turndown email to candidates interviewed but not selected, etc. along with final notes.
Hiring Tips, Interview Tips, Small Business, Virtual Team, Work from Home Tips