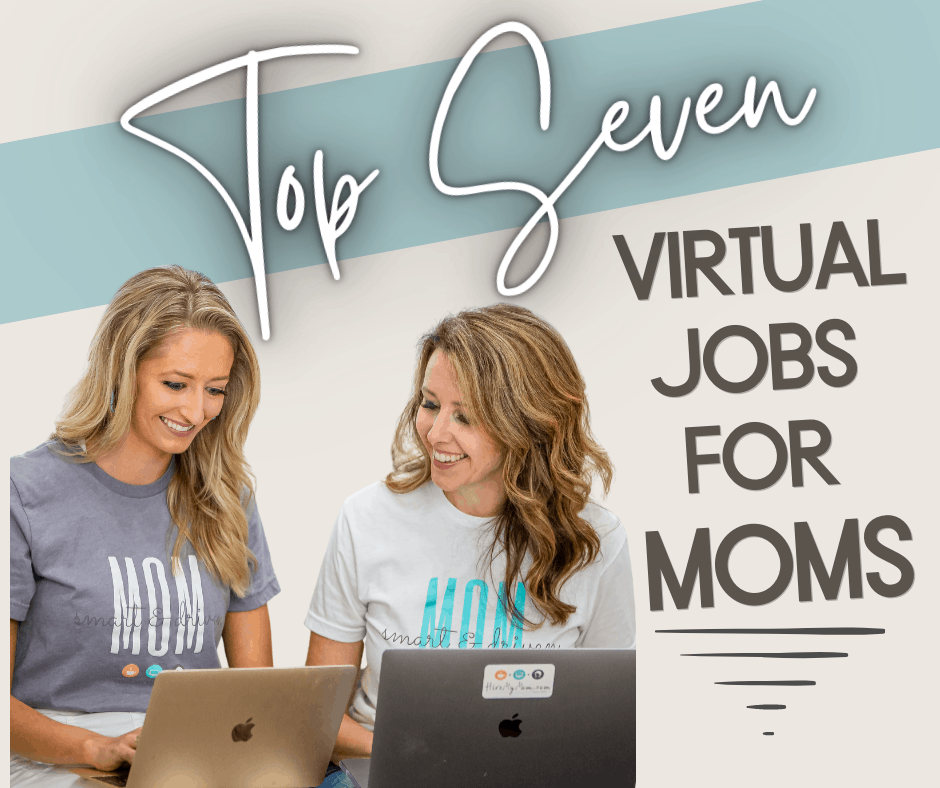 Top 7 Virtual Jobs for Moms
Becoming a mom has a way of changing a woman's outlook on her career path. I know it did for me. I had just finished my Master's degree and started my first job when I got pregnant with our daughter. I had zero intentions of being a stay-at-home mom at the time. However, motherhood had a tremendous impact on me. I soon discovered, I wanted nothing to do with leaving my baby every day.
That's when I began my work-at-home journey. Working from home provides a wonderful opportunity to create a more flexible schedule that many modern moms are looking for.
If that's what you've been looking for, we've put together the top seven work at home jobs as well as common tasks associated with them. We've also included online training programs to help you enhance your skills in whichever category you are most interested in.
Virtual Assistant
The role of a Virtual Assistant (VA) varies quite a bit depending on the needs of each business. Some typical tasks VAs may perform include:
Respond to clients and customers by email, phone and online chat,
Perform routine administrative duties,
Book appointments or schedule travel,
Manage projects,
Research various topics or industries related to the business,
Create and maintain spreadsheets, databases or other documents,
Make simple edits or updates to website,
Monitor social media and respond to comments and questions,
Give feedback from customers and make suggestions for improvement.
The hourly rate for a Virtual Assistant typically ranges from $15-35 per hour. However this can vary depending on difficulty of duties, expertise of the VA and other factors. If you are looking for online training to become a VA, check out the Virtual Savvy's Training Program or the Free Mama's Training Program. Both of them have free options.  Find other training options here. 
Social Media Manager
A Social Media Manager works with the business to create engaging content that offers value to its audience and ultimately results in growth in followers as well as increased sales for the company. Some typical duties may include:
Create engaging content for social media channels,
Create images using Canva, WordSwag, Typorama or similar services,
Create ad campaigns for various social media channels,
Respond and interact with followers on social media,
Build relationships with influencers,
Create a content calendar and schedule content to be posted,
Share blog posts on social media platforms,
Cultivate leads and sales from social media posts.
The average hourly rate for a Social Media Manager ranges from $15-25 per hour. However this can vary depending on level of experience, job duties and other factors. A great training program to help you become more of an expert on social media and stand out to businesses seeking social media help is: The Complete Digital Marketing Course.
Copywriter / Writer / Blogger
A Copywriter writes and edit articles, blogs or copy for a variety of purposes such as:
Website copy,
Marketing materials,
Email marketing,
Blogs articles for specific audiences or industries,
Ghostwriting articles for business owners.
The hourly rate for a Copywriter can range from $20-40 per hour depending on the level of expertise required, the experience of the writer as well as other factors. Here are a couple of online training program if you want to take your writing skills to the next level: Content is King: How to Write Killer Content for the Web or Content Marketing Masterclass – Create Content that Sells.
Accountant / Bookkeeper 
With Cloud-based accounting programs available (such as FreshBooks), a virtual bookkeeper or accountant can access the company's records remotely to perform duties for the company. An accountant or bookkeeper may perform duties such:
Record transactions,
Balance bank accounts,
Prepare and send invoices,
Reconcile invoices and bank accounts,
Maintain financial records,

Produce balance sheets, income statements and other financial documents,
Prepare payroll and tax reports.
The average hourly rate for a bookkeeper ranges from $20-25 per hour. However the pay rate can vary depending on tasks asked to perform, experience required and other factors. Check out this training program if you want to learn the basics of bookkeeping: Bookkeeping Course for Stay-at-Home Parents.
Business Development Specialist
A Business Development Specialist is someone who identifies and pursues new leads and looks for ways to help the business continually grow. Some typical duties include:
Research and make a list of potential industries and specific customers to approach,
Prepare marketing and communication materials such as outreach emails,
Connect with influencers, bloggers and brands to build relationships,
Develop and maintain client relationships,
Create and maintain a database of all contacts,
Develop and refine growth strategies for the business.
The average hourly rate for a Business Development Specialist is $25-40 per hour. However this can vary depending on difficulty of duties, expertise of candidates and other factors. Check out this online course: Business Development Blueprint – Accelerate Business Growth.
Project Manager 
A project manager coordinates and oversees all aspects of a project. Some typical tasks may include:
Oversee projects and coordinate team members,
Manage administrative duties of the project,
Monitor project performance and make needed adjustments,
Plan and schedule team member meetings,
Collaborate and communicate with team members,
Make recommendations as necessary for project success.
The average hourly rate for a Project Manager is $20-40 per hour. However this can vary depending on the level of difficulty of the project, candidate's expertise and other factors. This course will teach you the basics of project management:  Beginning Project Management: Project Management Level One
Client Service Specialists / Customer Service
A Client Service Specialist (or Customer Service Rep) is the main point of contact for many small businesses. This person represents the company with professionalism and a friendly demeanor. Some businesses also hire Virtual Assistants to fulfill this job role. Some duties of this job may include:
Respond to clients and customers via phone, email or online,
Learn and be familiar with company, products and services to answer questions well,
Follow up with customers to ensure the product or service has met their expectations,
Offer friendly, helpful solutions when clients have an issue or problem,
Provide feedback from clients to the team and suggest ideas to improve client satisfaction.
The average hourly rate for a Client Service Specialists is $13-18/hour. However this can vary depending on difficulty of duties, expertise required and other factors. You can improve your skills and make yourself more marketable by taking an online course like: Customer Success Manager 101: Foundations to your CSM Career.
Other work-at-home jobs include: WordPress Experts, Facebook Ad Specialists, Researchers, LinkedIn Specialists, Medical Billing, Instagram & Pinterest Specialists, Sales, Graphic Designers, Web Designers, Coordinators, Public Relations, Transcriptionists, Tech Support, and others. If you are looking for training in any of those categories, check out other online courses offered here.
Whether you are creative, organized, detail-oriented or a numbers person, there's an opportunity for you. Take some time to think about where your gifts, passions and talents are and take the leap to finding the perfect work-at-home job for you!
If you'd like to search the current job postings on HireMyMom.com, click here and see if your dream job is waiting for you!
Have questions about working from home? Check out our FAQ or contact us!
This article contains affiliate links to courses and resources. We may receive a commission for purchases made through these links.
home business, Mompreneur, Virtual Team, Work From Home, Work from Home Success, Work from Home Tips