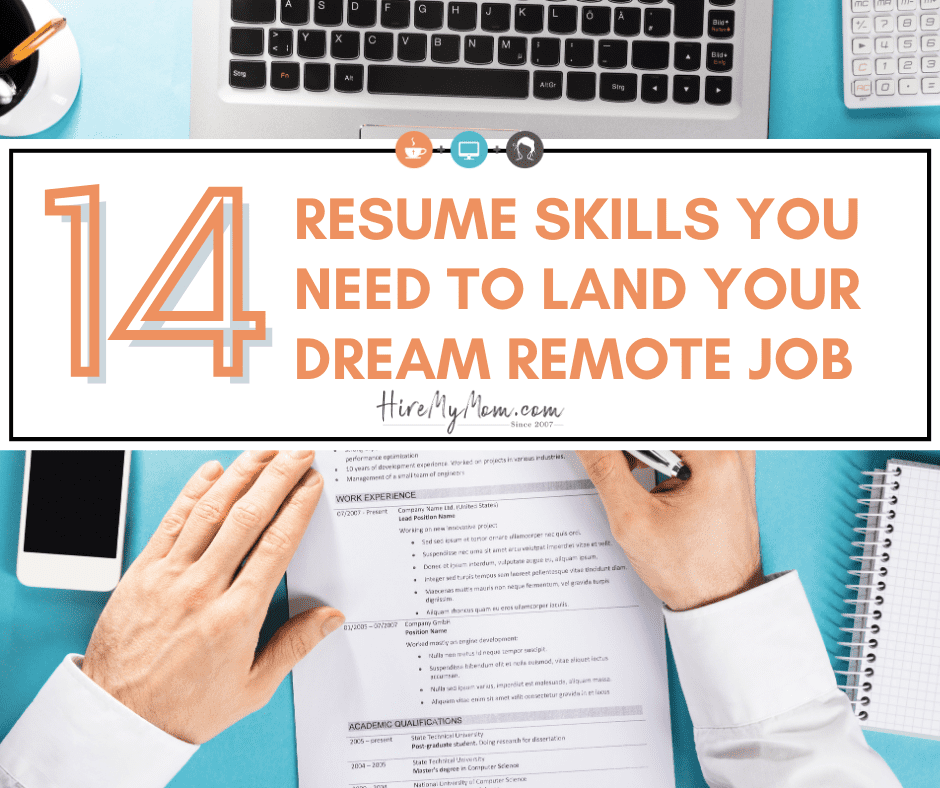 The 14 Best Resume Skills to Land a Remote Job
There has never been a better time to land a remote job. With so many companies shifting their workforce to a remote office, now is the perfect time to target the sought-after work-from-home job.
But what if you don't have any work at home experience? Not to worry. Finding a remote job without experience has never been easier. Most companies just want to know that you have a solid home office and can be trusted to manage yourself from home. 
Since your resume is the first thing most companies will see, it's crucial that your resume portrays your ability to work remotely. That means adding the necessary skills that employers are looking for in a work-from-home employee. Below, we will highlight some of the most important resume skills for remote jobs.
Soft Skills
When it comes to proving you have what it takes to work remotely, soft skills go a long way. The soft skills that you mention on your resume can either highlight your ability to work remote or erase them entirely.
Some common soft skills to include on your resume for remote jobs:
Independent

Self-Motivated

Critical Thinking

Focused

Organized

Reliable

Flexible
These soft skills should be sprinkled throughout your resume. Unlike hard skills, soft skills are usually best explained with a story. If you are uncomfortable talking about yourself, it might be a good idea to hire a professional resume writer.
Hard Skills
Hard skills are also important for landing remote work. Each job will have slightly different requirements for hard skills so it's important that you customize your resume for each job you apply to. If a job posting mentions that they are looking for someone who is familiar with Slack and Zoom, make sure to add those skills to your resume.
Some common hard skills to include on your resume for remote jobs:
Written Communication

Verbal Communication

Video Technology (Zoom, Skype, etc.)

Chat Technology (Microsoft Teams, Slack, etc.)

Project Management

Presentations

Microsoft Office
The above list of hard skills is not at all comprehensive. This list is designed to give you an idea of some common hard skills needed for remote jobs. Remember to customize these skills based on the job description.
Where to Add Skills on Your Resume
Soft skills and hard skills should be distributed throughout your resume. There are two key locations these skills should be added.
Add skills in your "summary" and "areas of expertise" sections.
Most resumes should have a professional summary and a section for key skills. These are perfect sections to customize slightly for each job, ensuring that you have all of the relevant key skills in your resume.
We've provided an example below showing how you can add remote skills organically into the summary and areas of expertise sections of your resume.
Add skills in your "professional experience" section.
Just about every resume will have a portion of the resume dedicated towards past jobs, internships, or projects. This section is commonly referred to as the professional experience section.
We've provided an example below showing how you can add remote skills organically into the professional experience section of your resume.

Wrapping Up
Landing a remote job is totally achievable. Set up your remote office, update your resume, and start applying.
Just remember:
Your resume should highlight your skills.

Make sure to include desirable skills for remote workers.

Customize your resume to include relevant skills from the job description.
You are going to land the perfect remote job in no time!
Author Bio: Mike Podesto is a former recruiter and current Founder & CEO of Find My Profession, a leading resume writing and career coaching company. Mike's career advice has been featured on sites like Inc., Zety, Motherly, Fast Company, and more. His viral posts on employment have been seen by millions on LinkedIn. He's even been featured in a variety of career-related podcasts such as the Hired podcast Talk Talent to Me, Strong Suit, and Authors Unite. Mike is passionate about helping job seekers find fulfillment in their careers by breaking down the tedious job search barriers.