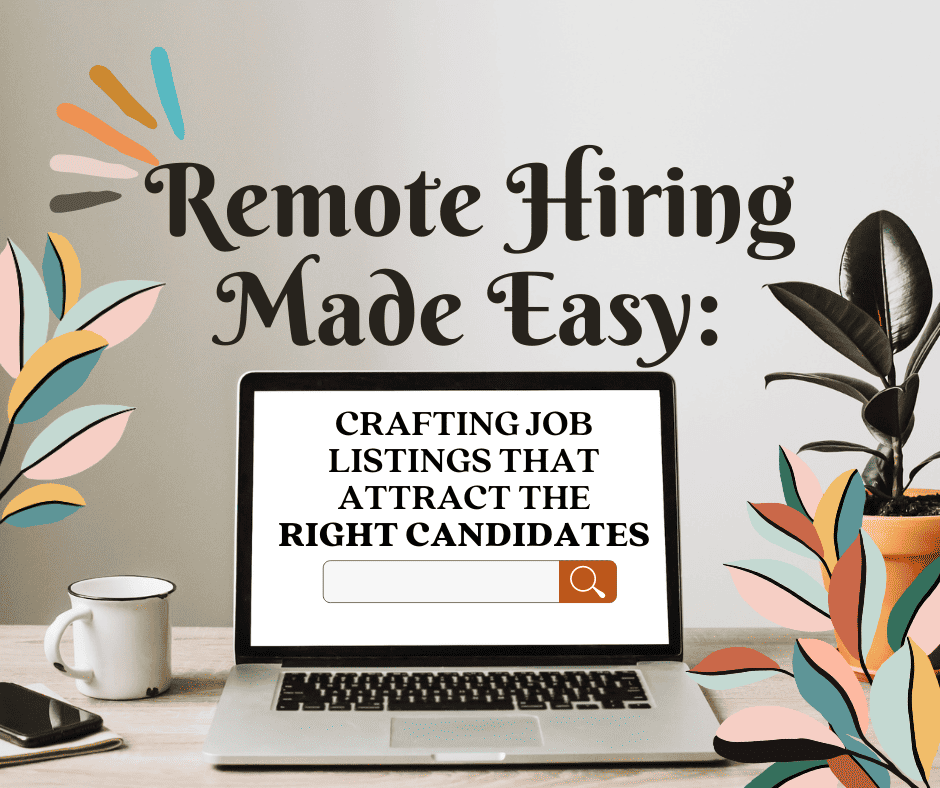 Remote Hiring Made Easy: Crafting Job Listings That Attract the Right Candidates
In today's world of remote work, small business owners have a unique opportunity to tap into a global talent pool. But with the rise of telecommuting comes the challenge of creating job listings that truly attract the right candidates. Whether you're hiring for a virtual assistant or a marketing manager, it's crucial to craft a job listing that not only accurately conveys the position, but also speaks to the kind of person you want to hire. If you are new to the hiring process or are struggling with it, we have created a self-paced course called Hiring Made Easy. In this learning experience, we cover everything from identifying what you want in a candidate to compensation levels to onboarding candidates. For a small sample of what Hiring Made Easy covers, check out the information below:
Identifying the Key Qualifications and Characteristics You Want in a Candidate
When it comes to hiring a remote employee, it's important to be crystal clear about the qualifications and characteristics you're looking for in a candidate. Without a clear understanding of what you're looking for, it's easy to fall into the trap of hiring someone who isn't the right fit for your business. To avoid this, take some time to identify the key qualifications and characteristics you want in a candidate:
What skills and experience are required to perform the duties of the role effectively? 

Are there any technical requirements, such as proficiency in certain software or tools? 

What kind of personality traits or work styles would thrive in a remote work environment? 

Do you need someone who is highly self-motivated and independent, or someone who is comfortable collaborating with a team remotely? 
Once you have a clear understanding of what you're looking for, you can craft a job listing that reflects those priorities. Use specific language to describe the requirements for the role and what kind of candidate you're looking for, so that applicants have a clear sense of whether or not they would be a good fit.
How to Craft an Attention-Grabbing Headline and Introduction
This is your chance to make a great first impression and get potential candidates excited about your job opening. Here are a few tips to help you write a killer headline and introduction:
Keep it simple and straightforward: Your headline and introduction should clearly state what the job is and what you're looking for in a candidate. Avoid being too clever or vague, as this can turn off potential applicants.

Highlight the benefits of the job: What makes your job different from others out there? Are you offering flexible hours, competitive pay, or opportunities for growth? Be sure to highlight these benefits in your headline and introduction to attract the right candidates.

Be specific: Use specific job titles in your headline and introduction to attract candidates who are qualified and experienced in your field.
Here's an example of a strong headline and introduction for a remote marketing job:
Remote Marketing Coordinator Wanted – Help Us Grow Our Brand! 
We're a fast-growing tech startup looking for a remote Marketing Coordinator to help us spread the word about our innovative product. You'll be responsible for managing our social media channels, writing blog posts, and creating engaging marketing campaigns. This is a great opportunity to work with a fun and talented team and grow your skills in the tech industry. If you're passionate about marketing and want to make a difference in the world, we want to hear from you!
The Dos and Don'ts of Writing a Job Description
When it comes to writing a job description, there are certain things that can make or break the effectiveness of your listing. Here are some key dos and don'ts to keep in mind:
DO: Be Clear and Specific; outline the position exactly as it is.

DON'T: Discriminate or Use Biased Language; roles should be available to all people.

DO: Highlight the Company Culture and Values; tell applicants why your company is different.

DON'T: Oversell or Misrepresent the Role; this will deter candidates from applying.

DO: Include Benefits and Compensation Information; tell candidates why they should apply with your company.

DON'T: Use Jargon or Industry-Specific Terms; unless you are hiring for a high level position, many applicants may not be familiar with very specific terms.
Including Details on Compensation, Benefits, and Work Schedule
Candidates want to know what they will be paid, what benefits they will receive (if any), and what their work schedule will be like before they even consider applying for a job. If this information is not included in the job listing, they may move on to other opportunities that do provide this information.
For compensation, be as transparent as possible. Include information about hourly wage / salary, bonuses, and any other incentives you may offer. If your compensation package is competitive, this can be a major selling point for candidates.

Whether it's flex time, bonuses, health insurance, retirement plans, or paid time off, make sure you provide clear and detailed information about the benefits you offer.

Provide information about the work schedule. Be clear about the hours that will be expected of the candidate, and whether or not there will be any flexibility in their schedule.

It's also a good idea to provide information about any equipment or software that the candidate will need to do their job. This can include things like a computer, phone, or specific software programs.
If you're ready to dive into all this but just don't have time to put it all together, we recommend our Small Business Concierge Services — our HR experts will manage the entire hiring process, including onboarding, so you can focus on your company. Or, if you want to start at the beginning and learn how to do this for yourself, try our Hiring Made Easy course.
applicants, hiring made easy, Job Postings, remote work, Small Business