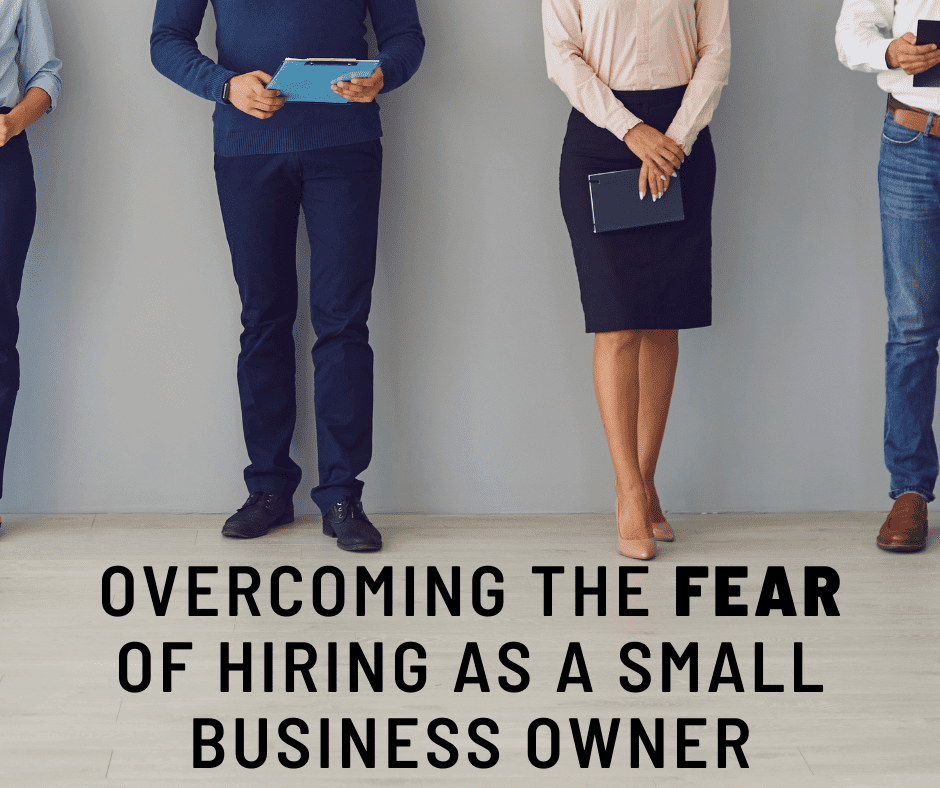 Overcoming the Fear of Hiring as a Small Business Owner
As a small business owner, the decision to hire new employees is an important one. It can also be intimidating and filled with anxiety. The thought of taking on the responsibility of providing wages and other expenses associated with hiring can be overwhelming. However, it's important to remember that hiring is essential for the growth of your business. Let's look at ways to overcome the fear of hiring as a small business owner and how to make the process easier:
Define Your Ideal Employee
It is important to take the time to carefully define your ideal employee or contractor before you begin the hiring process. This means taking the time to think about what qualities and skills you are looking for and which of these would be most beneficial to your business. Make sure to consider qualities like team-orientation, communication skills, work ethic, dependability, problem-solving abilities, and any other unique traits or qualifications that are relevant to your particular business needs. You should also think about the type of personality that will fit best with the company culture you are hoping to foster. By taking the time to define your ideal employee upfront, you will be better able to identify qualified candidates who possess the qualities and skills that you desire.
Create a Plan
The key to success is to create a plan ahead of time so you know what to expect. Start by making a list of all the tasks required to hire a new employee. This should include outlining what tasks this job will entail, what specific skills and experience you are looking for in your new hire, taking this information to draft the job post, then deciding what questions to ask in an interview to help you find the best candidate. Once your job posting is live, make sure you're organized with the applications you receive. Consider creating a spreadsheet that outlines each candidate's qualifications and notes from the interviews. This will help you easily compare each applicant and make your final decision. Additionally, establish a timeline for when you plan to make an offer and inform candidates. Outlining your expectations ahead of time will help ensure everyone is on the same page and save you time in the future. Finally, if this is your first time hiring, you may want to consult an experienced advisor who can answer any questions and provide advice on the best practices for hiring.
Hire for Potential, Not Just Experience
You want to make sure you hire the right person for the job, but you may be afraid to take a chance on someone without a lot of experience. However, this shouldn't stop you from considering potential over experience. When it comes to hiring for potential, start by looking for someone who is highly motivated and eager to learn. Ask yourself questions like, "Does this candidate demonstrate a genuine interest in the position?" and "Do they have any related skills or knowledge that could benefit the job?" This will help you identify people who might have the aptitude for the role, even if they don't have all the necessary experience.
Also look for candidates who have transferable skills. Are there any abilities they developed in a previous role that could be applied to your position? A great example of this is a mom who has to stay highly organized managing her family which translates into a very diligent personal assistant that can keep your calendar on track. Finally, remember that even if someone doesn't have all the required experience, they can still be successful in a position if they are willing to put in the effort. Investing in a strong training program and providing adequate resources will help bring inexperienced employees up to speed more quickly. Ultimately, don't be afraid to consider hiring for potential instead of experience when it comes to filling positions in your small business. There are plenty of motivated and talented individuals out there who just need a chance to prove themselves. By taking the time to invest in them, you could find yourself with a loyal and hardworking team member.
Take the Time to Train Your New Employees
While it may be tempting to simply have a new employee start working without any training, it's important to invest the time and effort in training your new team members. Training doesn't have to take long or be complicated. A comprehensive orientation process can cover all of the basics and ensure that everyone is on the same page. You can also break down your training into smaller pieces and offer ongoing education on specific topics.
When creating a training program, be sure to focus on the basics and make sure all of your employees understand the core processes of your business. You should also ensure that new employees learn how to use the technology they need to do their job. Having an in-depth understanding of your products and services is also essential, so make sure to include this as part of the training program. Finally, remember that while new employees will likely need additional guidance as they get up to speed, giving them a strong foundation at the outset can pay dividends down the line. It can also be helpful to get feedback from current employees on what they wish they had known when they first started so you can incorporate this into your new employee training program.
Set Clear Expectations from the Start
As a small business owner, you need to make sure that everyone is on the same page. Before hiring someone, you should let them know what is expected of them in terms of work hours, job duties, and any other relevant information — you should also communicate this to the rest of your team. They can help you through the hiring process, which can act as a support group for overcoming anxiety in this area. It is okay to share with your current team your fears about onboarding a new member. Getting their perspective in this area can be extremely helpful!
Make sure your new employee knows exactly what is expected of them, so that there are no surprises or misunderstandings. Let them know that you are available to answer any questions they may have, and that you are there to help them succeed. Ask them what their goals are and how they plan to achieve them. By having these conversations, you can ensure that everyone is working together towards common goals. Finally, make sure to document your expectations in writing. Having everything in writing can help keep everyone accountable and make sure that everyone is on the same page. It can also serve as a reference point if there is ever any confusion about expectations or roles.
We understand that even with these tips the hiring process can be intimidating. We have resources available that can help! Our Small Business Concierge Service can help you with the entire hiring process from helping you create a solid job post, receiving and reviewing incoming applications and resumes, conducting interviews, presenting you with the top 2-3 candidates and even helping with the onboarding process if desired. 
Or if you are interested in learning more about the hiring process on your own, we have a self-paced course called "Hiring Made Easy" that can teach you valuable tools to use such as what to know before you hire, what questions to ask during an interview and what the going rate of pay is for common roles. At HireMyMom, we are here to help you every step of the way. Contact us today if we can be of any assistance.