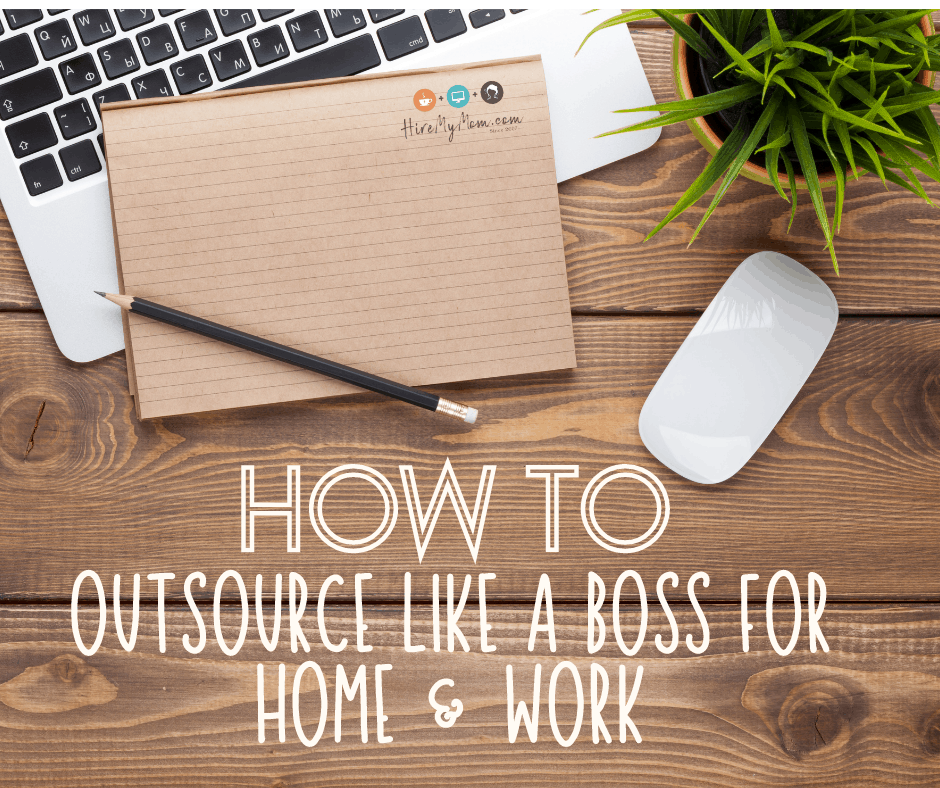 How to Outsource Like a Boss for Home and Work
Have you ever looked at your to-do list and realized you need about 30 hours to accomplish everything you outlined as critical for the day? If so, you aren't alone. Caring for a family and working are both hugely satisfying undertakings. But, let's face it, it's also a tremendous amount of work. 
Here's some good news–you don't need to tackle it alone. By strategically outsourcing some tasks, you can find more time and energy to put toward the people and projects that mean the most to you. Here's a round up of the tasks–work and personal–that are great candidates for outsourcing.
Business Tasks
When you run a small business, it's tempting to want to do it all. You became an entrepreneur because you're motivated and hardworking.This combination makes it tough to let go of the reins, even for a task you don't enjoy or could easily outsource. It helps to have a framework for considering what tasks/jobs make sense for outsourcing. When considering outsourcing, think about:
What are you great at doing?

What do you like to do?

Where would you like to grow professionally?
If a task doesn't fall into one of those categories, it's a good candidate for outsourcing. 
Quickly Find Virtual Help 
When you are looking for outsourcing help for a business task, consider a virtual team member. With remote employees, you don't need to provide office space and you aren't limited by geography. You can find and hire a team member who's located anywhere with good internet access. 
Using a platform like HireMyMom is a great way to source qualified candidates who are specifically looking for remote work. You can save time and money by turning to a site dedicated to connecting driven mom professionals with small businesses. 
If the prospect of a nationwide search daunts you, consider our concierge service to help reduce the amount of leg work you need to do. HireMyMom's Concierge service was created for busy entrepreneurs and small business owners, like you, who need to hire help but don't have the time or desire to go through the time-consuming process. With our full service Concierge service, our HR Specialists will do it all for you start to finish and present you with the top candidate(s). 
Build a Remote Team 
Here's a list of jobs that are often outsourced:
Bookkeeping

Social Media management

Graphic Design

Writing/Editing

Marketing/Email Marketing

Project Management

Customer Service

Facebook Ad Manager

Online Business Manager

Virtual Assistant (VA)
Consider a Virtual Assistant
In some cases, a virtual assistant (VA) may be the right fit for you. A VA can take care of many tasks, including email response, appointment setting, travel planning, and calendar management. You can find a general VA, who does a wide variety of tasks or one with a speciality in your industry or need. 
Personal Tasks
Personal tasks can easily add up and cause stress, making it more difficult to manage the day-to-day workings of life. What's more, many of them are urgent and important and time sensitive. (For example, dinner must be served every night.) Tasks that can wait tend to grow in time commitment and urgency if you put them off. (I'm looking at you, piles of dirty laundry.) Here are some ideas to help relieve some of the steam:
Put Meal Prep and Grocery Shopping on Auto Pilot
Planning, serving and cleaning up multiple meals a day takes a huge time investment. (Especially if your whole family is home all the time.) But outsourcing some meal-prep tasks can make every day easier.
 A weekly menu hanging on the fridge takes the guesswork out of each meal. If you don't enjoy menu planning or just need a break from it, consider using an online meal planning service. Several are available and they allow you to quickly select a week's worth of meals based on your health goals, family preferences, and budget. Once you select your meals, you can automatically create a shopping list for the meals selected.

 We all need groceries every week (sometimes more). But driving to the store to collect them is a major time commitment. You can regain that time by signing up for grocery delivery. Several companies such as Amazon Fresh, Peapod, Shipt, and Instacart, are ready to make it easier for you to fill your pantry. 
While it takes some time to initially get set up with these services, it's well worth the initial time investment. Chances are you make many of the same purchases each week, so many items will stay on your list for each order. You can even use a menu planner that automatically creates a grocery list and sends it to your preferred delivery service. 
If you don't have grocery delivery available locally, consider the pick up service offered by many large grocery store chains. You submit your order online, pull up at the appointed time, and drive off with a car full of groceries. Both pick up and delivery help you save money by limiting impulse purchases.
Cut Down on Cooking
There are several ways to lighten the cooking load through outsourcing. Consider:
Sharing the load by finding four like-minded families and forming a

cooking co-op

. Each family makes four, family-sized servings of one dish. Meet to swap meals and go home knowing that you have five homemade dinners ready to roll–even though you only had to make one. Keep your circle of chefs small until the COVID-19 situation is resolved.

Ordering a meal delivery kit to take away the prepping, planning and chopping.

Finding a local chef who offers pre-prepped meals for pick up or delivery. 
Find Help with Child Care
You choose to work at home to spend more time with your kids and avoid the expense and hassle of day care. But, that doesn't mean you wouldn't benefit from some help with the kids. Finding a good babysitter, even if it's only for a few hours a week, can really change the flow of your day. Having a few hours set aside without interruption makes it easier to power through your work. Also, depending on the age of your kids, the sitter can help with other tasks, such as:
Driving a carpool route for you.

Running errands with your kids–think the post office or picking up dry cleaning. This gives you a few hours of peace and quiet, keeps the kids busy, and eliminates tasks from your to-do list.

Working with the kids to go through their toys or books to find things they have outgrown.

Picking up the stray items you forgot to add to your online grocery order.

Walking the dog or other pet care needs.

Putting laundry away.

Supervising homework/online school instruction.
Clean with Ease
Everyone loves a clean house, but the work to get it sparkling can take all day. The easiest way to keep the house spic and span is to hire a cleaning service. If that's not practical based on your budget or circumstances, these ideas can help lighten the load:
Buy a Roomba or other automatic vacuum or mop so you wake up to fresh floors every morning.

Drop your dirty laundry off at the laundromat for wash and fold service each week. This frees up an enormous amount of time and cuts down on the anxiety created by looking at baskets full of clothes–some clean, some dirty, and inevitably, one that's mixed between clean and dirty clothes. 

Hire a service for big jobs that can really nag at you. For example, window washing or other seasonal jobs.
Reduce Yard Work
Many people find yard work relaxing, but elements of it can be outsourced to free you up to focus on the things you like most. For example, mowing and weeding are good candidates to outsource. With that out of the way, you are free to focus on tending to flowers or other things that truly bring you joy.
Don't Wait to Reclaim Your Time
Outsourcing tasks is a great way to focus your time and energy on the things that matter most to you. Don't delay–identify the things that someone else could do for you and start enjoying the increased time and energy it provides. 
Tell us what you've outsourced and how it changed the game for you.
Some content may include affiliate links. We may receive a commission for purchases made through these links.
Being Mom, Hacks, Helpful Tools, Lifestyle, Mompreneur, Organization, Productivity & Time Management, Work from Home Success, Work from Home Tips