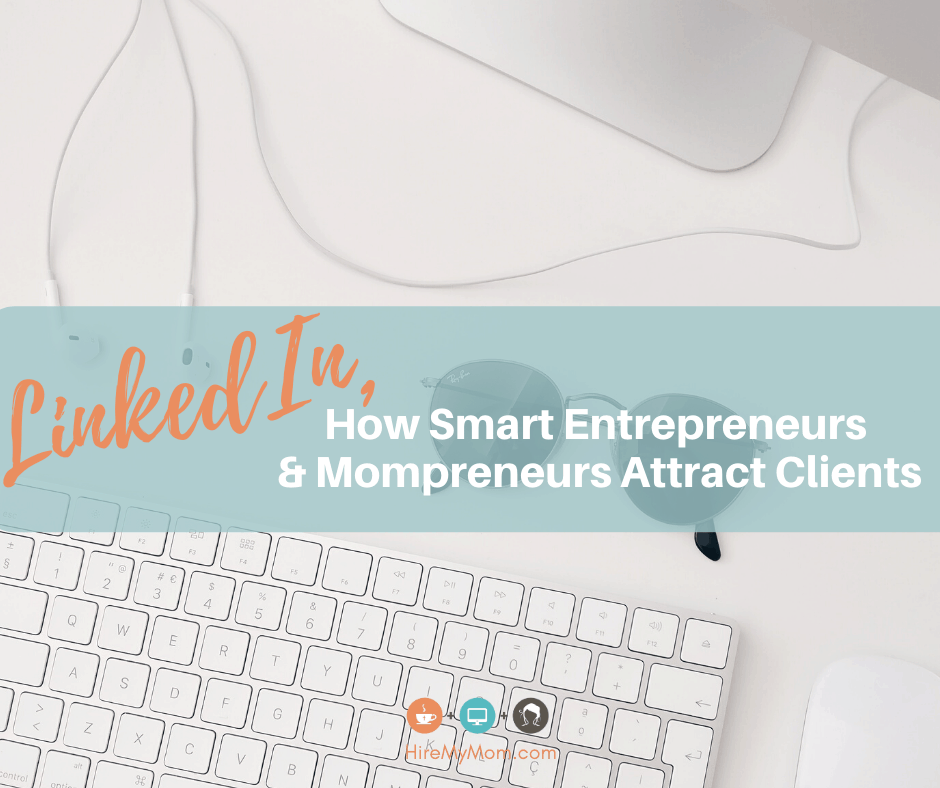 How Smart Entrepreneurs and Mompreneurs Use LinkedIn to Attract New Clients
With over 562 million members in 200 countries and across all industries, there is no denying LinkedIn is the top professional networking site. Facebook is where you have a strong circle of friends, Pinterest allows you to tap into evergreen marketing and boost your blog content but LinkedIn is where you can take your business to a whole new level.
LinkedIn is indexed by Google so when it comes to marketing your personal brand and your business, LinkedIn is definitely an important tool to leverage in your marketing efforts. LinkedIn also gives you the ability to search for and connect with your ideal client.
Here are some tips to help you fully leverage LinkedIn as a smart entrepreneur / mompreneur!
CREATE AND FULLY COMPLETE YOUR PROFILE
Your profile is the most important aspect of your LinkedIn account. It's the first impression people have of your personal brand and business.
Ensure you have a high quality photo and make sure your face is 50% of the size of the circle.

Create a banner image that will be displayed at the top (Canva.com has lots of free templates to help you). Think of this a free highway billboard and use it wisely to promote you and your business.

Add your name and you can also add a title with it to let me know right off the bat what you do. For example "Amanda Jones | Digital Marketing Professional"

Add a short bio

Complete the ABOUT section. This is a great opportunity to highlight what you do and the ideal client you are looking to work with and use as many characters of the max 2,000 as you can. Think of LinkedIn like Google. Your goal is to create a profile that comes up in search results. And remember, most people will only see the first 3 lines so make them count.

Complete all sections to add your experiences, work history, education, volunteer work, skills and website

Add samples of your work or blog posts
It's important to spend quality time on this and to fully complete this before moving on and connecting with other professionals. Feel free to hop over to my LinkedIn profile to see how I have set up my profile and I would love to connect with you too while you are there!
ENDORSEMENTS AND RECOMMENDATIONS
Once your profile is fully complete you can reach out and connect with people you know and have worked with on LinkedIn. People you already know is a great place to start because you can ask them to leave you an endorsement and recommendation. This helps to edify you to new people you want to connect with. Be sure to return the favor and leave a recommendation for others as well.
USING LINKEDIN
MAKE NEW CONNECTIONS
Now that you have created your profile, connected with people you know and received some recommendations and endorsements you are ready to start making other connections, especially with people who are your ideal client. Think of LinkedIn as an online network group and search engine. Let's say for example you are a logo designer and you are wanting to network with website designers who can refer clients to you who will need a logo designed for their website.
You can go to the search bar in LinkedIn and type in "website designer" and have it filter for "people" and it will pull up search results for those that have "website designer" in their profiles. LinkedIn will filter the results by mutual connections you have with other people.
When you click on the "connect" button, you will have the opportunity to type out an invitation before sending. LinkedIn will have a generic one but it's important that you personalize every invitation you send. Take the time to look at their profile and make the invitation all about them not about you.
"Hi Lori, I see that you are a website designer and as a graphic designer in the same industry I would love to connect and know how I can support you and send referrals your way. Look forward to connecting with you."
People will be a lot more likely to accept your invitation to connect if they feel valued and not like you have an agenda.
POST UPDATES
Make LinkedIn part of your daily marketing routine. Use LinkedIn to share your blog content and other articles that would interest your network of connections, tips, resources and to highlight your work. Remember as with any social media platform, the goal is to tell instead of sell.
LinkedIn also has an app that can make posting and the time you spend networking easier too.
CREATE A SOCIAL VIBE ON LINKEDIN
Ensure you are engaging with your network through their status updates too. You can't expect to post and not spend time supporting others on their posts. Social media doesn't have to take a lot of time. Set a timer to spend 10 minutes to like and comment (5+ words on any social media platform shows the algorithm that your comment is a real genuine comment and not a bot).
THE POWER OF GROUPS
LinkedIn has a lot of great groups that you can join to connect with more like-minded people and share your expertise. You can use the search bar to search for groups in your niche. Be selective and only commit to joining groups that you feel you can actively participate in. You will need to send an invitation to the moderators for them to approve your request. Once they do, be sure to read the group rules and be a respectful member of the group and give value. It's a great opportunity to find more people to connect with.
Take the time to implement these tips and you should see some great connections and future clients before too long!
ABOUT HIREMYMOM…

Over the past 12+ years, HireMyMom has helped thousands of small businesses find the perfect candidate for their projects while helping thousands of mom professionals find in their remote dream jobs. We do that by providing a platform that brings the best group of qualified and passionate women together with the best group of successful and growing small businesses who are looking for highly qualified virtual professionals with skills, experience and expertise.
How is HireMyMom different?
As more of a boutique site, candidates on HireMyMom do not have to compete with 100s or 1,000s of other applicants and our small businesses do not have to wade through 1,000s of applicants,

We do not take a percentage or commission of earnings from virtual professionals OR the small businesses,

HireMyMom is more than a job site; we are community offering personalized services, training, support and virtual high-fives,

Our site is primarily for those in North America and native English speakers familiar with U.S. Business culture and in or near the same time zones,
We offer our Small Business VIP Concierge program where our HR Specialists will hand select top candidate(s) for our Small Business clients.
Mom Professionals looking for legitimate, remote jobs and projects, start here.
Small Businesses looking find high-quality, independent candidates, start here.
Business Growth, Helpful Tools, Marketing, Mompreneur, Small Business, Work from Home Success