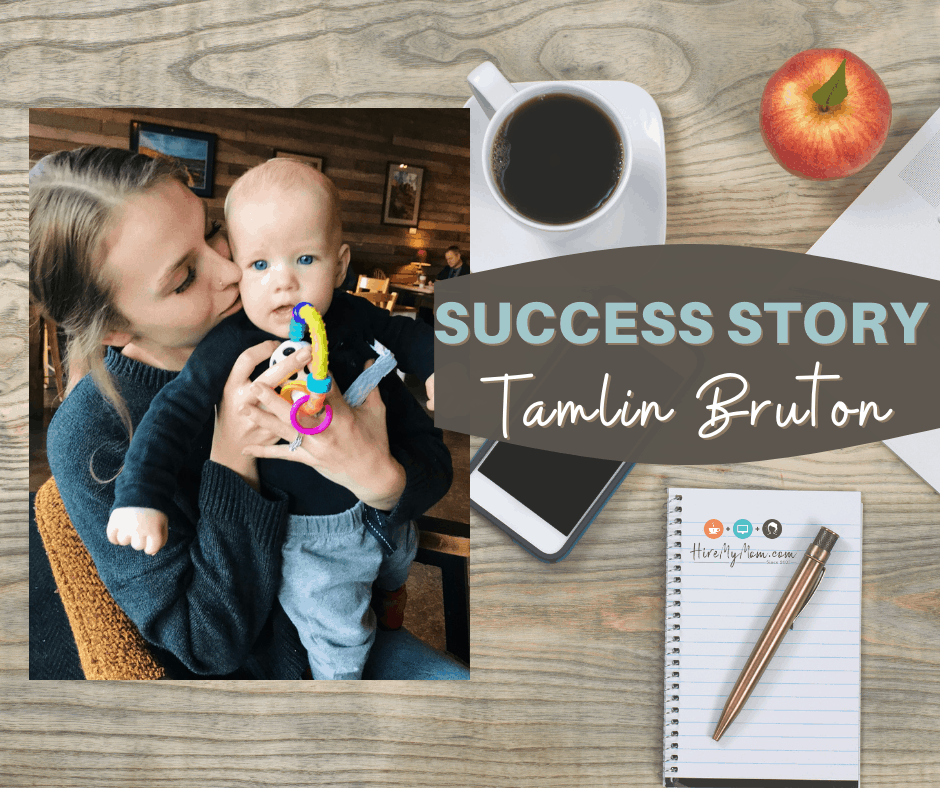 HireMyMom Success Story: Tamlin Bruton
Tell us about you and your experience finding work on HireMyMom.
I joined HireMyMom in November 2019 on a limb to find a work at home job. My husband and I knew we wanted more for our family than working 50+ hours a week to just cover child care. I quit my job to take care of our 4 month old at home and my husband was working two jobs and averaging 65 hours a week. Our dream was for me to find a remote job working from home to be able to continue to stay home and my husband to be able to take a new job offer from a different company. To be honest, we were both so nervous to take a chance and had a decent discussion about spending money on a subscription because that's how much of a budget we were on.
After having no luck on other job sites, we decided to take the chance, and I am SO glad we did!! I checked HireMyMom multiple times a week if not everyday and applied to everything that I could. I made sure to follow up with companies, keep my profile updated, and utilize both a resume and cover letter. At the beginning of February, I heard back about the next steps of one of my applications for a work from home job, answering a few questions in a pre-recorded video for a company based out of Nashville, TN. By the next week I made it to the final rounds of Zoom video interviews for the same company.
I am so thankful to say that February 18th, 2020 was my first day at my new full-time remote job!! Less than 3 months on HireMyMom changed mine and my family's entire life.
What did you do previously?
I have my BS in Psychology and a double minor in sociology and public health. I have previous experience in customer service, network marketing, sales, and health and human services. Many years of my professional experience is specifically in the mental health setting, providing skills training and case management to adolescents and families at both the residential and state level.
What are your top tips for landing a job or jobs on HireMyMom.com?
CONSISTENCY. Check HireMyMom as much as you can. Apply, apply, apply, to any job that you believe you could make an excellent hire for. It is easy to get discouraged when trying to find a new employment opportunity because it can take time, but stick to your gut and your dream for you and your family.
What's your favorite thing about HireMyMom.com?
The accessibility and access to the jobs listed. HireMyMom is extremely easy to toggle through and makes the application process smooth.
What's one fun or interesting fact about you?
I have watched The Office more times than I care to admit. That show is my absolute go-to!!
.
.