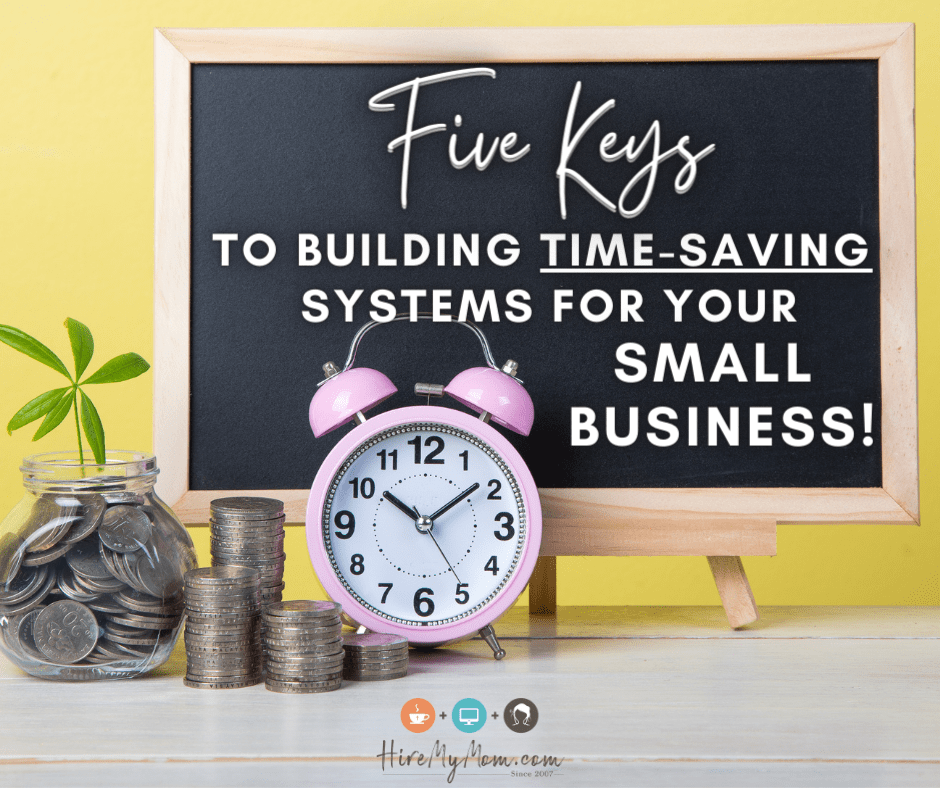 Five Keys to Building Time-Saving Systems for Your Small Business
When you run a business and lead a team, a lot is happening each day. And, you are likely involved in managing all or most of the work. The chronic stress of shouldering this responsibility can wear down the most dedicated of entrepreneurs. What's more, it can prevent you from the meaningful work that can help you grow your business and expand it to the next level and beyond. 
The good news is that by creating a system for portions of your work, you can achieve a level of automation that lets you work more effectively on the things that matter, add predictability to your business, gain some time back, and make your life easier. 
The trick is identifying the processes that are ripe for systemization and selecting a system that works for you.
What is a System?
Simply stated, a system is a set of processes, tools, people, and strategies that all work together to solve a problem or achieve a goal. 
Creating a system for your business makes every day easier because it lets you have specific actions on autopilot. When routine processes run on autopilot, you are freed from investing mental energy or time into those processes. In short, creating a system for your work can make you more productive. 
Many of the companies you patronize every day have systems in place to automate some element of work. For example, when you order from Amazon, a team follows the steps to get your package to you. The team follows the same steps for each package, which means they have a system in place. Likewise, if you order pizza from a local shop, the workers follow a process to ensure the quality of each pizza. 
At the extreme, emergency responders have a system to respond quickly and efficiently when calls come in. Imagine if the fire department had to start from scratch and wait for each person to gather needed items before proceeding to the call. Firefighters have a system for collecting all needed equipment and getting on the truck as quickly as possible. 
Why You Need a System
Finding the right system can free you to focus on more significant, big-picture issues for your business, like business development. It can also make it easier for you to outsource portions of your work to a team. The right system can also help you find more personal time, too. 
If you are just getting your business started, having an organizational system can help make tasks seem less overwhelming. For example, if you produce a video each week, at the beginning the process can feel like a lot of work. But, with a system in place, you can see the steps you followed last time and replicate them, saving you the mental energy of going through the process each time.
In all likelihood, you probably already have a set of systems you use every day. You just don't see them as official systems. Once you start to see processes as a system, you'll find more and more tasks that could be moved onto a system. Once that happens, you are well on your way to saving time and energy.
A Closer Look
Before you start thinking about developing a system, it's helpful to look more closely at the elements that comprise a system. 
Processes:

Developing standard procedures is a large part of creating an effective system. Identifying and documenting the process involved for each system is the lynchpin of the process. For example, consider the case of sending a mass email to customers. Having a standard procedure in place frees you from thinking about the best way to send the messages each time one goes out. Having your processes documented means that someone else can step in and send the emails. Having someone create the content, check the mailing list, proofread the text, and test the email could save you several hours of work.

Tools: As you develop systems, you may find the specific tools are a part of the plan. The right tools for your system will vary based on the industry you are in and the types of tasks you are creating the system to accommodate. Tools can range from templates that make it easier to draft routine messages to equipment or software that makes a job more manageable. Part of developing a system is assessing tools and considering the associated costs and benefits of a tool. As you think about the cost of tools, calculate how much time a tool could save you and assign in a dollar value.
People: Identifying the people or person who will perform different tasks is an essential part of creating a system. In some cases, you are the person performing the task. In other cases, your system may include adding to your team to outsource jobs. Once you have systems in place, you may find that a Virtual Assistant or another team member can manage the task. Having a system in place makes it easier to find the right person for your team because you can look for team members with the skill sets needed to manage the system effectively.
Strategies:

A strategy is

a plan of action or a policy designed to achieve a goal. When you are working on creating a system of your business, you are doing just that–creating a plan of action with the goal of growing your business by automating certain functions

.
How to Get Started
Developing systems takes time and patience, but the payoff is significant. A system that works for you and your team is the key to success. Aim to develop a sound system that becomes great over time. As you begin, set aside time to consider which tasks are ripe for systematization. To do this:
Track the work you do in a typical week. Write down everything you do to get a close look at how you spend your days. You may be surprised by the tasks that eat up the most time.

Identify tasks you frequently do throughout the week by putting a star next to them.

Of those tasks, pay special attention to the jobs that tend to be hands-on or time-consuming. 

Consider if you can stop doing any of these tasks and eliminate those that don't add value.

From the remaining tasks, consider which ones could benefit from the creation of a system. Look for items that are routine, multi-step, repeatable, frequent, and predictable.
Find the Right System
There are a lot of ways to create a system. The easiest way is to work with an Online Business Manager or coach specializing in helping business owners create systems. Hire My Mom is a great place to find an experienced person to help. 
When you post your job, you'll quickly have access to a wide array of qualified candidates who will be dedicated to helping your business succeed and grow. The site attracts job seekers from across the country with specialized skill sets and a desire to work hard for you.
If you need help sourcing a candidate, HireMyMom's Concierge service can streamline the process for you. The service was created for busy entrepreneurs and small business owners, like you, who need to hire help but don't have the time or desire to go through the time-consuming process. With our full-service Concierge service, our HR Specialists will do it all for you from start to finish and present you with the top candidate(s). Once you select the candidate that's right for you, the two of you can start creating systems to make your business more efficient.
If you aren't ready to bring in a person to help, several free online resources can help you build a system for your business. Research the options and consider which might work for you. Popular options include the  Productive and Free website and the YouTube series How to Build Systems for Your Business with Greg Hickman. 
Or, head to your local bookstore and library, where you can find several books about creating business systems. Good options include Work the System by Sam Carpenter or The E Myth Revisited by Michael E. Gerber. If you don't have time to read a book, search audible for the right option.
You Can Do It!
While the prospect of creating a system may seem daunting, you can do it. Start small and focus on the core tasks that can move the needle to free up your day. Soon, you'll be enjoying the fruits of your labor and the success that comes with a growing business.
Organization, Productivity & Time Management, Small Business, Uncategorized