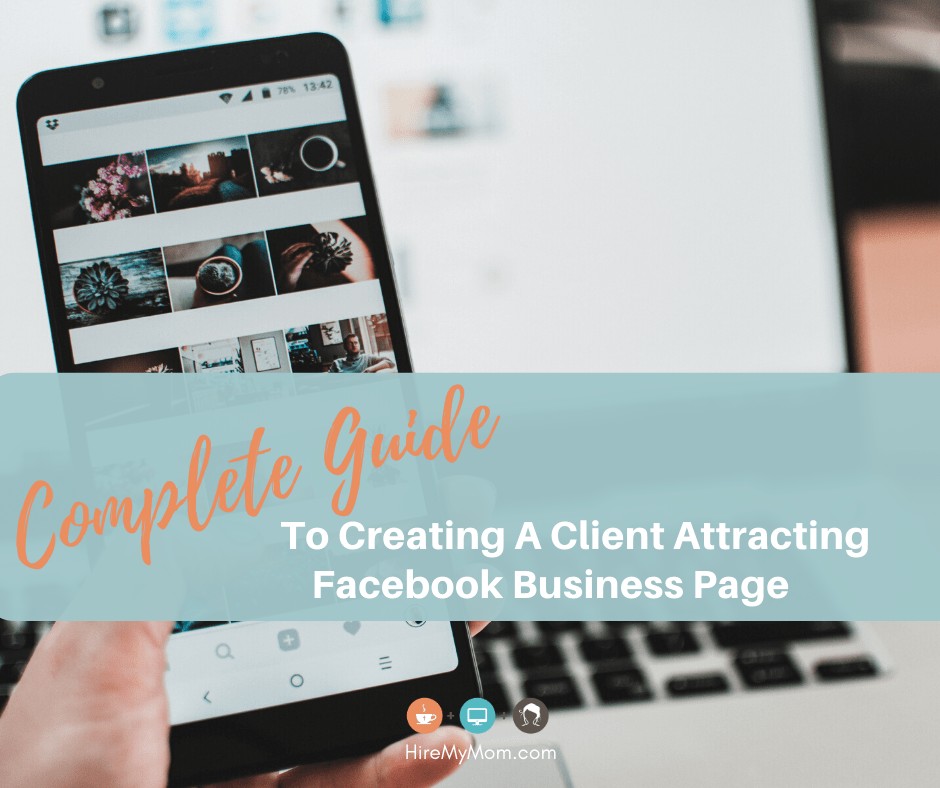 Complete Guide To Creating A Client Attracting Facebook Business Page
Social media can feel overwhelming and while it's easy to get discouraged with things like algorithm changes, there is great value to be found in leveraging these platforms as a business owner.

A Facebook business page is one of them and yes the organic reach can be low but the reality is that as business owners, we must embrace the professional way of marketing: having an advertising budget and providing strong, consistent content.
Before I dive into how to create a client attracting Facebook business page, let's first address why it's important:
As with most social media platforms, a Facebook business page and the content on it, is indexed by Google where as your personal profile page is not. When someone searches for you or your business, your fan page will appear in Google search engine results.

While it's tempting to use your personal page to market your business, it's also a violation of Facebook's

terms

to use your personal profile page for commercial gain. Some have even lost their accounts for this practice so it's just not worth the risk.

Your business is seen as more professional with a business page. Consumers are becoming more savvy and want to research people and brands before doing business with them. Running a business from your personal profile can look sloppy and overwhelm your personal network, many of them are not even your ideal client.

Facebook Insights. As a business owner, it's important to analyze the data for the content you are creating on a regular basis. A Facebook business page provides detailed analytics for every post. How many people are seeing the posts on your personal profile page? Without Facebook insights you have no clue and therefore can't measure what kind of content gets better reach in the feed.

Sponsored Ads. I know it can seem unfair as a small business owner to have to pay to have your content seen, but the reality is you are a business and if you want to market it the right way and reach the right audience you will need to have a budget for advertising. The beauty of a business page is you can target your ideal client

for a very minimal budget (I will get into more of that later in this post) and grow a following of people who need and want your services, something your personal profile simply can't do.
So now that we have covered the reasons why it makes sense to grow a Facebook business page, let's jump into the how!
COMPLETE GUIDE TO CREATING A CLIENT ATTRACTING FACEBOOK BUSINESS PAGE
Your Facebook business page is tied to your personal account so you don't need to create a whole new Facebook account for this (it actually goes against Facebook's terms to have two accounts). Here is a step by step guide from Social Media Examiner on how to create a business page.
The focus of this article is how to properly brand your business page and strategies to market it so be sure to read this post in its entirety before setting up your page.
Business Page Name. Ensure you are creating a page that makes sense for your business. Are you branding yourself personally or under a business name? Once you have determined that you can name your page. Take your time and keep in mind that Facebook is like a search engine and it will be indexed by Google, so think about keywords that need to go into your page name.
For example, are you a graphic designer, virtual assistant or design websites? Include keywords into your page name – "Whitney Smith, Virtual Assistant" (if you are branding yourself personally) or "Twisted Vines Website Designs" (if you are branding under a business name)
An important element to mention here is if you are creating a business page centered around your personal brand, to ensure you have your name in the page name. One of the biggest mistakes I see is people not including their name into their page name.
For example, if someone searches for you they will most likely search for you by how they know you, your name, right? Without this piece of information in your Facebook page name people will not find you because they have no idea that you have branded yourself as the "Holistic Virtual Assistant" so ensure that the business page name includes how people know you "Tina Jones, Holistic Virtual Assistant" so you will pull up in the search results.
Complete Page Information. Take the time to complete all of the info related to your business page: upload a professional photo, create a cover photo for your page (you can easily do this for free with done-for-you templates in Canva), about section, hours, website, etc. It's important to share your story, what drives your passion, your experiences and expertise.
Spend time on this and put some thought into it. This is like meeting someone for the first time so make that first virtual impression count!
Creating Content. The content on your business page should be 80% value based that will resonate with your ideal client and 20% about your products and/or services. Create blog content regularly to share valuable information that positions you as an expert in your niche, create free offers to help you build an email list, share quote graphics your audience would resonate with, helpful tutorials, etc.
Creating content for your business page shouldn't be a stressful so don't over think it trying to come up with perfect posts, just share from your heart with the goal of serving others.
Facebook Ads. As you create content for your business page, you can boost those posts to target followers who will find the information useful and attract the right people to your page.
For example, share a helpful blog post and boost it once a week for $10-$15. You don't have to spend a ton of money on ads for it to be effective. By driving traffic to your blog, you can grow your email list while getting new eyes on your business page at the same time to attract new followers.
Of course the more you spend on the ad the more people you can reach and the more results you will have but test this strategy out with a low budget first to ensure that you like the results before spending more. A post that does well you can always boost over and over to spend more.
Here's a tip: Stretch your sponsored post out over 14-21 days v. boosting it for only 1 day. Facebook will actually show it to more people when it's stretched out over a period of time, meaning you will get more bang for your buck.
Consistency. While experts like to say how many times per day is ideal when posting, I find that quality definitely rules over quantity so find what works for you. If you can commit to posting once per day with good quality content, great but if you find that overwhelming, at the very least try to be consistent 3 times per week.
Here are some tips to help you create consistent content for your business page:
Facebook has a separate app to manage business pages, Facebook Pages Manager. You can view your insights, boost posts and schedule content. Find what works for you to sit down for 30 minutes on Monday mornings and schedule out your content for the entire week. That way it's done and you don't have to think about it for the rest of the week except to check on your posts for comments, likes and shares so you can respond.
You can find the Facebook Pages Manager app in your iTunes or Google Play Store.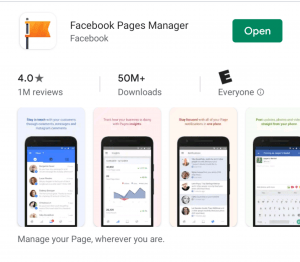 Create A Marketing Plan. Write down all your favorite resources, blogs, etc. to pull relevant content from while you work to create your own. For example, if you are a logo designer you can pull articles from some of your favorite bloggers about why having a logo for a business is important or why branding is an important aspect of logo creation. Relevant articles like this help to edify what you do as a logo designer.
Having a marketing plan you can refer to allows you to sit down and schedule out your content more quickly because you don't have to think about where to find good content to share.
It's important to be consistent so don't go days without posting to your business page. It requires hard work and consistency but it's all worth it to share your God given talents and grow your business for the long term.
Ask questions. With the more recent Facebook updates, they are favoring posts that ask questions to promote engagement and spark conversations so think about how you can get your audience talking.
People love to give their opinions so for example, maybe you are working on a new logo design for your Etsy shop and you have two variations you are trying to decide on. Put it to a vote on your business page! This is a subtle way of showing off your skills while valuing the thoughts of your followers.
Quote Cards. Quote graphics are very popular on social media and can be a great way to brand yourself and your business. The key is to be consistent with your design and to create graphics that resonate with your followers.
At HireMyMom.com, our audience is primarily moms so the quote graphics we create are faith inspired or poking fun at motherhood as that is what resonates with our followers.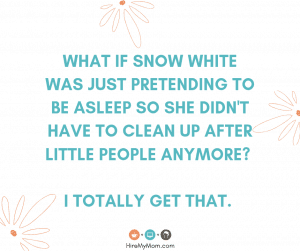 So think about what kind of quote graphics you can create that will set your brand apart on not only your Facebook business page but Instagram and Pinterest as content like this can be used on multiple platforms.
Go Live. Facebook is giving live video 6x's the organic reach than regular posts so this can be a great strategy for your business when you focus on how you can give value that centers on how to solve a problem for your audience.
For example, if you are a virtual assistant, think about how you could create value around something that your ideal client struggles with. Maybe they are having a hard time learning MailChimp. Give them a quick tutorial on how to create a list and send a newsletter.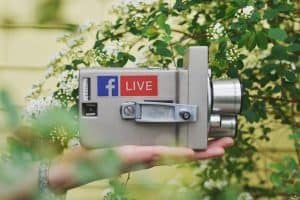 This shows your followers that you know what you are doing and yes, some will watch your tutorial and feel empowered to do it themselves and that's okay. You were a blessing to that person while others will watch your video and say to themselves "Yeah, okay, I totally do not have the time to do all of that so I really need to reach out to her and find out what her pricing is to do it for me" and that right there is why giving value regularly on social media is so important. It's one thing to tell people you are a great virtual assistant but it's much more powerful to show them!
Were these tips helpful in creating a client attracting Facebook business page? Be sure to share it with other hard working mompreneurs and I would love to hear from you so please contact me with comments or questions.
Need a word of encouragement to help you in your business building journey? I pray you take these words to heart today for God truly does want to see you prosper! "Submit to God and be at peace with Him; in this way prosperity will come to you." Job 22:21
Looking for a community that can give you support, training and more job leads or even help you set up your own Facebook Business Page? Check out more of what HireMyMom.com has to offer. Click HERE.
Helpful Tools, Marketing, Mompreneur, Social Media Tips, Work from Home Success